Hey Team,
Sometimes, just the thing we're looking for pops up in our inbox to review, and these speakers are no exception.
For a while I've been looking for some great monitors for my PC set up for Video editing, something with good volume and clarity to make sure what we're putting out on the YouTube channel is sounding as good as we can get it. One of the ways to do that is when fixing audio in post production by using quality speakers to really hear whats going on through the whole range of sound. When the distributors for Edifier asked if we'd like to review these, I put my hand up.
So here's all the tech specs
POWER OUTPUT
R/L (Treble): 8W+8W RMS
R/L (Mid-range and bass): 120W+120W RMS
FREQUENCY RESPONSE:48Hz~20KHz
THD + N (TESTING LEVEL) : 0.3% Signal to noise ratio : 85dBA
**SIGNAL TO NOISE RATIO: 85dBA
**INPUT SENSITIVITY
Line in: 600 ± 50mV ;
Balance: 1000 ± 50mV
OPT/COAX: 400 ± 50mFFs
Bluetooth: 450 ± 50mFFs
USB: 400 ± 50mFFs
INPUT TYPE:Line in, Balance, Bluetooth, Optical, Coaxial, USB
Now as I mentioned, I had every intention of trying these through my Computer, however there was a bit of a problem, these things are huge! for bookshelf speakers anyway, the actual speakers are pretty hefty and take a fair amount of space on a desk so even after moving a heap of crap around I still couldn't fit them into my video work station so decided to hook them up to the TV instead
Actual Dimensions are H 250mm x W 210 mm x D 290 mm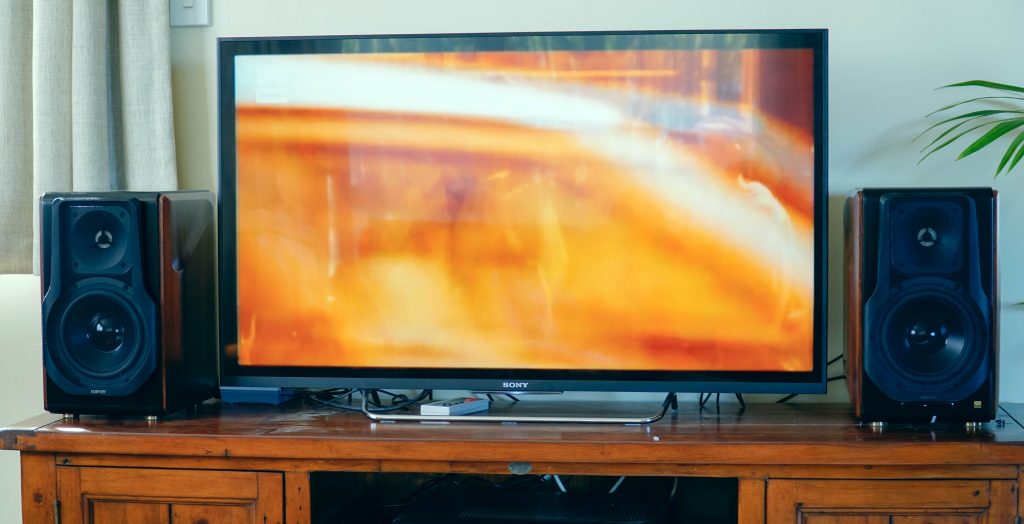 So, once hauling these upstairs and getting everything plugged in, it was time to try them out. In the box you'l find provided every connection cable you could possibly input into these speakers, which is pretty awesome so i could 3.5 > RCA my phone into them and I used the provided optical cable from the TV into the speakers
A note on set up, These speakers bluetooth communicate to each other, there is no physical connection between the two, this means that each speaker has its own power cable, which isn't a major but if you've got consoles set up or perhaps are having to choose what goes through the surge protector then it might be an issue. Other than that, set up was a breeze, just press the optical button on the slick, provided remote and the bluetooth sorts itself out in a few moments and you're away. Very easy set up.
As you can see, pretty much all the connections you'd want, Impressively a USB connection and it would seem that your PC will recognize the device, this is pretty awesome for sound nerds like me for PC so that's rather awesome!
But all important, the sound..
Getting back to set up for a moment, when you've got the TV and then Sky and then an external device for audio, that's 3 sets of levels to work out, depending on how smart your TV is. For ease of use I ended up flicking the TV to line out audio, maxxed out the edifiers and ran the overall volume control thru the sky box, This proved effective.
I put on a movie and the sound was good, it wasn't perhaps as good as I had expected but it was very good..
The speakers have a couple of EQ presets which I would never use, but in the back of the unit you can adjust treble and bass, so I did my own EQ for the movie and the room. The sound is full and loud and clear mostly, there is some talk about distortion between wireless speakers, I didn't find a huge amount of distortion, even when pushed hard, but I did find some frequency interference by the time the sound got to my ears. Without getting too technical, sound waves travel at different speeds, and become more directional as the frequency increases. What I found was under extreme circumstances the mid range could get lost between the high and low range. for example if watching starwars during a star-fighter scene, the engines sound like they are passing by the house, the blasters sound like they are going to hit you for a change but the radio communications sound like actual comms, which isn't a compliment. That said, over all the performance was pretty impressive for the relatively small size of what are actually bookshelf speakers, not massive multi cone home theater.
Now ya'l know I like my music, and I like it heavy and I like it loud.
I hooked up my phone via the provided 3.5mm > RCA L+R cable into the back of the I/O and with the click of a button on the remote, I'm listening to audio from my phone, Easy.
Now I tried many styles of music and various apps / sources within my phone, Playmusic has a pretty decent bitrate compared to something like YouTube which I also tried and was actually quite impressed with how good youtube music sounded from my phone, I'm the kind of person who always has music playing and when I'm at my computer its always from YouTube.
Now one of my go to songs for testing audio is Narcissistic Cannibal by Korn, not only an epic track but it gives a huge dynamic range of sound which for many systems is difficult to push out at high out put, the edifers also struggled, the thing that I found was the low end sounded deep and crisp with heaps of punch, actually a really impressive amount of punch for such a small driver – there must be some magic happening inside. The high end was tight and clear but again it was the mid range that fell short and made the vocals harder to hear and less prominent in the sound than it should be, Did this surprise me? not at all, this is a big ask which is why I used it. It's also worth noting this was at pretty much full volume, which while loud and would fill a small room was very directional.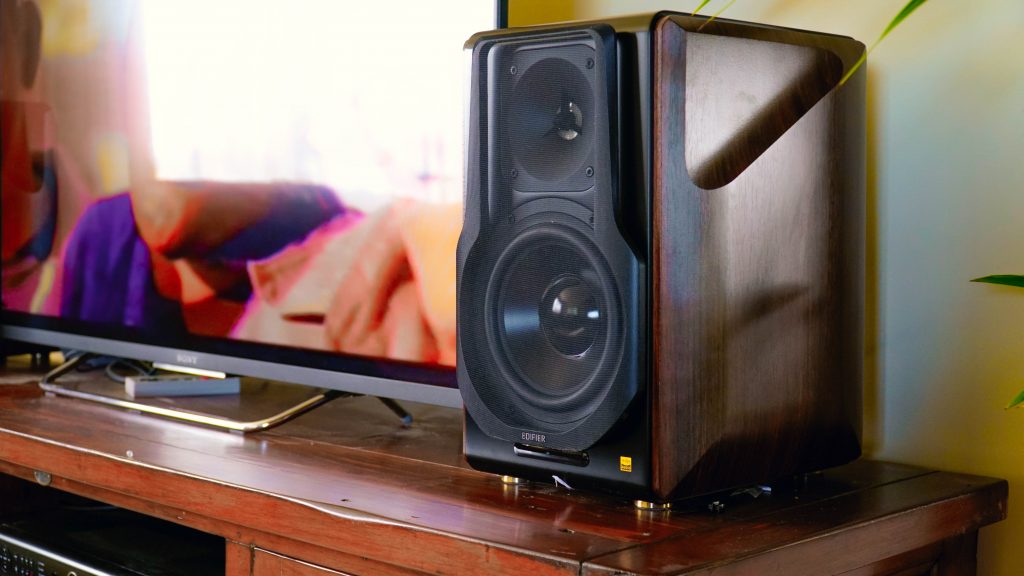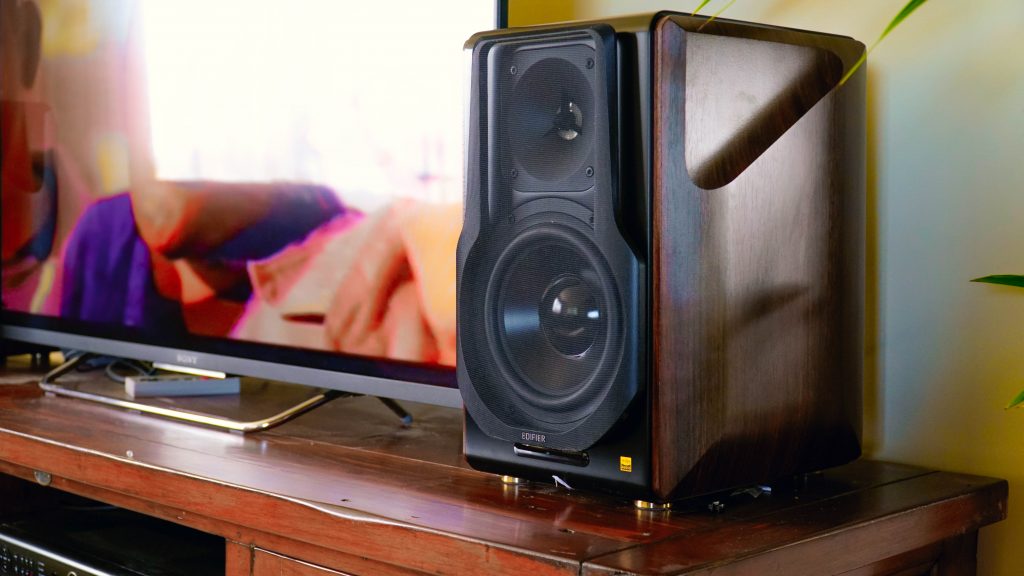 Overall I was pretty impressed with these speakers, but there is always a but.
For the price and for me more importantly the application I wouldn't use these for TV and I wish I had the space to try them out when editing a big video project. Edifier do have a pretty big range as I found out and I'm pretty keen to check out some of their smaller speakers.
but to weigh it up
PROS
Great sound for size
Look awesome
connect to anything
CONS
Mid range can be compromised under heavy use
Size
Overall I'd give these an 8.5 out of 10, they have a lot going for them, and if you judge them on what they are instead of what you want them to be, they are pretty damn epic. My thought train is that these style of speakers for home entertainment are easily matched if not bested by the new tech in sound bars. For the money you really have a lot of options these days – Currently listed on Mightyape for $999 that's a lot of cash to throw around for quality sound, thus you have a world of choices. Bookshelf speakers like this might be used more for style than ability, they look great next to my TV but I feel like for home theater other options might do a better job, while not looking as good. That being said, I do want to try some of their smaller offerings cause if they are half as grunty as these S3000 Pros I reckon they will be a great desktop monitor for video editing and cranking tunes while working.
If you're wanting to pick some up, or check out the range, click for the mightyape listing >> MIGHtYAPE <<
The following two tabs change content below.
Empire motoring Journalist, BMX Rider, Yoga Doer and Burger aficionado. Always down for a laugh and or good food!
Comments
comments