A few months ago I had the idea to look into Quickshifters for my motorbike, and upon further investigation I narrowed my decision down to the unit made by Healtech, in Hungary. Being that my bike is carburetted, I was limited in options, but I think I've made the right choice now I've got it installed and running!
The device itself is pretty simple, it has a sensor that mounts on the shift rod linkage, and a 'black box' that does all the thinking, and then just the wiring to attach the unit to your bike. For my bike, it works by interrupting the signal to the ignition coils momentarily, when it "feels" you pushing on the shift rod to perform an upshift (to the next gear). By doing so, you can keep the accelerator wide open when performing upshifts through the gearbox, without needing to pull the clutch in, saving time and effort!
The awesome thing about the Healtech unit, as opposed to other manufacturer's gear, is that they have developed an App for your phone to adjust the settings on the quickshifter, via Bluetooth. The amount of adjust-ability is staggering, from ignition cut time length, to ignition cut delay, sensor theshold and sensitivity, RPM staging, intial and final RPM settings, and a specific setting to disallow ignition cut on downshifts. All with its own built in security, so no-one else can mess with your settings on your bike.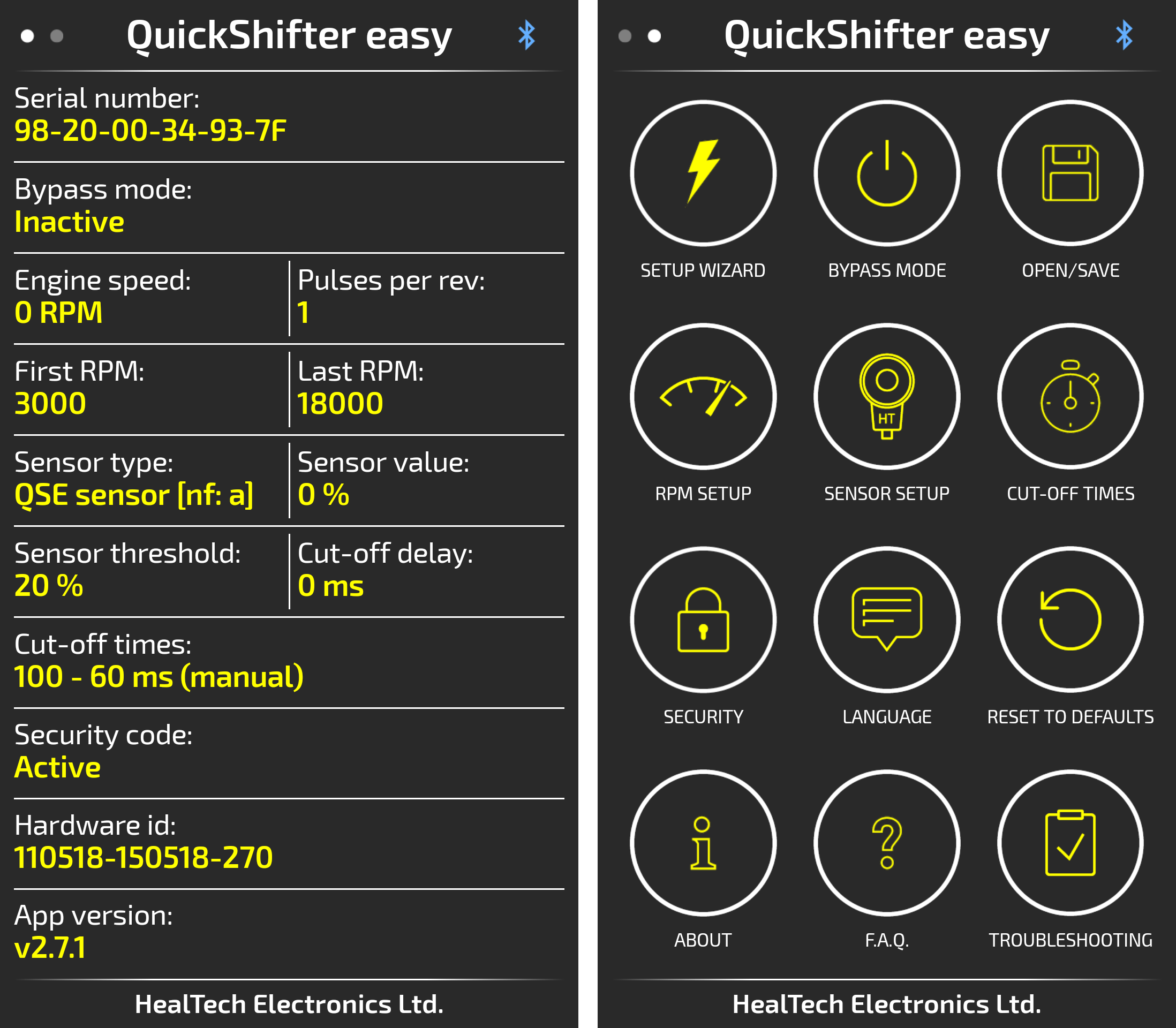 Installation of the device took me about 3 hours, because I'm a perfectionist, but could easily be managed in about an hour for someone that has experience with the unit. It's as simple as mounting the shift sensor, running the wiring, and finding a place to attach the black box. Also, if you've got a newer bike, they make bike specific wiring harnesses so it's all plug and play! They've really gone overboard on the research and development side of things, and are leaps and bounds ahead of the rest of the field with their quickshifter.
Okay, so, the important part… Does it work? In a nutshell, absolutely yes it does! I haven't had testing time yet out on the road, so I still need to fine tune my shift settings, but have a quick look at the video below that I took, you can hear the change in pitch when the ignition is cut for a fraction of a second, then the next gear engages and the motor kicks back in. Keep in mind, this was filmed on a paddock stand, with no load on the rear wheel, so I was trying not to over-rev the motor.
All in all, I'm stoked with the quickshifter, Healtech have been awesome, they've replied to my emails promptly, and as far as I know I'm the first to use their product on a CBR250RR, having sent them wiring diagrams, photos of my rearsets and shift linkage, as well as my ignition coil connections. I didn't have to splice any wiring, it was all connected to the factory harnesses blade terminals. Even the length of their wiring was perfect. Definitely a quality product! Now I can't wait to get out on the bike and hear the noise it makes banging through the gears at full volume!
Check out Healtech's website for more information and see what you can get for your bike!
– Scott
The following two tabs change content below.
Empire motoring Journalist, motorbike enthusiast, and spanner monkey. If it has a tuned motor I'm keen!
Latest posts by Scott Patterson (see all)
Comments
comments