Hey Team,
It's been a minute since I posted a burger review, partly cause its not been something I've been Actively looking for and partly been making a lot of my creations. Check out Mean Eats on the site / channel for more of that.
But a review none the less here we go
We went here cause we were at the on the water boat show and Locky wanted a burger and this place is right there on the corner in the Viaduct. I hadn't had it before but I'd seen it and they had some pretty good burger names.
Parking was, well its the CBD and we were already parked but if you were making this your destination, the downtown carpark is right over the street but yeah, Downtown Auckland.
The venue itself is pretty cool, rad theme and the staff were all pretty cool, it's nice to watch the food get prepared, the kitchen is all open and you can watch your sandwich get made. I quite like that. Matt bought me lunch but I ended up also adding another burger cause I wanted to try it. I did have a little awkward moment, I wasn't sure how long they had been there. I thought they might have been there a few months or something so I asked " how long have you been here for " – The girl at the till said 4 years.. I feel like thats far long enough to make it awkward, I think we had a moment tho.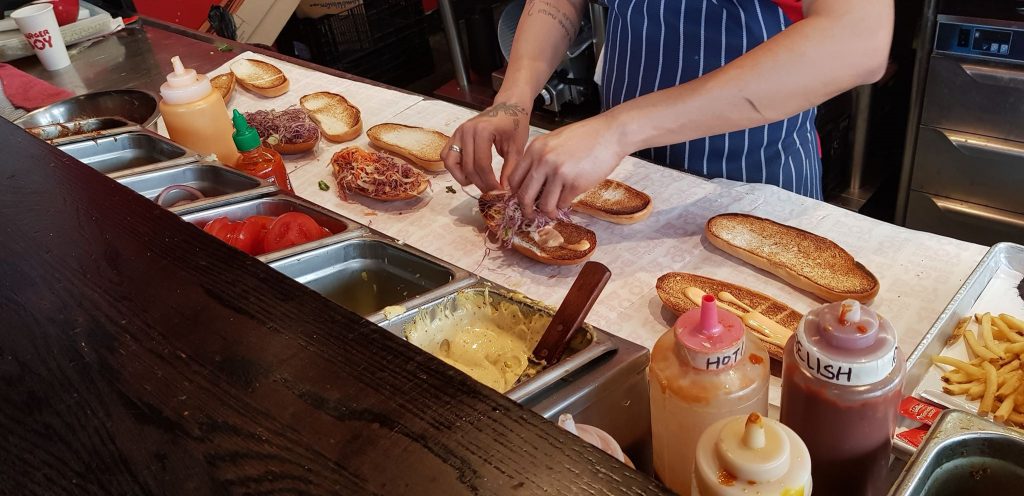 We ordered a Bad Boy Bubby Combo each.
160g grass fed NZ beef
Cheddar Cheese
Fresh Tomato
Iceberg lettuce
Red onion
Hot Boy Sauce + Mayo
in a long bun
with chips and a coke
$21.50
The first thing I felt was this was going for an " In and out " vibe, better burger tried this and fell victim to the same problem.
For anyone whos ever had the good fortune to enjoy In and Out you'l know one of the great things about it is its dirt cheap, like maccas cheap. A lot of these places trying to recreate this vibe are missing the point that its good and cheap which are two of my favourite things. The actual food itself is decent, fresh etc. all those good things, however when you go charge 20 bucks for a combo it takes the shine off it a bit.
The Bad Boy Bubby is a classic example of this, everything about this burger was good. Well cooked patty, fresh ingredients really nothing to complain about at all. For 14.50 just for the burger its not in and out. That's getting into gourmet pricing which this was not. A tasty burger for sure but gourmet? that would be a stretch, it wasn't even huge it was a good size for a decent feed but not massive. I did like the long bun I'm gona try that myself at some point.
I ended up ordering the chicken version too to share with Matt, just to try it really. I saw the fried chicken being prepared and thought we needed to see if it tasted as good as it looked.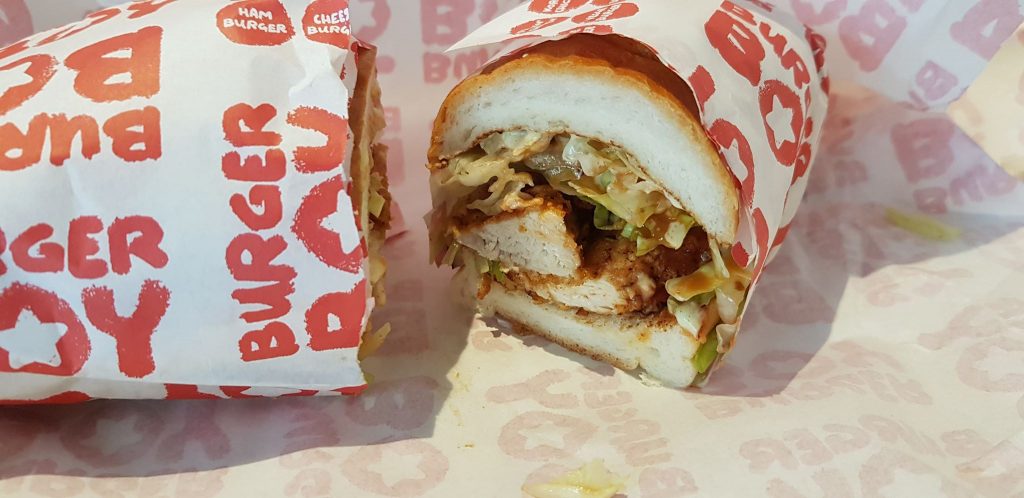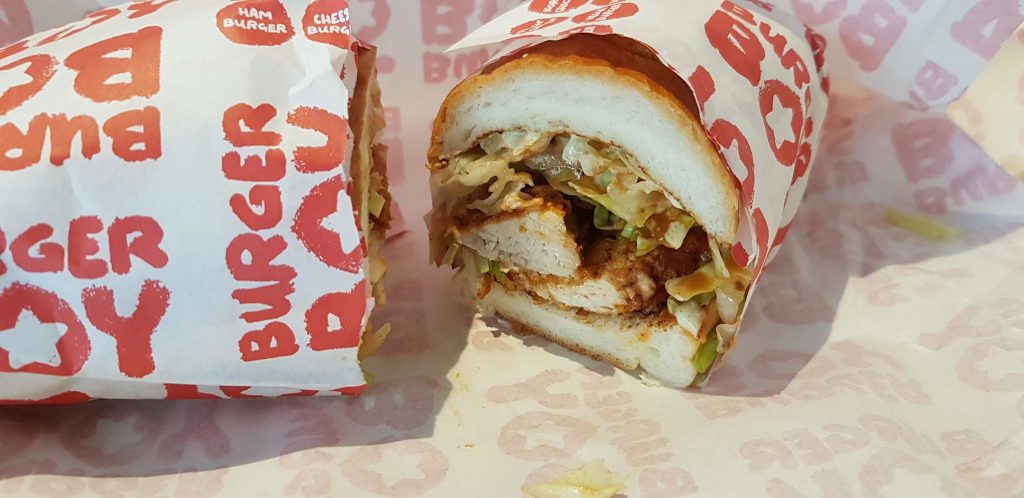 This one wasn't as good as I had hoped, it was fine but not as good as the Bad Boy Bubby, it could have used cheese of some sort and it was just a little underwhelming
Overall I'm glad we went here, if I was in the area I'd get another bad boy bubby for sure and the onion rings were fuckin awesome! I'd stop in just for those
Let us know some more places to try!
And make sure you're following our Instagram for more quickie reviews and creations!
The following two tabs change content below.
Empire motoring Journalist, BMX Rider, Yoga Doer and Burger aficionado. Always down for a laugh and or good food!
Comments
comments