Now we were saying this wrong the whole way there,
It's not Chicken-ing like we thought, it's Chick – king kinda..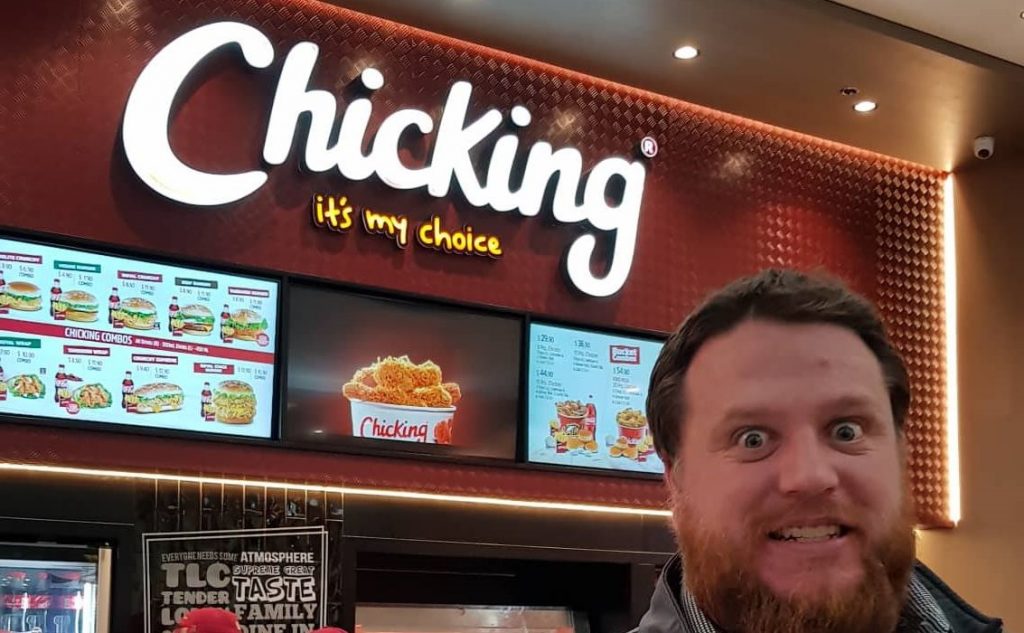 But that's besides the point, Whats the go with this place? well some back story. A couple weeks ago there was a heap of noise around fried chicken because of a " festival " that we posted about and it got a lot of attention, then we found out it was gona just be food trucks so that's gona be a bit of a dud.. however around the same time, Sylvia Park was posting about Chicking – a new installment in their food court in their mall.
Now I like fried chicken as much as the next person, maybe more. You might remember we were very early into Texas Chicken which was a similar thing going up against KFC and seemingly hasn't done too well but they are still around. Our review of it wasn't overly flattering. This place was going to be interesting either way. Reviews from opening weekend we're not amazing. Talk of long waits, lazy staff etc. So we chose to give them a couple days to get their shit together and crossed our fingers.
But I digress.. ya'l wana know about this chicken so back to the format.
Why here? – just fukin' told ya
Parking? – Well its a mall, there is parking all over the place
Staff? Actually really cool, very chill and polite, they were aware there would be a wait and made acceptable small talk with me, Sam got even more.
" wassup my bro how was your day, long as fuck im hungry as bro, hellz yea, what you want, i want the zinger burger bro, bro thats spicey as, yea all good, aight my bro you want some chicken, fuck yea i want some chicken" Something like that?
Needless to say, we accepted them as our own
We were told the wait would be upto 10 minutes I dont think we even waited 5? maybe about 5 mins. Unfortunately even as late as 2pm there wasn't a huge amount of seating available and what was there wasn't tidy or clean. Neither are we tho so meh.
I ordered.
Spicy Cruchy Combo – Upsized with a Royal Crunchy Burger.
2x Hot wings
1x Spicy Chicken
Tandoori Bites
French Fries
Coke ( 600ml Bottle )
Bread Roll
Total was $24 ish
So where to begin. First impressions were good. It certainly looked and smelt good.
It had been a while since I'd had fried chicken from a cardboard box and with high hopes I was excited for this. Firstly smashed the wings, They were fuckin awesome. Loads of flavour without being pointlessly hot the coating was great coverage and nice and thick and crispy just as I like it, it wasn't oily inside at all but it wasn't dry either it was spot on. both drum and flat were very comparable to each other. The 1 very large piece of Spicy chicken again had the same ( or similar) coating and again very well covered as you can see in the picture, tones of flavour and again not soggy like kentucky duck often is with their chicken. I'd go so far as to say it's the best take out fried chicken I've had in this country in a long time, perhaps ever? But it's not all joy and sunshine. The tandoori chicken I'm guessing they just found a use for all the little offcuts, its about 1/4 or less the size of the popcorn chicken in other establishments, the flavours were good I just kind of didnt get it, not something I'd bother ordering on its own.
But where it all falls down was the burger, Granted I ordered as many different things as possible to get a good range of their items, the burger came up last in the order of business. and the rating. There wasn't so much anything majorly wrong with it, it wasn't huge I'd compare it to something like a McChicken size burger? it was just really bland however the ingredients did seem fresh. For $8 odd bucks I could get a better chicken burger elsewhere easily. The chicken is 2 pieces which I think might be the same as their tenders dropped in a bun and covered in lettuce.. that's it.. Even a little mayo might have added. Again it was " fine" but nothing amazing and does not entice me to order any more burgers from there. However I would call in for more chicken if in the area.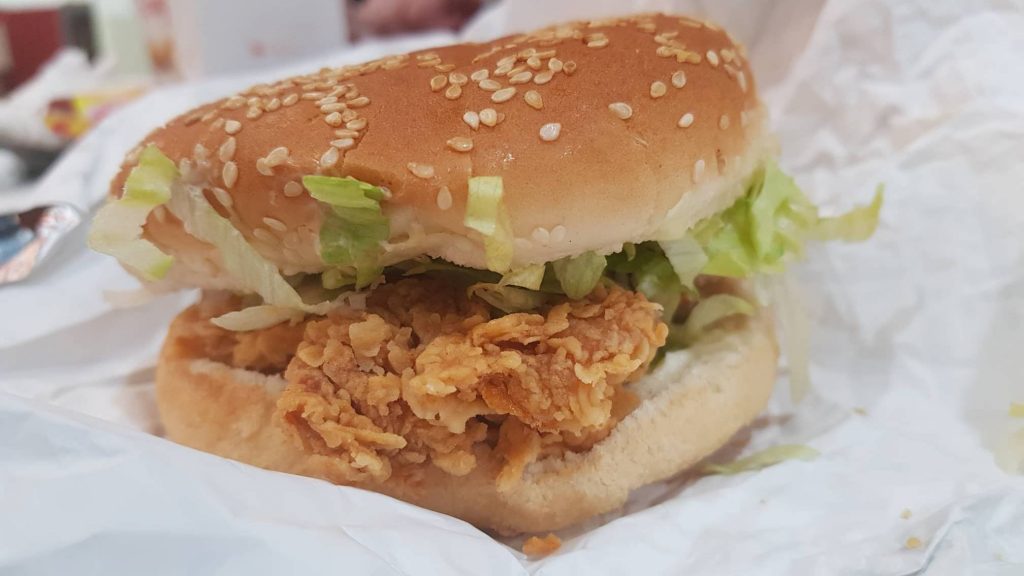 One thing that did come up online from early consumer feedback was the fact that their large fries are the same size as a small fries from Maccas, this is confirmed very smol indeed. I wasn't mad I didnt run out cause i was full on everything else but I can see why people might feel cheated. Salt was a factor both on the fries and in our hearts
Overall there were many aspects to consider with this place, if we think of it as little more than a chicken place then yes they do great chicken. Anything else they offered was making par but only just.
Until next time!
The following two tabs change content below.
Empire motoring Journalist, BMX Rider, Yoga Doer and Burger aficionado. Always down for a laugh and or good food!
Comments
comments