So, you've decided that you want to get your motorcycle license – summer is coming and you're keen to try two wheeled transportation… Yay! You've been reading all the drivel that I've been writing on here and thought "he makes it sound like fun", right? Haha sucker! Okay, seriously, we're here to help, and I'm sure you have a few questions about the processes, so let's get into it.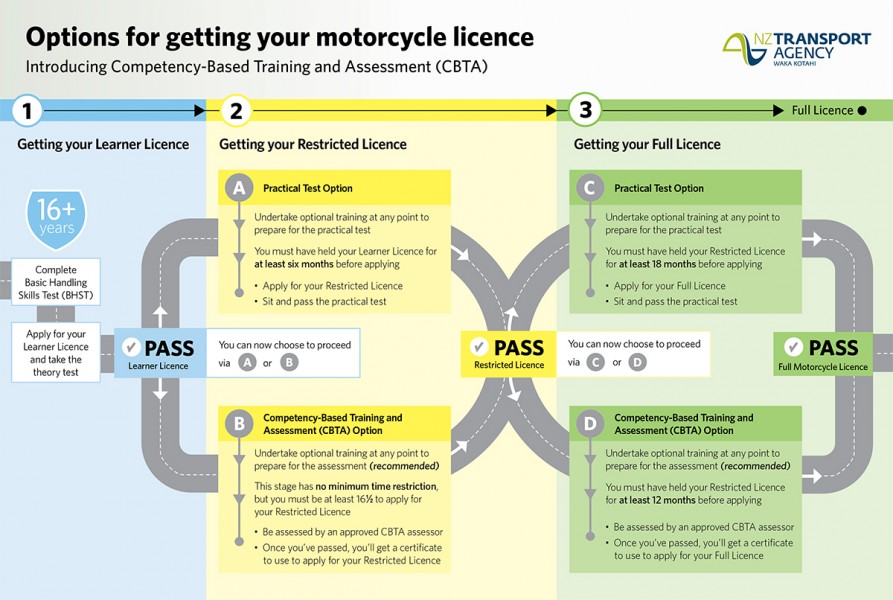 First of all, you'll be needing your motorcycle license. That little plastic card with your picture on it that the Police Officer wants to see when they have their flashing lights on behind you. A motorcycle license is a "Class 6" license, you can apply to get it from the age of 16, and there are two tests you need to pass to get your motorcycle "Learners" license. The first part is your Basic Handling Skills test, where you prove you can ride a bike around a set course safely and without falling over. It's pretty simple really. There are a bunch of companies around that will help you with this part, holding courses that cater to complete newbie riders with no prior experience on two wheels, up to experienced riders that already have the basics down and just want to pass the test. Prices vary between course providers and their course content, so jump on your Google and find what works best for you.
The next part is the theory test. This is where you go into your local AA, or VTNZ, or approved license test station, and sit down in front of a computer to answer a bunch of questions about the NZ Road Code (for Motorcycles). Hopefully, you've studied up and you can answer all the questions correctly! You have to get at least 32 out of the 35 questions right to pass. You'll also have to pass an eyesight test here, and show your certificate from passing your Basic Handling Skills test. Book your appointment in advance, study up, and you should be fine. Once you're all done, they'll issue you with a 'temporary license' – your permanent license will be mailed to you in the post.
Woohoo! You're now legal to ride! Well, to a point. On your learners license, you can ride any bike that is LAMS approved – the Learner Approved Motorcycle Scheme that states a bike is safe for you to ride. Sorry, no, you can't ride a Hayabusa or Zx-10R just yet. The NZTA website has a full list of what bikes you are allowed to ride on your learners license. Oh, and don't forget, you can't ride between 10pm and 5am, and you can't take passengers either.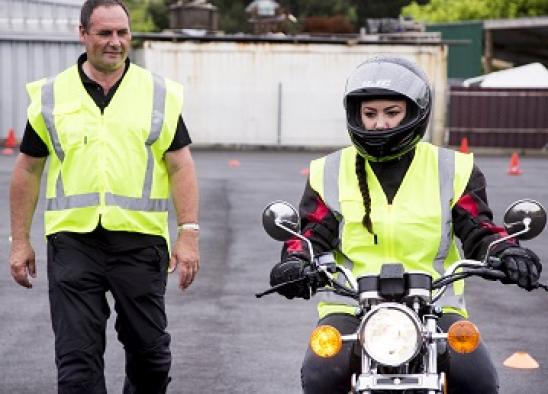 So now you've bought your first bike, helmet, and riding gear, and you're slowly building confidence and getting used to being in traffic – it's a bit different to being in a car, right? Have you had any scares yet? My very first day on a road bike I had a car try to race me, I got cut off, and I ran out of fuel! The biggest tip I can give you is this – take your time! If you are still a bit nervous, I don't blame you! Get yourself booked in to a rider training course provider (typically the same ones that take the BHS test have advanced courses as well) and get some real hands on help. I can't say that enough: get some real hands on help!!! There is most definitely a right way and lots of wrong ways to properly operate your bike, and unless someone shows you, how are you supposed to know…?
So hopefully the bug has well and truly bitten you and you're hooked on the motorcycle life (like I am!) Be safe, keep your eyes open, and enjoy it! There are heaps of motorcycle groups out there, you'll become part of the 'family' in no time at all. We all try to look after each other, so if you have any questions just ask away. Just remember, the road is a dangerous place, but when treated with respect, you can have a heap of fun! Hopefully I'll see you out there soon!
– Scott
The following two tabs change content below.
Empire motoring Journalist, motorbike enthusiast, and spanner monkey. If it has a tuned motor I'm keen!
Latest posts by Scott Patterson (see all)
Comments
comments