It's been a minute since I've posted anything due to being absolutely swamped with life chores, but I thought that I would share one of my more recent successes on my kayaking journey.
I fully Intended on videoing this whole trip, but as you will see shortly, there is a reason I didn't.
I left Rotorua and headed towards Tauranga at around 1630 planning on being on the water around 1745, High tide was around 2100 so I was pretty early to be honest. I was trying a new spot that a mate I met through one of the Facebook Kayaking groups had recommended to me. When I arrived, I was a little taken a back when I realized there was no beach, but rather a big pile of rock that I would have to carry the kayak and all my gear down…
However, not one to be turned away by a challenge, I proceeded to carry all the gear down and get my kayak sorted and ready to paddle.
I briefly spoke to another fisherman who was heading back to his car who said that he hadn't had as much as a bite, but I wasn't deterred as I had good intel for what I needed to do and where I needed to fish.
I had been told to fish in about 1.5m of water and to berley up, but when I reached 1.5m, I decided I knew better, so I kept paddling till I reached the edge of the channel , which was around 4.5m. Thus, began 3 hours of no bites whatsoever, and constantly pulling my anchor back in and resetting as I battled the incoming current.
Eventually I gave up trying to stay in one spot and let the current drag me along, towing my 750 gram anchor along behind me to slow my drift a little. I had almost reached the other side of where I was fishing, when the light started to fade, and the current slowed as it reached high tide, when suddenly I felt the fish start biting!
I was now stray lining whole pilchards and they were getting absolutely hammered.
Unfortunately that is the only footage I got. After drifting around for 3 hours without so much as a nibble, I had given up on videoing the whole operation and by the time they started biting it was too dark to video. I managed to catch my limit however, and was left with one piece of bait so all in all it worked out perfectly.
This trip was the first time that I managed to catch my limit of snapper and I also managed my personal best of 52 cm!
My family and friends were very happy to receive their share of my catch and I cannot wait to get out again!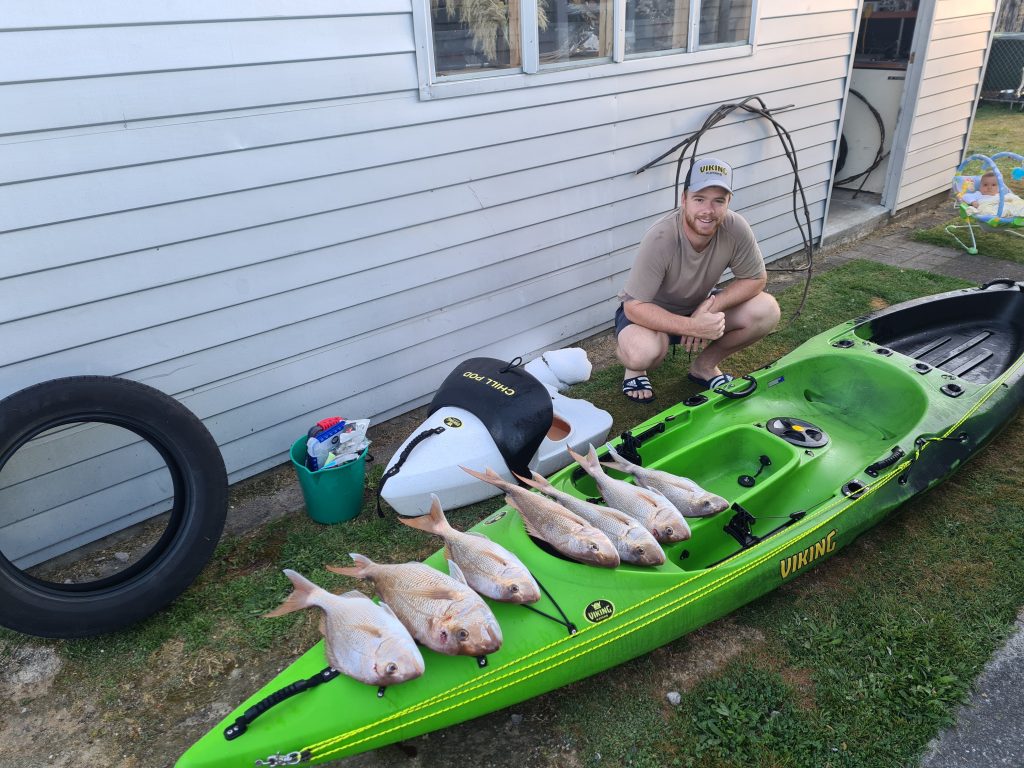 Big thanks to Viking Kayaks for letting me take the Profish 400 out for a spin. Head over to their website to check out their range of fishing kayaks. https://www.vikingkayaks.co.nz/
Folow me on Instagram for some more content!
The following two tabs change content below.
Comments
comments