Looking for a sure fire way to the perfect cooked steak? How about you give the reverse sear a go. This method is all about slowly raising the internal temperature of your meat by using indirect heat ensuring moisture retention and maximum flavor then searing off at the end of the cook giving you that crispy caramelized outer edge. Are you ready for the mother of all deliciousness?
Last night a friend of mine came around with two amazing bone on scotch fillet steaks, both weighing roughly 500-600g each. The only way to bring these bad boys to justice was to reverse sear them on the grill. Trust me, you wont regret giving this a go!
Here is how I do mine:
Light some coals and preheat your BBQ to around 135°c/275°f setup for indirect cooking
While your BBQ is coming up to temp, prep your steaks – season with salt and pepper liberally or dust with your choice of rub (make sure your steaks are at room temperature)
Place your seasoned steaks directly onto the rack on the opposite side from the heat and add your choice of wood if you want a smoky taste
Cook until the steak reaches an internal temp of 51°c/125°f for medium rare, depending on your preference of "doneness" you can go a little higher than this. Usually takes around 45-60 minutes.
Remove the steak from the BBQ and let it rest for 10-15 minutes under some tinfoil
Stoke your coals so they get some fresh oxygen (you may want to prep some extra prior to this step to make sure they are piping hot!) or you can preheat a cast iron skillet or heavy based pan to a screamingly hot temperature
Sear your steaks for one minute on each side, just long enough to get a nice caramelization on each side
Slice and serve immediately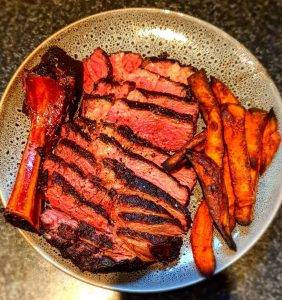 Keep in mind this won't work on all steaks. What I mean by this is that your steak needs to be thick. Common sense will prevail here, schnitzel or a minute steak isn't going to work for you. Something with some thickness to it roughly an inch and above is what you are looking for.
You can use this method in an oven as well (shock horror and complete blasphemy!!) just apply the same temperatures to your oven and finish with a sear on that piping hot skillet or pan.
Guide for Internal Temperatures to shoot for:
Rare: 51°c/124°f
Medium Rare: 53°c/129°f
Medium: 59°c/139°f
Well done: 71°c/160°f (please for god sakes don't let this be you…I'm going to be very upset)
View this post on Instagram
The following two tabs change content below.
Backyard barbecue enthusiast, nerdy gamer, casual biker guy.
Latest posts by Kial Muir (see all)
Comments
comments