Hey team!
Been a while since I stumbled on a brand new burger spot so needless to say I was rather excited!
Velvet Burger, Federal Street.
Why here? We were at a launch party for GoodBuzz NZ Kombucha next door and we we're missing the free food cause we weren't wearing out lanyards! we noticed it on the way in and put it on the to do list for a later date, and yet we made it that night anyway.
Parking, well it's CBD so its fucked. There are some other locations around the city as I understand it.
The place was a little on the cold side, I mean everything is cold but there wasn't much in the way of heaters inside so we ended up keeping our jackets on, staff were super cool and good for a laugh, quality bants.
I was going to order the cheesy bro to try keep some continuity between the reviews as most new places get the simplest beer burger reviewed, however when I saw a challenge menu item it was hard to ignore.
" Not for the faint hearted"
GONEBURGER
Beef Pattie
Crumbed chicken breast
Bacon
Salad
Relish
aioli
$17.50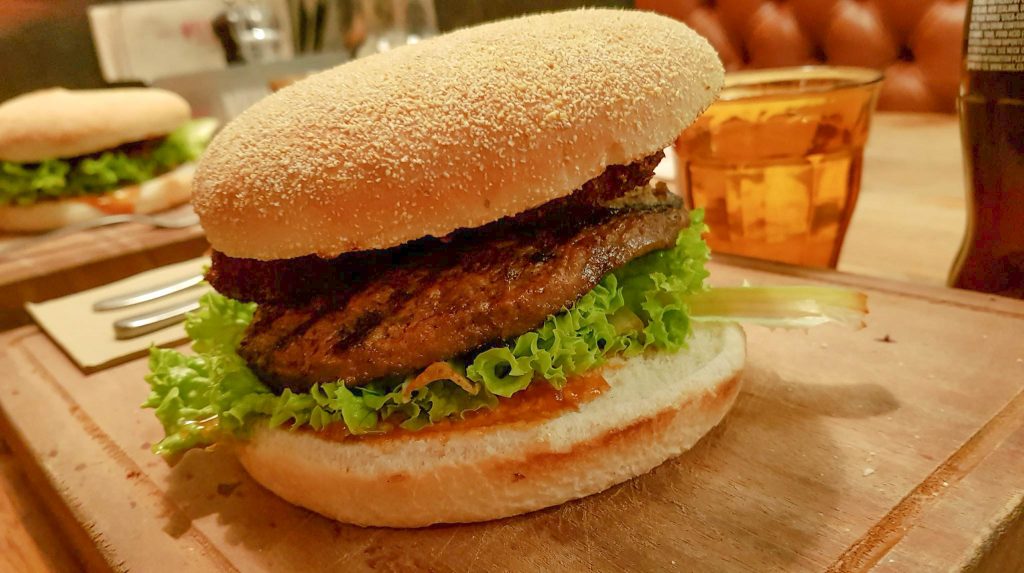 Also ordered some skinny fries at $5.50 and my date had the " Animal Rights Burger ( vegetarian ) $13.50
With a coke all up the meal for two was about $40 bucks, not bad for a night on the town
So both burgers turned up on wooden plates, very well presented. Looked just like the instagram pictures which we all know is rare these days. For a " challenge " burger I was a little disappointed with the overall size, I'd say its about the same size as a standard burgerfuel burger perhaps a little bigger. All the ingredients seemed very fresh the bun was lightly toasted and super soft inside, likely the best buns I got my hands on that night.
The thing that I noticed and couldn't shake, the beef patty tasted like one of those burgers you get in a BBQ pack from the super market, not that that's the worst thing in the world, but it seemed a bit cheap for a gourmet burger place. It just didn't sit right with the rest of the burger, everything else was artisan and top quality and the beef patty kinda let the side down, not a lot but it was one of the first comments I made. The chicken breast was awesome nice and crisp on the outside and juicey quality chook on the inside. Could have been a bit bigger to match the patty but ya know rounds holes square pegs overall it was a really good burger I'd go back for 2nds for sure. I don't think it needs the hype of " not for the faint hearted " it wasn't small but it wasn't any real challenge either, you'l need to bring an appetite but you shouldn't feel intimidated at all either.
My date had the afformentioned Vegetarian option, the Animal Rights – Kumara and corriander pattie, salad, beetroot, minty yogurt sauce, relish and ailoi – She gave it a 7ish out of 10, I didn't try a bit cause I fuckin hate corriander. The skinny fries are easily enough to share and possibly the best maccas style chips I've ever had, they didn't even need salt or sauce. 10/10 on those.
Follow us on instagram for more food porn!
Overall we liked it and I'm sure I'll be back before too long!
Until next time burger lovers
The following two tabs change content below.
Empire motoring Journalist, BMX Rider, Yoga Doer and Burger aficionado. Always down for a laugh and or good food!
Comments
comments