Well, I picked up these riding jeans from the good people at Resurgence Gear while I was at the NZ Motorcycle Show, displaying my bike back in June. Now, that is a long time to review a pair of pants, but as you know, we had a very wet winter!
Please keep in mind that this an independent review and in no way sponsored.
Anyway, I headed down to the annual Cold Kiwi Rally held in Waiouru a few weeks ago (Brrrrr…) and was able to get a real feel for how these jeans performed. But, before I talk about that, let's look at a few of the features on offer.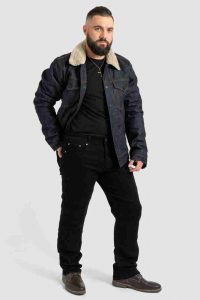 The protective lining is 80% Pekev® (CE AAA) and both hip and knee armour is included. The armour is  D30 Ghost Level 1 and I was very impressed by how unobtrusive it is!  Made up of little triangles, the armour conforms to the shape of your body and is barely noticeable when you look at the jeans.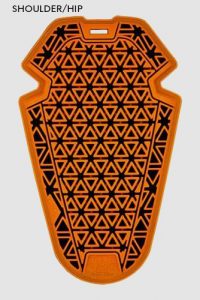 The armour is easily removeable for washing, although it can be a bit tricky to get it back into the position you want it to sit in, but this is only applicable to the knee armour and is a minor inconvenience. Some more in-depth details about Pekev® is avalable here.
The material is Super-Stretch Denim which is great for those of us with thighs that are more suited to kick starting old knuckleheads. I found the jeans to be very comfortable and the quality of the jeans was very evident. They are definitely a heavy pair of jeans and are thus more suited for winter riding in my opinion, especially when you get to your destination and start walking around. The waist has 6 belt loops that , with the help of a belt, do a good job of keeping your Grand Canyon covered. The inside is lined with mesh to prevent friction and I have to admit that the mesh makes all the difference!
I found that they let very little wind through, and I was warm enough, even in sub 10 degree temperatures as we rode through National Park. Our return trip was rather early in the morning but, a pair of thermals underneath was all I needed to be toasty and warm.
A big deal is the fact that Resurgence Gear has allowed independent testing from Motocap, where they scored a 3 out of 5 in safety which is pretty good. The big wigs at Motocap recommend 3 stars and above for our NZ roads. You can find the report here.
With a large range of cuts, colours and sizes, odds are you'll find something to meet your needs. I am very happy with the way these performed and would definitely recommend them to anyone looking for a more casual pair of riding pants.
This particular pair retails at $329 – $349, which seems pretty reasonable when compared to their competition.
The video down below doesn't look too hectic so, I might do a more realistic test next time and just get someone to push me off their bike at 140kph!
If style is what is keeping you from getting into some protective riding gear then, you no longer have an excuse. Keep that supple skin of yours attached to your carcass by getting into some quality gear.
You can find them here
The following two tabs change content below.
Comments
comments