2017 has been a bit of a watershed year for Processors and PC hardware in general. AMD have had a resurgence of form, with their Ryzen and Threadripper processors firing some shots firmly across the bow of Intel's Core series processors. It's the first time in a few years that the conversation of which components you select when PC building are genuinely interesting and not dominated by discussing which core series processor you can stretch to. Interesting times in the world of computers.
Intel's response to AMD's Threadripper was the release of the Core X series of processors. Utilising a new motherboard chipset in the X299 and a new LGA2066 socket to accommodate the extra capability of these processors, this hardware is packing some serious capability, with heaps of PCI-e lanes for M.2 SSD's and Graphics in SLI or Crossfire configurations. Interestingly, the number of PCI-e lanes available to you does depend on your processor selection from the X series, with the i7 offerings getting 28 lanes versus the i9 which gets the full 44 PCI-e lanes on offer.
Intel got in touch with me back in October and asked if I would be interested in testing out a couple of their Core X series processors. As you would expect, I jumped at the chance to test out their latest extreme-high end processors, and so they sent me their engineering sample (which is marked "Intel Confidential" – so damn cool!) and I got to building with it.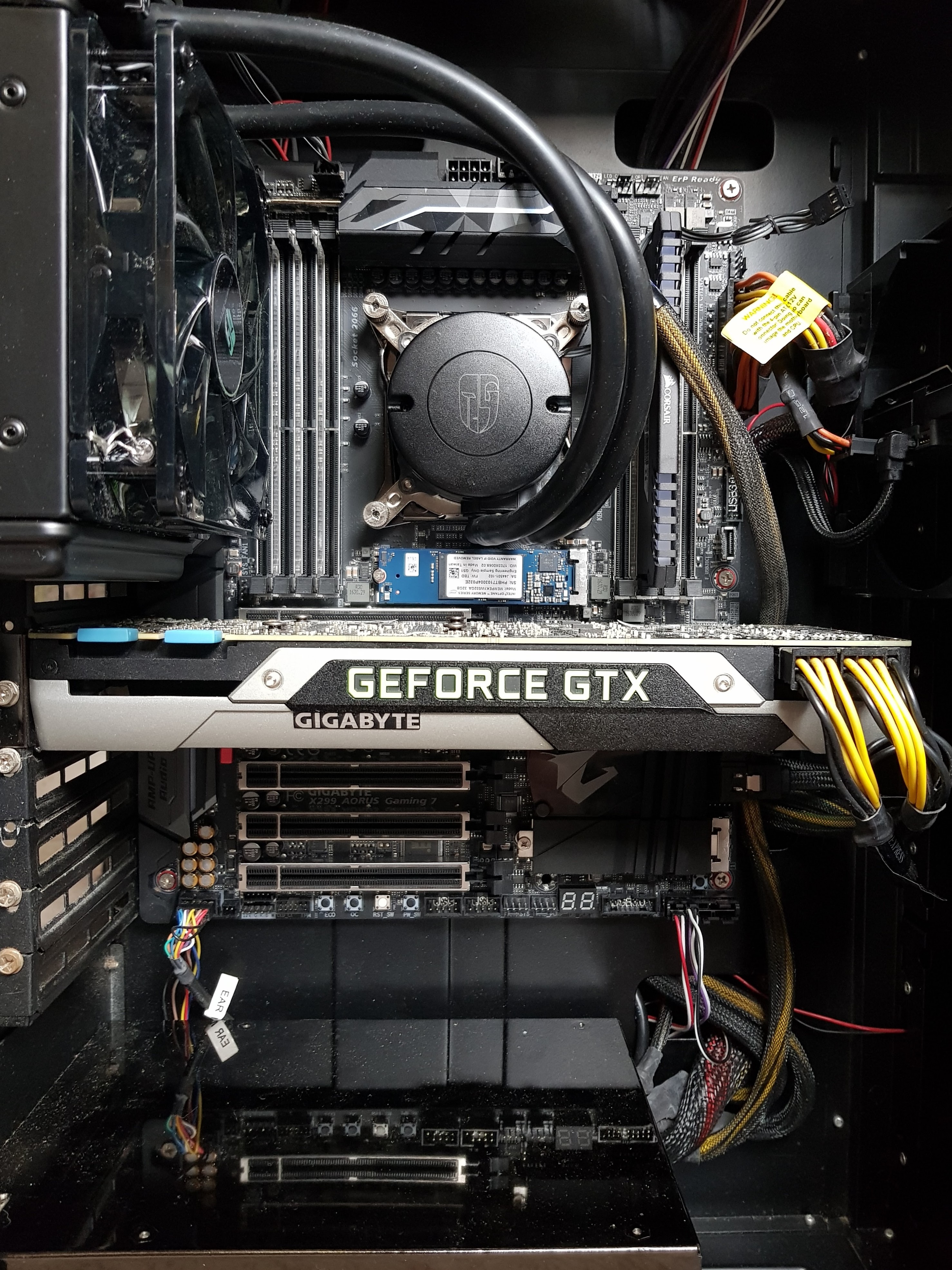 Leading the charge in this space is the Intel Core-i9 X Series processor. Boasting 10 cores with hyperthreading (rendering 20 logical cores in all) and clocked at 3.30GHz, it's a bit of a monster! Whilst 3.30GHz doesn't sound like a huge clock speed (especially when compared to some of the i-5 and i-7 family which run at over 4.0GHz by default) this processor has taken the approach of adding significantly more lanes to the highway instead of raising the speed limit. Of course, this being an X-series, it is also completely unlocked, meaning if you fancy yourself as a bit of an overclocker, you can quite happily dial the settings up to 11 on this processor, as long as you are able to put together a cooling system which can satisfy the extra heat that doing so will generate.
So, what were my experiences building with and using the Core-i9 7900X? Have a wee read of the below:
Building with the X299 & 7900X
It was pretty straightforward. I borrowed a suitable case from a friend (I tend to build Mini ITX, so this was a bit of an experience), and everything slotted into the appropriate place. The Core i9 requires both of the 8-pin 12V ports to have power supplied which may be a bit of an issue if you don't have an appropriate power supply (it should be at least 500 watts as well, but really 750-800 is where you want to be). It powered on first time though, so the PC building Gods (probably Loki, if I'm honest) were smiling upon me.
General performance
A lot of the experience that we have with computers on a general basis is less about the CPU than it is about the memory and HDD that go along with the CPU. I was using the Samsung 960 PRO M.2 SSD, which uses 4 PCI-e lanes for data transfer. Combined with the X299 and Core i7 / i9 processors, I found the experience to be fluid, immediate and everything you'd expect of a processor in this class. All of this performance was made available through the selection of components that aligned with the X299's abundance of PCI-e lanes. I'm pretty sure I could've gotten even more if I'd managed to source a quad-channel memory kit or two, but DDR4 is brutally expensive at the moment.
Gaming
The LGA 2066 doesn't have any on-board graphics outputs, meaning that you *must* have a discrete GPU to go along with these processors. With that in mind, for the majority of your gaming performance, you'll be bound to whatever graphics card you can afford. Notably though, for any of the intense physics or CPU bound tasks, the Core i9 offers a significant performance bump over the i7 (both 6 and 7 series) – I saw a 90% increase in Physics tasks on 3D Mark's Firestrike physics benchmarks (which are exclusively CPU-bound) with the Core i9 over the i7.
Video Editing & CPU intensive tasks
Take the normal amount of time that you would expect anything to take you and cut it in half. Seriously, the Core i9 doesn't even break a sweat whilst it's doing these things. As well as running some pretty intense video editing things through the i-9, I also fired through some Cinebench benchmarks, it was literally completing it in half the time of its X299 little brother, the i7-7820X. For anything compute intensive, the Core-i9 7900X is a beast.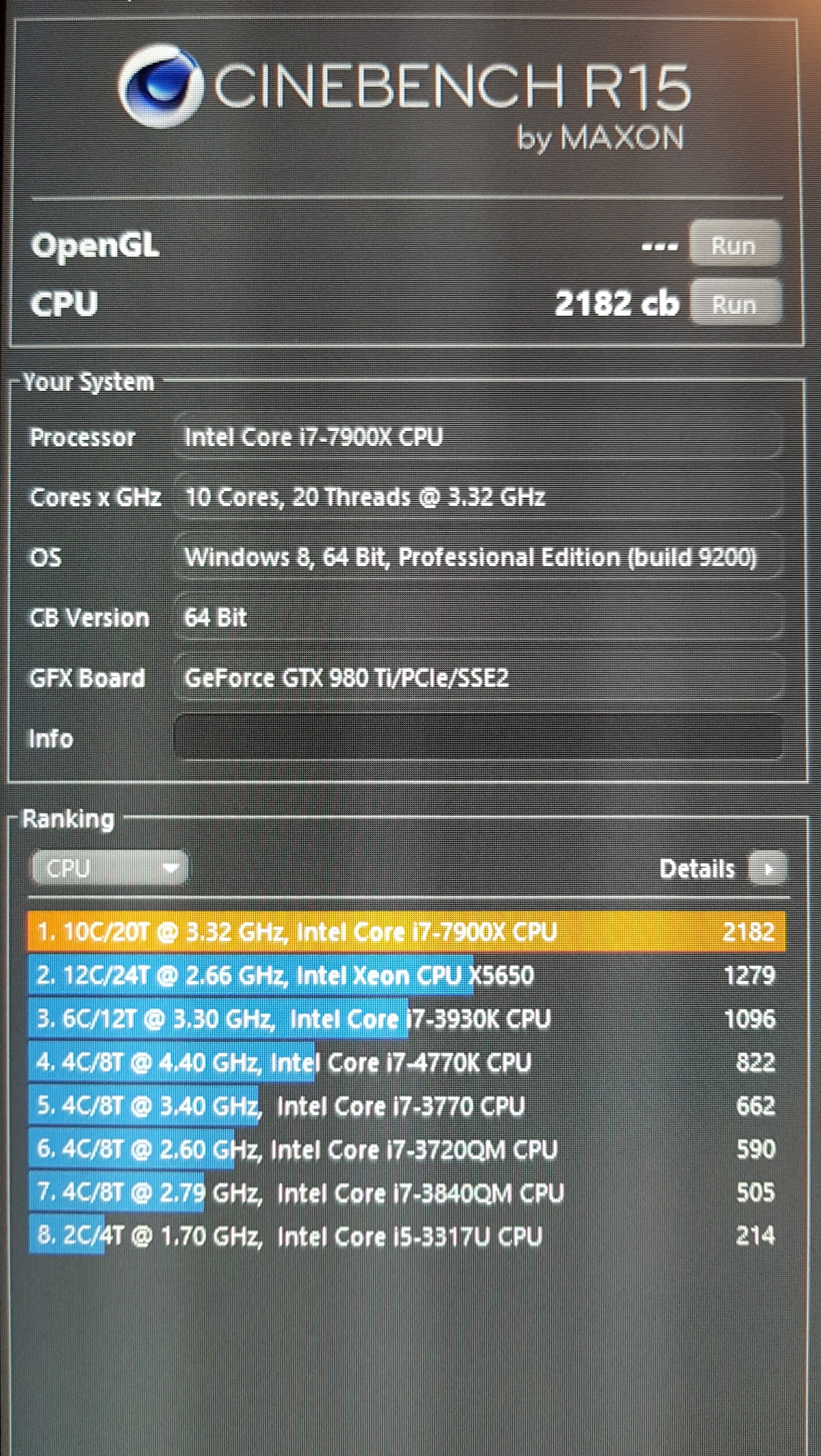 Price
This is where things take a turn for the ugly. Intel's flagship processor costs just north of $1,500. For that, you can purchase whole systems (granted, it'd be pretty basic), including laptops. But, if you're realistically looking at this processor, then you're speccing a build that's going to go into the $4,000-and-up range. Heck, you're 50% of the way there with a X299 motherboard and this chip, before you add in memory, GPU, storage, case, PSU, etc… You get the idea.
Closing Thoughts
With the Core i9 7900X, Intel has stuck its flag firmly back atop the mountain of PC Processor performance. There is no question that on paper and in the benchmarks, the Core X series offers more than the Core i7-7700K, and even the new hexa-core 8th Generation i7-8700K. There's no question that this processor will find limited audiences in the mainstream market however. It's about triple the cost of the 8th Gen processors and doesn't offer triple the performance. If budget isn't a limitation for you, then you could use the 7900X as the starting point of building an absolute monster of a PC. It handles everything that you throw at it without even breaking a sweat.
I'm going to give the core 7900X a score of 8.8/10 – it's a big, beautiful, impressive and intimidatingly powerful processor which, when paired with other high quality components in the memory, storage and graphics space, come together to create one of the best PC experiences out there. It's a shame its cost puts it out of the hands of all but the most dedicated of PC builders.
– Dave
The following two tabs change content below.
Gaming & Technology Editor
at
The Empire Digital Media Ltd.
Gadget fiend, maker of beer, technology enthusiast, and Dad of three, Dave enjoys trying to protect expensive gadgets from the destructive power of tiny people, and frequently fails.
Comments
comments