The humble Personal Computer is one of the most versatile and unique expressions of personality in modern technology. Whether your focus is crisp, angular lines or smooth curved surfaces. Whether you're a fan of the largest of tower cases, or the very smallest of cases that you can cram a processor into. Desktop, laptop, or tablet. Mac, Windows or Linux. There's something out there for you in this sea of choice.
Most PC purchases follow either the build-it-yourself model, or the pre-built models from the likes of Lenovo, HP, Dell, Asus, Gigabyte, and the like. Both paths have their pros and cons, either aesthetically or financially, but there's a path that's not often spoken about, which is where the Intel Next Unit of Computing, or NUC comes into play.
This is a barebones kit. In the box, there is an enclosure with an Intel® Core™ i7-6770HQ processor, clocked at 2.6GHz with a turbo clock of 3.5GHz. As a part of that processor, it has Iris Pro Graphics 580 which is designed to allow for mainstream gaming (more on that later). Now, this processor would normally be found in high-end laptops. It requires active cooling and there is a radiator and cooling fan pre-fitted in the enclosure as well. All you have to add is 1 or 2 DDR4 SODIMM (laptop) memory modules, 1 or 2 m.2 SSD drives of the 80mm variety (which is most of the ones being released these days) and an operating system.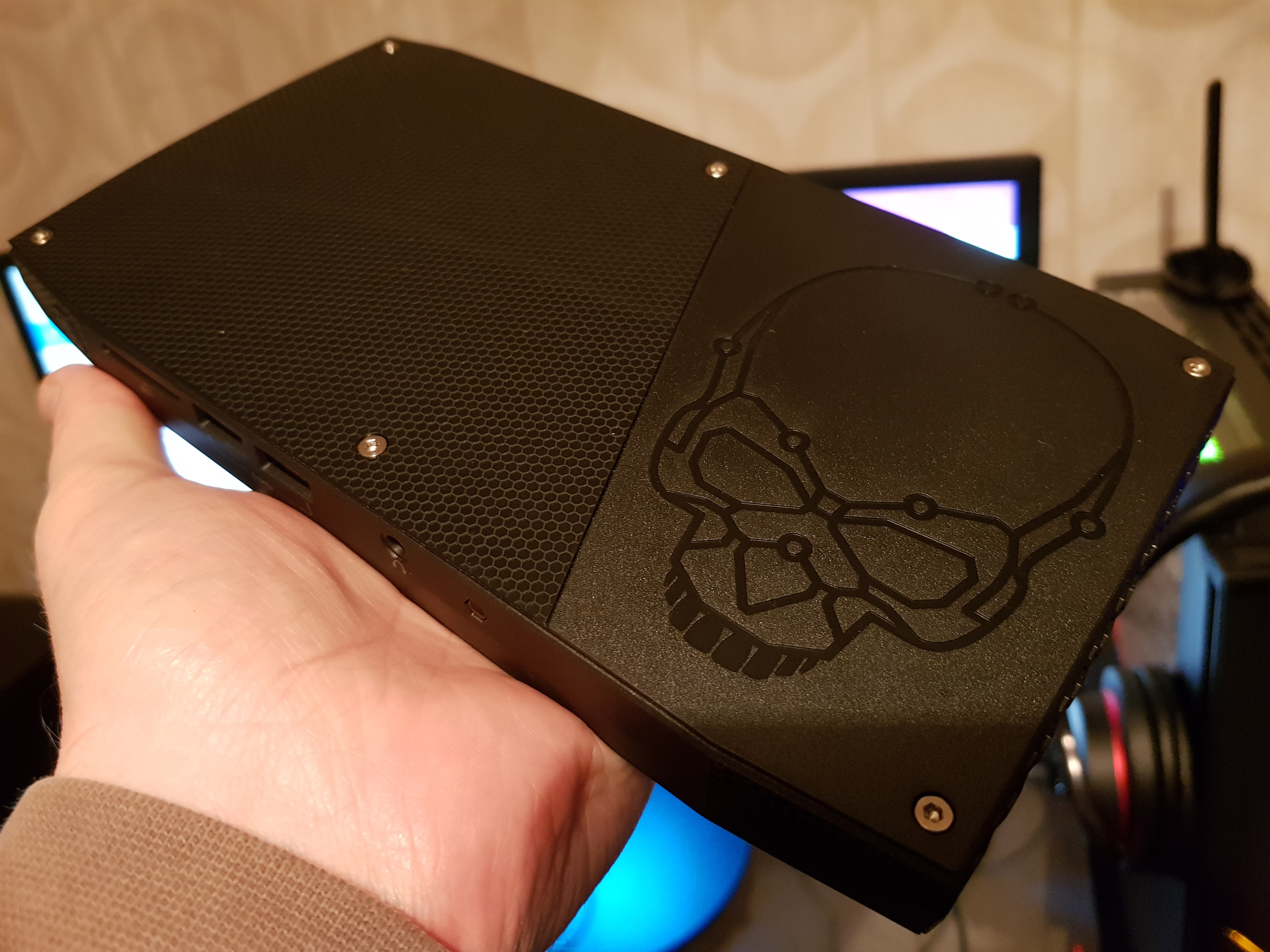 Building it:
Putting it all together is a cinch. It literally takes a minute, or a couple at most. It's 4 screws to take off the back plate, and another 2 to get the m.2 drives secured. Memory snaps into place as it would on a laptop and then everything goes back on, you plug in the power cord, a keyboard, mouse, and screen, and hit the power button. Now, you do need to know how to set up an OS if you're going to get one of these, but with most 'mainstream' Operating Systems, such as Ubuntu Linux or Windows 10, you're basically walked through it. Installation usually takes up to an hour, and then you'll be well away.
General Use:
For day to day computing, the Skull Canyon NUC performs as you would expect from a modern computer with high-end components. In most tasks, ranging from web browsing, video playback, through to some more processor intensive tasks such as video editing and photoshop / image editing, the NUC handled it all without so much as breaking a sweat. Even 4K video was a breeze, which reminds me – the NUC has both a HDMI 2.0 output and a mini display-port output, as well as a USB type C connection. All 3 of these can output to 4K displays at 60fps, so you'll be able to get your 4K on pretty much any way you want.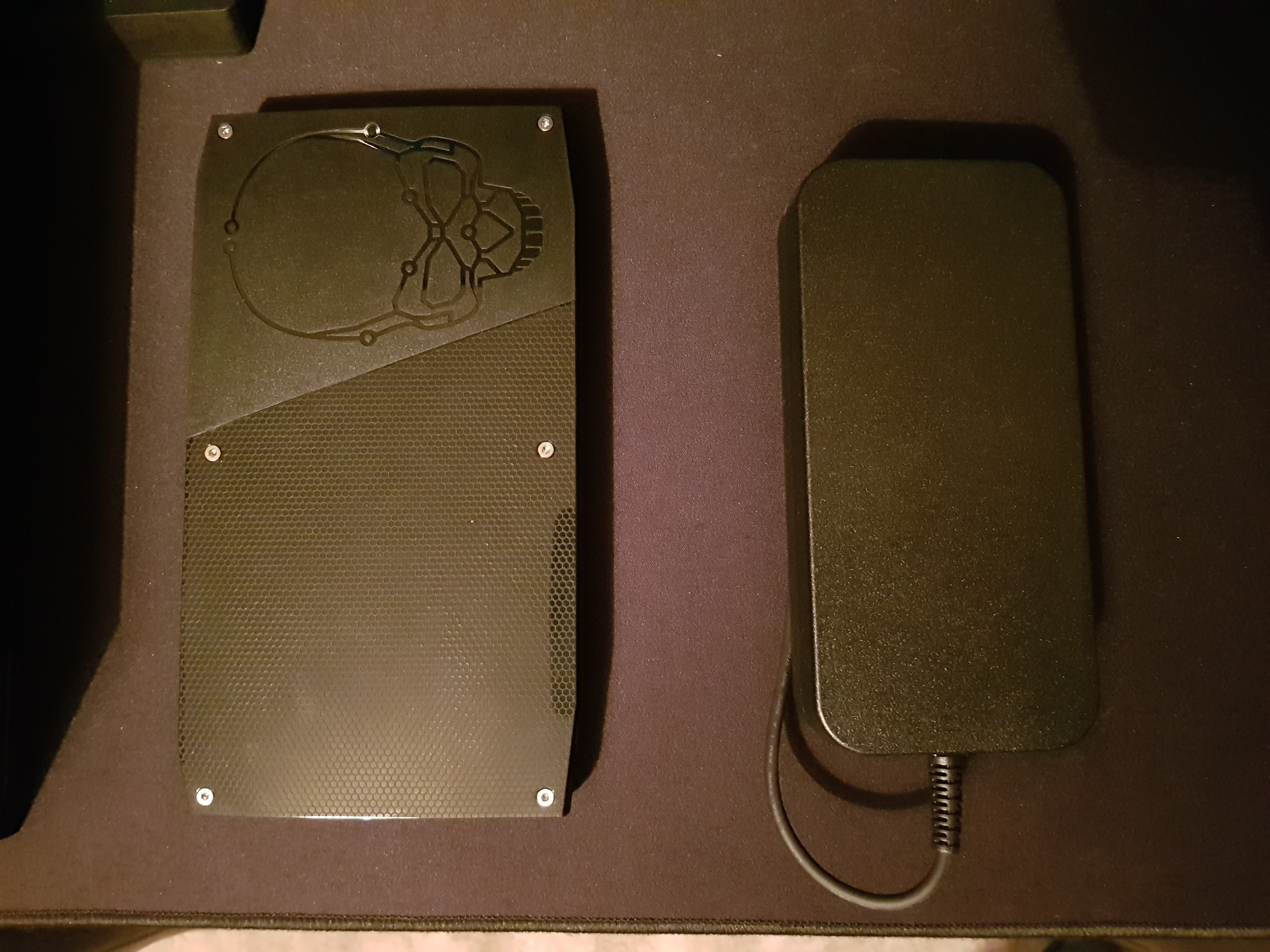 Games:
So, Gaming. This Micro-PC has some aggressive styling and the skull etched into the top of the enclosure (which can be switched out for a more neutral cover), so you'd think that they were aiming this one at the gamers, eh? Well, kinda. It can do some games.
Hear me out. I had a couple of sessions on a range of games. Here are my experiences summarized:
(old) Portal 2 – medium settings, 1920 x 1080 – 100+ fps
(new) Overwatch – low settings, 1600 x 900 – 60fps
(newest) PLAYERUNKNOWN's Battlegrounds – low settings, 1270 x 720, 5-25fps
So there you have it. Some games, particularly older titles will run pretty well on it. I was surprised at the Overwatch framerates, as I wasn't expecting much from Intel graphics. PUBG was unplayable though, and as it's currently one of the most played games out there for the time being, you'll not be able to wield it in anger with this off the bat. There is however, an option. You see, thanks to that USB-type C connector on the back, you could try and find an external GPU enclosure and configure that to do your heavy graphics lifting. I didn't get the opportunity to use one, so I can't speak to it, but it's certainly a possibility and nVidia have made sure that compatibility for such setups are in their drivers. However, at this point, you've probably spent about $2500+ all in ($1,000 for the NUC, $350 on the extras for the barebones, and about another $1,000 for an external enclosure + GPU seems reasonable), which is full-on gaming PC money, not to mention it would take away from the small form factor of the NUC, so you've got to be dedicated to go for that. I suppose the really awesome thing here, and about PCs in general is that hey, you totally could if you wanted to.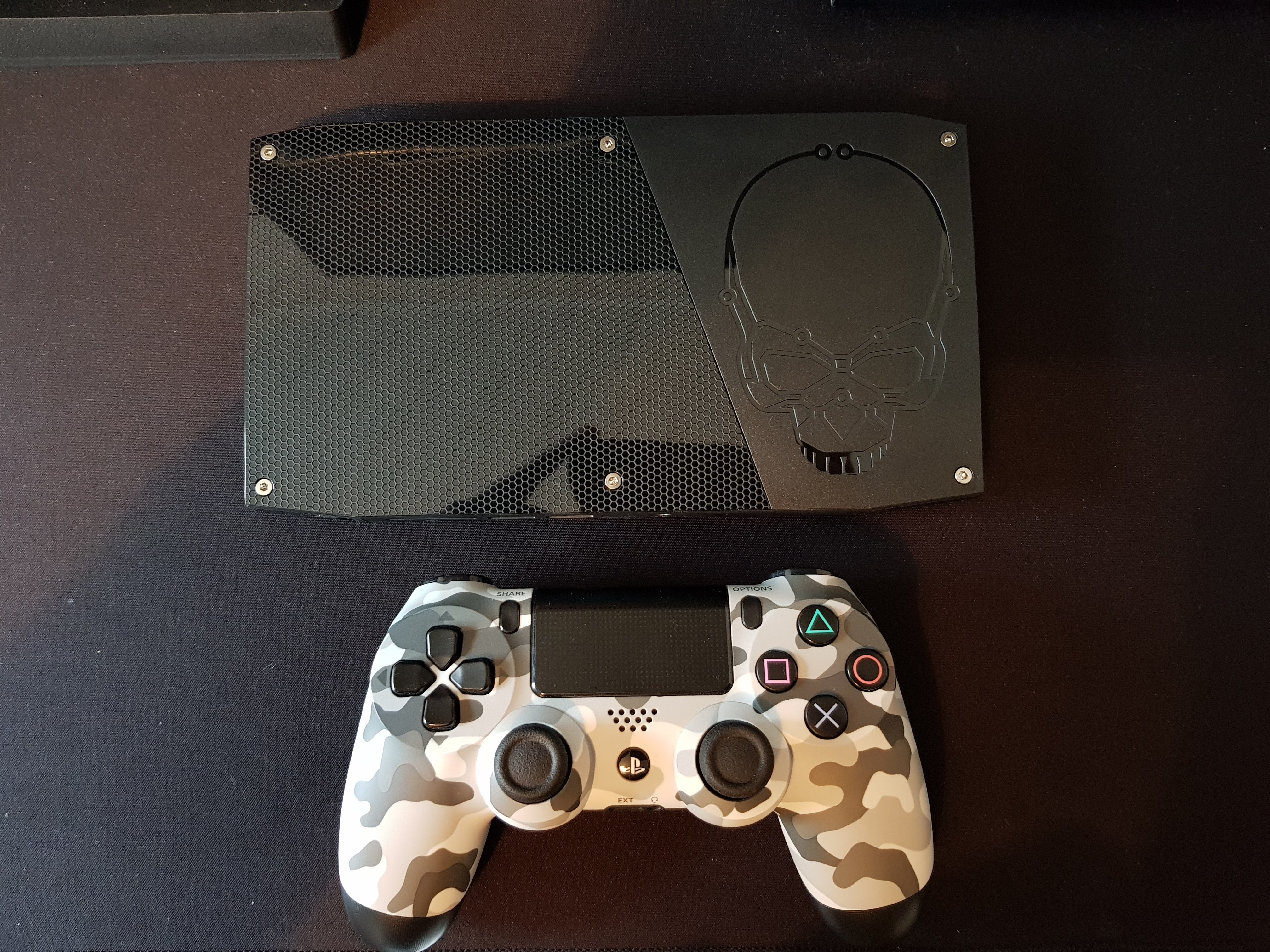 Summary and Final Thoughts:
The things I love about this PC – It's tiny. Seriously, it's about the same size as its own external power brick. It's powerful and smashes through the daily stuff, especially with that DDR4 and m.2 requirement. It looks cool, and can be mounted on a VESA mount behind your monitor if you're operating in a tight space.
What I don't like so much – It's loud, especially running at full beans. It's a side effect of the small fan having to work hard. It's also expensive. $1,350 on hardware alone to get you off the ground is a lot of money, but you are getting high-end components for that kind of money (minus a GPU), so it's a bit of a trade-off.
All in all, this is an interesting PC. It lacks the dedicated GPU of a gaming rig, and the portability of a laptop. But, if you're interested in a workstation for productivity tasks, and a bit of light gaming, and you don't mind spending a bit extra to have a super-cool form factor or installing a few parts, then you may find that this will tick a lot of boxes.
I'm going to give this one a 7.5/10 – Whilst it's not a gaming machine, this is still a highly competent PC which will reward you with performance beyond its size once you've got it configured well.
– Dave
The following two tabs change content below.
Gaming & Technology Editor
at
The Empire Digital Media Ltd.
Gadget fiend, maker of beer, technology enthusiast, and Dad of three, Dave enjoys trying to protect expensive gadgets from the destructive power of tiny people, and frequently fails.
Comments
comments