Hey Team, lets just jump into it
Burger Geek, Symonds Street
Why here? Lunch with Ed, those of you that watch the vlogs need no more explination.
Parking? Bit shit being CBD, Ed got a park 3 cars up from the place, I had to walk 2 blocks but lets be fair, I need the exercise.
Staff? Busy but cool, everyone seemed to be getting on with it even tho they were getting slammed, many orders flying out the door from walk ins to UberEats flying out. Staff still were cool and fun and friendly.
I ordered.
MORTY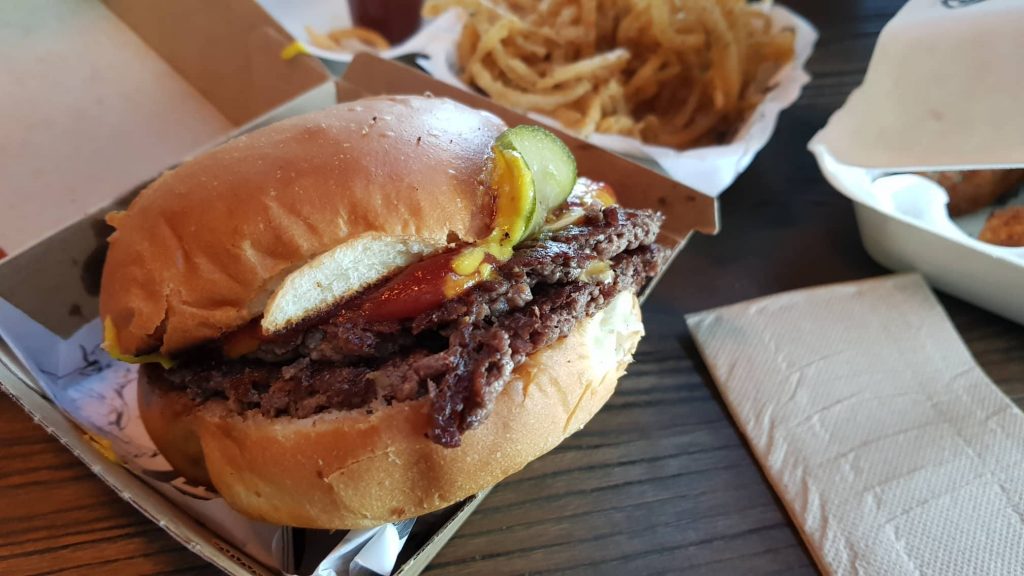 Angus & wagyu double beef smash pattie
Cheese
Pickle
Ketchup
Mustard
$9.50
We also had sides
Mac n Cheese Balls – $4.90
Jalapeno Poppers – $4.90
Onion Strings – $3.90
So lets start with sides.
Mac n Cheese balls I've had before, last time they were so cheesy it was actually unpleasent, I like cheese as much as the next person but you can have too much of a good thing and this wasn't as bad as I was expecting however it was very very cheesy, not so bad as I didn't have a second and thrid, but yeah.. brace yourself.
Jalapeno poppers were nice n spicy, lots of flavour and heat not stupid hot like they are trying to kill you, hot that you know its hot and it cures a hang over but not so hot you can't taste anything else, far too many these days are going over the top and killing taste buds in the millions.
Onion Strings, these were surprising to me, very very thin and almost reminded me of those crisps I used to get in school called Stix I think? but skinnier again, loads of flavour and again not overpowering with the flavour I think these guys have really nailed the art of getting things to taste interesting and different and exciting without any of it ruining any other part of the meal. Kudos!
The Burgers, I can't for the life of me remember what Ed had but he really liked it. it wasn't what I got I know that much.
The Morty, So I ordered this mainly as it was one of the simplest burgers they make, the idea being is these reviews can have some consistancy when trying new places because it gives a level of commonality where possible so we can find an overall winner to one day be the best thing I've ever put in my mouth ( jokes burgers aren't pizza )
So Morty, Buns had a wee glaze on them, gives a nice duality of textures from the toasty outside to the dough inside, lets the buns be the buns and not get fucked up by the condiments on top. Speaking of condiments they used a traditional american style mustard which was bang on I like " Yellow Mustard" as they call it in Murica, it was very noticeable in the mix. If you're not a fan of 'Murican Mustard you might find it a bit overwhelming. The patty was spot on, I didn't nessicarly think it was anything super wow after reading the wagyu content but it was certainly quality meat and well cooked, it was dry but not too dry for me. I like it a little dry as it contrasts sauces and condiments, similar to how Wendys does it. This was kind of like that. It was a touch on a the smaller side, but given we ordered half the side items on the menu this wasn't an issue.
Overall we both really rated Burger Geek, value and quality in the same place is rare these days so its nice to know you can still get a quality well put together burger for under Ten Bucks.
I'd give this place a 8.5 out of 10, its a bit of a shit to get to but if you make the effort I highly doubt you'l be disappointed
until next time! and don't forget to let us know some other places we've not covered before! Ed and I have another lunch coming up and he needs to take me somewhere new!
The following two tabs change content below.
Empire motoring Journalist, BMX Rider, Yoga Doer and Burger aficionado. Always down for a laugh and or good food!
Comments
comments