Australasia's first direct-to-television esports studio will open this week in the iconic Sky Tower, following a partnership between SKYCITY Entertainment Group and leading esports company LetsPlay.Live
We were very kindly invited along to the grand opening for drinks, nibbles and a tour of the new digs ( those indian potato satay things were epic, didn't get pics cause they didn't last long)
But I digress,
Picture what you imagine a TV studio to be, with sets and a broadcast suite. That's basically what they have created, of course all aimed for a headshot on E-sports in NZ and as far as Australia as well.
The facility is on the Sky Tower, yep right there on the tower. Many rooms with different purposes all meet together to make a fully fledged broadcasting studio.
Firstly there a few rooms set up with the purpose of 5v5 tournaments, so 5 Playtech PC's with seats, monitors and cameras. The base reason for this is to be able to live monitor and broadcast competitive gaming. But, there is a lot more this place can do, and it's the limitless opportunities that really excite me. These rooms can also be used for live streaming, and those of you that follow OUR TWITCH CHANNEL will know we are big fans of the platform and we have some awesome ideas how these rooms could be used. One thing that's very appealing is that these facilities are open to more or less anyone in the community and for the most part won't cost anything. What this means is existing streamers will get the chance to get some epic technology at their disposal which might otherwise be unattainable for them financially. this will create and support fresh talent in the industry which will be awesome!
" SKYCITY Group Chief Operating Officer Michael Ahearne says the partnership sees SKYCITY become the home of one of the fastest-growing entertainment sectors globally."
"We're proud partners of LPL, and excited that our Sky Tower will be home to these amazing studios. As an entertainment company, we are looking to the future and we recognise the exciting opportunity to invest in the growth of LPL and the esports industry in New Zealand," says Mr Ahearne.
Now there are of course other rooms with different purposes too.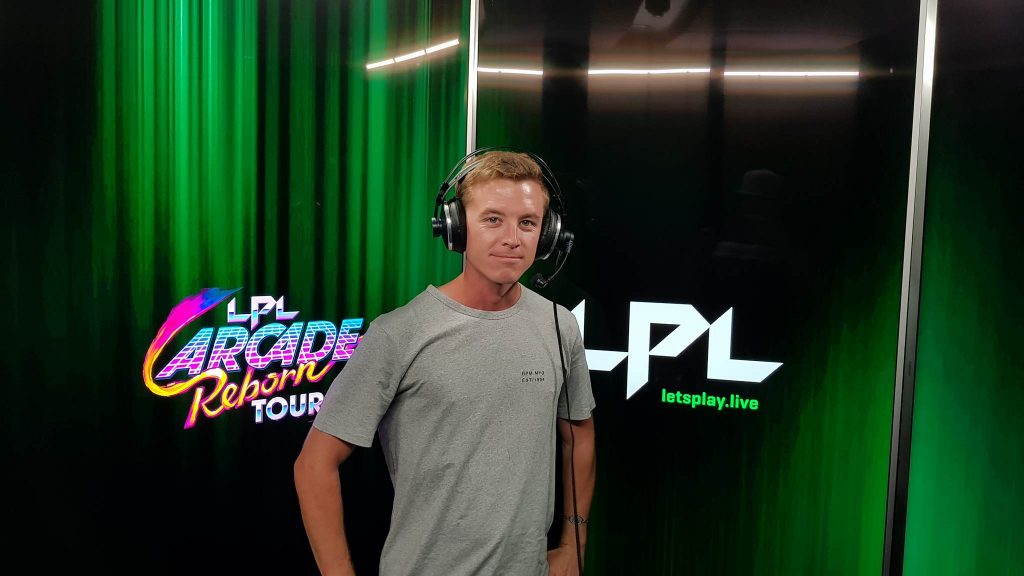 There's a commentary room, designed for a couple of Shoutcasters ( commentators) to be able to watch what's happening in other rooms or even other countries, in real time and commentate the matches, with massive screens behind for either real time action or sponsor advertising – and coolest, a Green-screen background so you could be casting from the surface of mars if you wanted to.
The room I liked the most was the Podcast room, I called it the round table room, basically you've got a table with integrated headsets and mics and 4k robotic cameras all feeding back to the control room. You can easily seat 4 for a video panel, could be for anything the options are endless, interviews, post match recaps. I've got some ideas I want to use it for so watch this space!
Now, epic facility aside.. this represents much much more than that.
E-sports and large scale gaming tournaments have been a bit on the back burner here in New Zealand for a few years, mostly due to no one really taking the risk on the investment – Gaming in general is multi billion dollar industry world wide. These days gaming is far more than sitting infront of the TV on a bean bag with a bag of Doritos for hours on end trying to get past that illusive 9th level. Online gaming changed everything.. playing against friends over the internet, then total strangers – teams were formed and rankings came in. Now you have compeditive gaming – E-sports.
" The LPL studios are near the SKYCITY Theatre, allowing for physical events with a 700-strong live audience and the ability to cater for up to 3000 fans onsite with the opening of the International Convention Center in 2019. The LPL Studios will host its first official broadcast on 15th February. " – LPL
E-sports isn't overly new, the World Cyber Games did have qualifiers here in NZ some time back, but for whatever reason things change and it was a great loss to the community. Lets Play Live will change that. Hugely. between hosting massive online events broadcast nation wide on TV and world wide on the internet, Real world events will reinvigorate gamers to get out and go to events and see their friends in real life. This is awesome, for so long gamers haven't been taken seriously either as a past time or a legitimate sport. Teams train and have discipline like any other sports team, sometimes even living together to get their visions reached.
My biggest take away from this is its going to give so many people the chance to become creators. Esports will be viewed in a new light and more business will spawn because of it. and not to mention a new heart beating in the middle on Auckland city pumping new life into to the gaming community. I love what they are doing and we as The Empire will be getting very involved
Here's a fun video of the building process
Follow Lets Play Live over on Twitter for all the news and announcements!
We are incredibly proud to reveal our brand new, state-of-the-art esports broadcast studio to the world this week 🌏🎮✨ #LPLStudios https://t.co/1coQTa9g40 pic.twitter.com/qq3EgG0iBT

— LetsPlay.Live (@letsplaylivehq) February 8, 2018
The ball is very much already rolling, tournaments are already coming! – There's a Counterstrike: GO tournament with a $10,000.00 prize pool! – More info >> HERE and the Dragonball FighterZ: Arcade Reborn Tour coming to a city near you soon – more info >> HEEEEREEEE
The following two tabs change content below.
Empire motoring Journalist, BMX Rider, Yoga Doer and Burger aficionado. Always down for a laugh and or good food!
Comments
comments