Most riders (including myself) have a huge sense of trepidation when they're first told about "Track Days", where they can take their road bike to a proper race track and let loose. And with good reason too: the speeds are a lot higher than on the legal confines of the road. But with proper organization, and clearly defined rules, riding your bike at the track can be a hugely valuable experience, where riders can push their abilities, learn more confidence, and increase their skills well beyond what the road can allow.
From personal experience, your first track day is an exciting and nerve racking day. You've signed up online and paid the fee. Now you need to make sure you and your bike are ready. Take the time to inspect your bike, or have someone that knows exactly what they are doing look it over for you. Some trackday officials like to scrutineer your bike when you arrive at the track, others will make you sign a form stating your bike is up to satisfactory specifications for the purpose of the day. Basically, think of it like a Warrant Of Fitness check. If you're not sure what you need to be checking, find a friend, or a professional workshop that can help.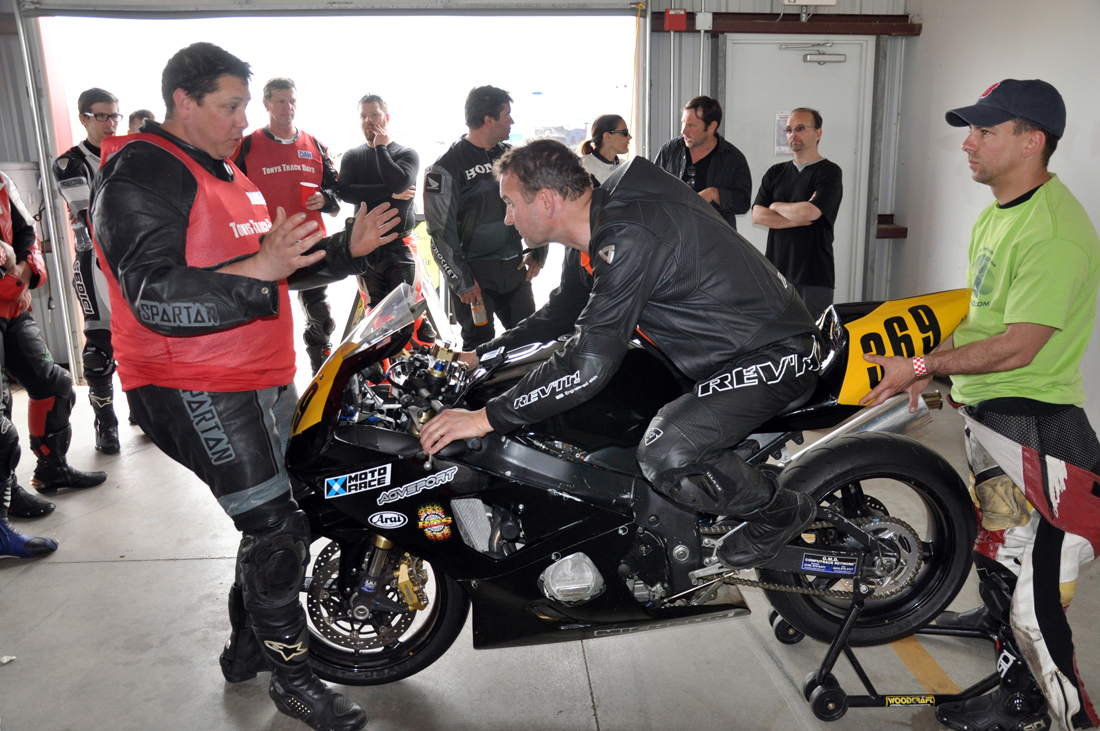 So now you know your bike is up to spec, what about yourself? Well, you'll need a full set of leathers, and a helmet that fits you properly that doesn't have any damage showing. Also, you'll need a CE rated back protector, that goes under your leathers to protect your spine in the event something goes wrong. Leathers can be one- or two-piece, but if you choose two-piece leathers (as in, separate jacket and pants), they have to have an adjoining zipper that goes at least 270 degrees around the circumference of your waist. And, of course, gauntlet style gloves and boots. I've done an article on gear recently, don't skimp if you value your skin!
Cool, we're all ready, the trackday is tomorrow, what else will you need? Well, I always take a chilli-bin full of food and drink – water is usually provided by the organizers but it doesn't hurt to take your own as well! Also, spare drink for your bike – yes you'll need some extra petrol for those higher speeds the motor will be pushing! I like to take some tools along as well, in case anything needs repairing trackside, or if anyone else there doesn't have that one socket they need! Load it all up the night before so you don't forget anything when you leave before the sun comes up on the day. Then, get a good night's sleep – you don't want to be tired when you get out on track!
Finally, it's the day of! You're up extra early, you're so nervous you get to the track before anyone else! Don't worry, you won't be the only new track rider there, I'm sure. First thing, check your bike over again. Then introduce yourself to the organizers, and sign in. If your bike needs to be scrutineered, get that out of the way. All clear? Good. Listen to the riders briefing, and learn the rules off by heart. They are there for everyone's safety! Are there any instructors available to show your around the track? Say hi, don't be shy!
Most trackdays are split up into "groups", where the slower riders go out together, then the more experienced guys go out, then the really fast racers get to have a turn. Because it's your first time, you'll be going out in the novice group. Listen to the advice from the instructors. When your group is called, suit up and make your way to the dummy grid – the area where bikes line up before being let loose on the track! Remember, your bike's motor and tires are cold, so take it easy for the first few laps. Follow the right lines, be smooth, don't over-brake or swerve about too much and you'll do just fine.
After a predetermined time, you'll be signaled to exit the track, your session is over. Make your way back to your pit area, and have a drink. Check the bike over again. If your instructors have a session debriefing, listen to their advice! They are there to help, and answer questions. They try to watch everyone out on track, and they may or may not have had a chance to follow you specifically but they will before the end of the day. If you felt like everyone else was passing you, don't worry! Listen out for your next session, make sure you keep your fluids up between sessions.
If all goes according to plan, by the end of the day you'll have a massive smile on your face and you'll be addicted for life! You'll make a bunch of new friends, you'll learn heaps about your bike (and yourself!) and what it's capable of, and you'll have a blast doing it! You might even see me at a trackday soon, make sure you say Hi if you do!
– Scott
The following two tabs change content below.
Empire motoring Journalist, motorbike enthusiast, and spanner monkey. If it has a tuned motor I'm keen!
Latest posts by Scott Patterson (see all)
Comments
comments