Hey team
Another epic burger review commin atcha! – full disclosure bs, we paid for our burgers and they didn't know we were planning to review them yadda yadda – it gripes me to have to put that every time but welcome to the world we live in
Anywho.. rant over
Why here? Well, we were already at the food show and it was lunch time and I'd see them in the marketing for the show and thought that was us for lunch as we're rather big fans of fried chicken around here.
Parking. – we were at the food show so good but not cheap
The thing with Peaches fried chicken, they are not a restaurant, they don't have a shop. Peaches is a trailer / food truck business so if you want it you're gona have to track them down.
It was a toss up tho, I was considering 3 whole wings but when I saw the opportunity to review a new burger I had to jump at it cause its been too long!
So the burger
" Chicken Sandwich "
Fried chicken ( boneless thigh x 3 pieces)
Brioche Bun
Aioli
Pickles
$12 and I got an L&P for $2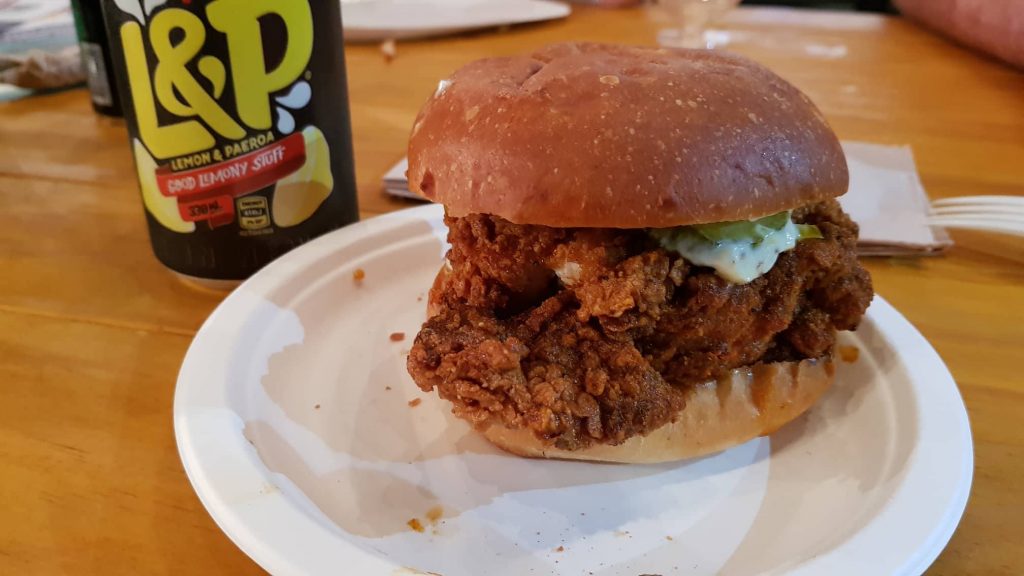 Right so.. First impressions – its not a massive burger but its well filled and well filling so I'm not mad at the size, I wasn't huge on the brioche bun tho.. It was toasted well but the bun is a sort of coating on it that I assume when baked makes it very cruchy through out – I don't like those kind of buns for a kick off and as far as mouth feel goes, the chicken was crunchy enough to not need a bun that hard. The aioli was nice and a reasonable amount was applied it gives a short holiday from the heat of the chicken and was nice and creamy.
The chicken tho..
I know I've said this before but .. This was the best fried chicken I've ever had. Everyone was blown away by how good it was. it was thick and juicy, crunchy and tasty. the coating was a thick bark that held a heap of flavour and gave the perfect amount of chicken crunch but…
This apparently according to the Peaches team was a level 2 spicy " Medium – will make your lips wet " Now I'm not a bitch when it comes to spicy food but I'm convinced that was at least a level 3 ( of 4) " Holy – You may regret this tomorrow" – Which ever it was and call me out where necessary but it was just the right spot where its crazy hot and you know all about it, but its not unpleasant if that was in fact a level 2 I can imagine a level 4 would kill me.. But I'd die happy.
Overall it wasn't the best chicken burger I've ever had if I had to rate it as a stand alone burger I'd maybe give it a 6 – mostly that I didnt like the bun everything else was good but it kinda ruined it – But the chicken itself was an 11 so we placed a GPS on their van so we can track its every movement and get more
They do offer 3 whole wings in an open sandwhich but I think I'm just gona be cheeky next time and get the same chicken thigh on the open sandwhich or just get both and eat the chicken from the burger, I dunno I'm not on a diet don't fuckin judge me if you knew what I know you'd do it too. oh and the team were awesome too
Check their social to see where they are popping up next – PEACHES HOT CHICKEN And more coverage of THE FOOD SHOW
The following two tabs change content below.
Empire motoring Journalist, BMX Rider, Yoga Doer and Burger aficionado. Always down for a laugh and or good food!
Comments
comments