Available: Now – Find it on Steam or the Epic Games Store – Review code supplied by PlayStation NZ. Video link to original PS4 review at the bottom
So, when Insomiac games released Marvel's Spider-Man on the PlayStation 4 back in September 2018, I loved it, and quite rightly so because it was a great game, a proper Spider-Man title, and one of those late-era PlayStation 4 games that was an example of a developer in full mastery of the hardware it was using to build video games.
In 2020, it received an update for the PlayStation 5 with the release of Spider-Man Remastered, which incorporated all of the DLC and next-gen graphical & controller updates for the latest console, such as haptic and enhanced trigger support, ray traced reflections, and a frame rate boosts. These were all welcome updates, and for those gamers fortunate enough to be able to land a PlayStation 5 console as their first entry into the ecosystem it made a great enhanced experience, to the point where it has sold over 33 million copies since its release in 2018. No mean feat for any game.
Considering the popularity of the game and Sony Interactive Entertainment's recent (and welcome) pushes to release more of its content onto PC through Steam and the Epic Games Store, it should come as no surprise that Marvel's Spider-Man Remastered has now officially landed on PC – I've been playing it for a wee while leading up to the release date, and I'll do my best to keep this review focused on what Insomniac have done to make this a good PC game.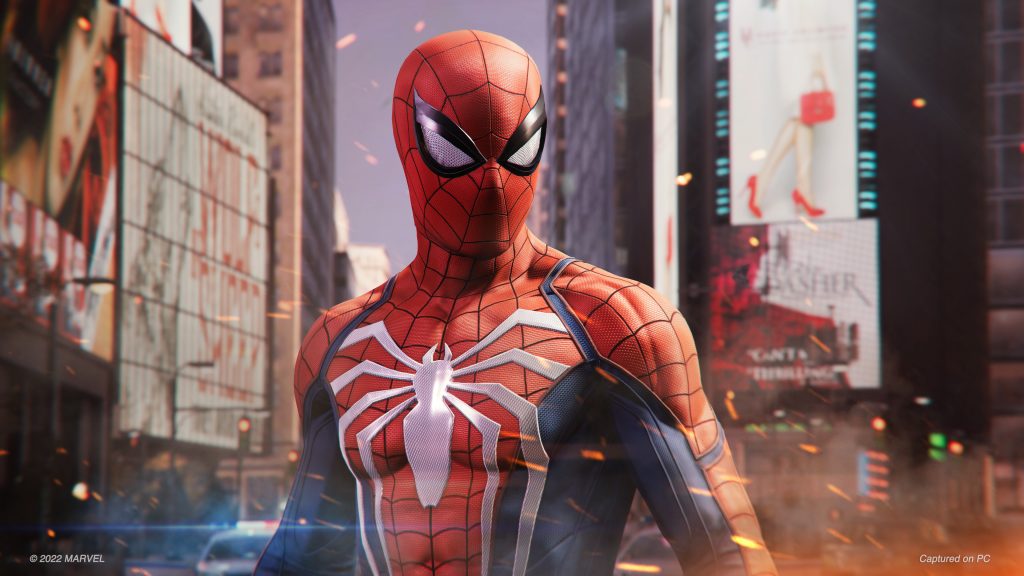 At the heart of it, it's still the fantastically fun, dynamic, fast paced action game that it was when it was released in 2018. None of that has changed. It has the benefit of being a recipient of all of the PS5 enhancements which it originally got in 2020, and it's had a few modern PC tricks applied to it to help enhance your framerates as well as all of the graphics and feature settings that you would expect from a modern PC title, including Nvidia DLSS & AMD FSR 2.0, as well as another upscaling method called IGTI which is Insomniac's own "temporal injection" based upscaling solution. As a member of team green, I stuck with DLSS for most of my time with the game, and it was great, giving me a meaningful bump in frames-per-second whilst keeping the game looking sharp and vibrant. Another neat feature which I was able to take advantage of was the support for ultrawide monitors. I used a 3440×1440 screen, and I've got to admit, Manhattan island really pops when you're running it this way. If you've got the kind of PC that can run this game with all the sliders to the maximum, this game is visually arresting at times when you land on a rooftop and catch the sunset with the city stretched out wide before you. This will not be the case for all gamers, however.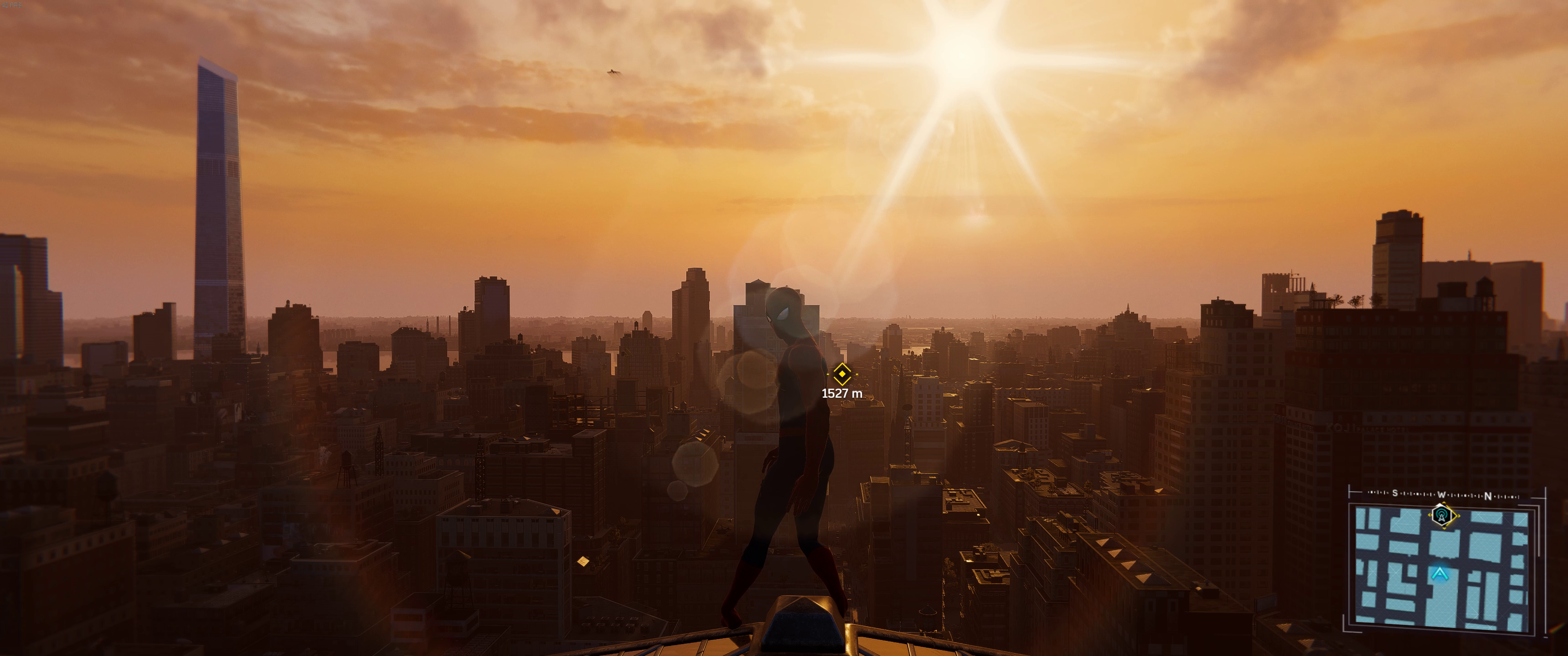 Y'see, I have two gaming PC's. One of them, is an absolute monster. It's got an RTX3080 Ti, Core-i9, and enough memory and PCI-e lanes to take whatever this game can throw at it. My other gaming PC is a little handheld games console, a GPD Win Max. It's a bit like the steam deck, but more laptop-y, it runs on-board Intel Iris Xe graphics and is designed for good enough performance on modern games at its native 1280×800 resolution. If you take a look at the specs below, you'll see there's no mention of it anywhere, which did make me a little nervous in case my little handheld PC couldn't make the cut: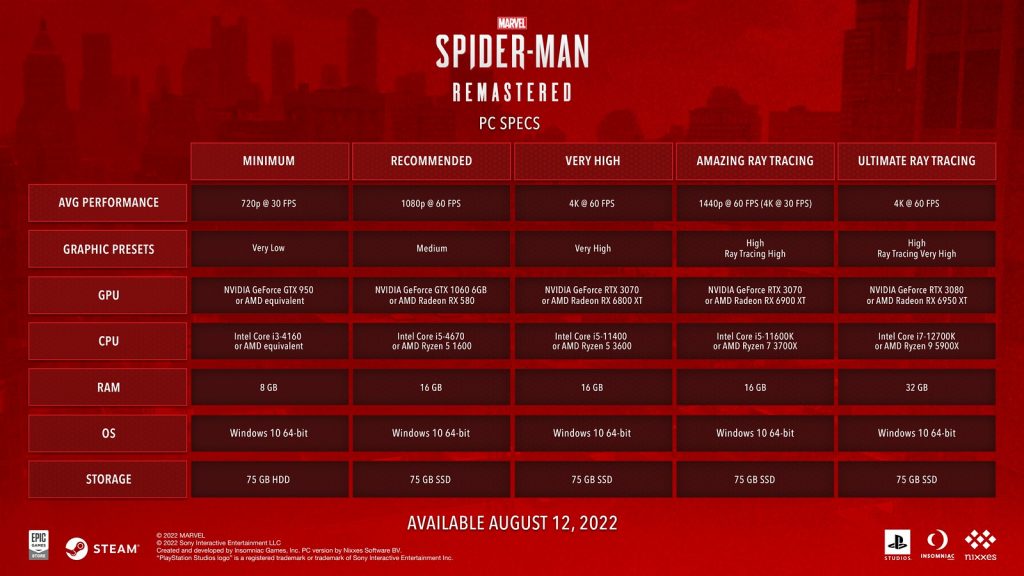 Despite this, I was able to run this game pretty decently at the low/medium graphics preset with AMD FSR 2.0 enabled at 1280×800, albeit with a few frame-rate dips whenever there was a lot of the city visible on screen, hitting a low of 15FPS at times in extreme cases. On the game's Very Low preset, I'll admit it didn't really look good at all and I didn't enjoy trying to play it due to too many graphics compromises, but it certainly worked well in the Low / Medium presets, and remained very playable. I was quite happily surprised by this as I wasn't sure it would be able to handle it, but they did put work in to make sure that this game could play on the Steam Deck, and whilst we've got no timeline for that device here in New Zealand, it's nice to know that if you're able to get your hands on one of the new gen of handheld PC's, this is a title you'll be able to enjoy on those less grunty GPU's.
When it first came out, I gave this game a 9.3/10 because I thought it was a fantastic open-world hero game with a lot to like from its storyline to its traversal methods, all of the wee side-quests and tidbits strewn about the city, and it just felt like a really cool Spider-Man game. Well, with the remaster for PC, Insomniac have managed to keep all of that, bundle in all the DLC for the game, include a raft of PC-unique features, and provide broad hardware support meaning that a wide range of PC gamers will be able to play this one. It's not just a good game, it's now absolutely a good PC game through this port, and undeniably the best version of this game you can play, if your PC can meet the needed specs.
As such, I'm going to revise my score upwards for this. It gets a 9.5/10 from me.
Original PS4 Review (Competition no longer in effect)
The following two tabs change content below.
Gaming & Technology Editor
at
The Empire Digital Media Ltd.
Gadget fiend, maker of beer, technology enthusiast, and Dad of three, Dave enjoys trying to protect expensive gadgets from the destructive power of tiny people, and frequently fails.
Comments
comments