It is always tempting to review any new Mini with reference to the original, but that would be like reviewing the new Mondeo with reference to the Model T. It is a pretty pointless thing, brands move on, new models come out, new technology, new safety laws, and changes in buyer behavior mean that new cars have to be different to the old ones. The "new" Mini is still a Mini, it's still a FWD car made in England and sold to the mass market with some help from clever marketing, highlighting the fun and exciting nature of the brand.
That's a subtle way of saying that if you don't like the "new" Mini (it's now 15 years old) because it's not the same as the old Mini, then you need to learn to accept change and go drive one, or find a genuine reason to dislike them. I've driven a few of the BMW Mini's now and have plenty of reasons to dislike them. The Mini John Cooper Works is a parody of a hot hatch, with eco tires, some truly bad suspension, an awful automatic gearbox, and an engine that refuses to rev yet delivers lots of torque the tires and suspension can't cope with. It is just a marketing peons idea of what a fast Mini should be. It was clearly designed while the engineers were at lunch.
The rest of the Mini range is all cute and big, and bug eyed. They are sold through the power of marketing, gimmicks and catchphrases, flashy lights and bright colours cover up the lack of interior space, average driving experience and limited features on the base models with expensive options. They are fashion accessories masquerading as cars.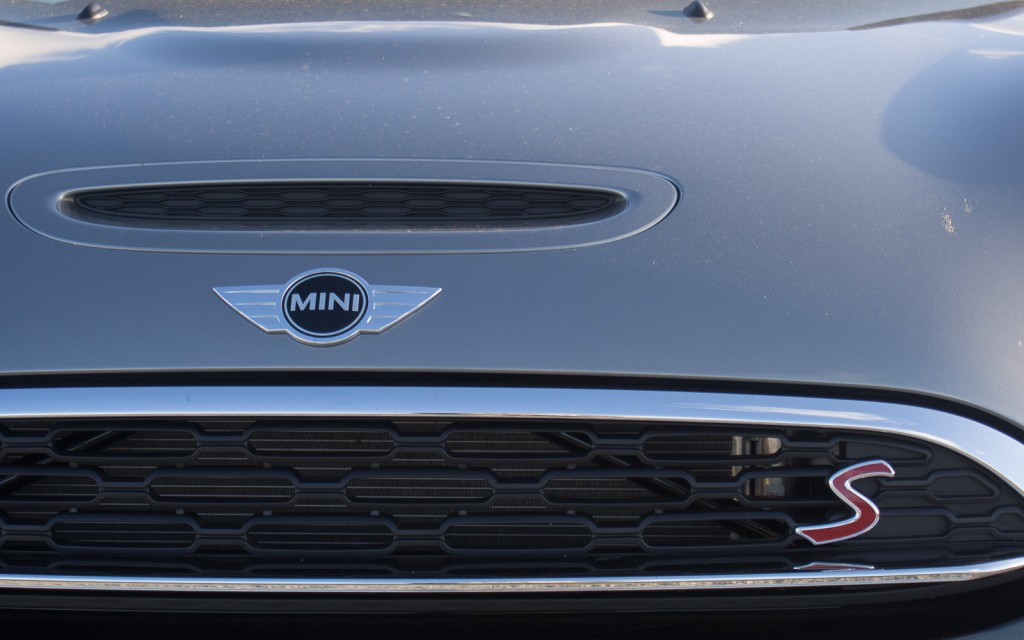 Then I drove the new Mini Cooper S Clubman, and damn it I quite like it.
Ok I sort of really quite like it.
Oh Ok, I could happily own one and enjoy it.
It's not perfect, but for $50,000 the only thing that is going to touch it for performance, drivability and practicality is the Skoda Octavia RS, and the Mini is the better looking and more sophisticated car.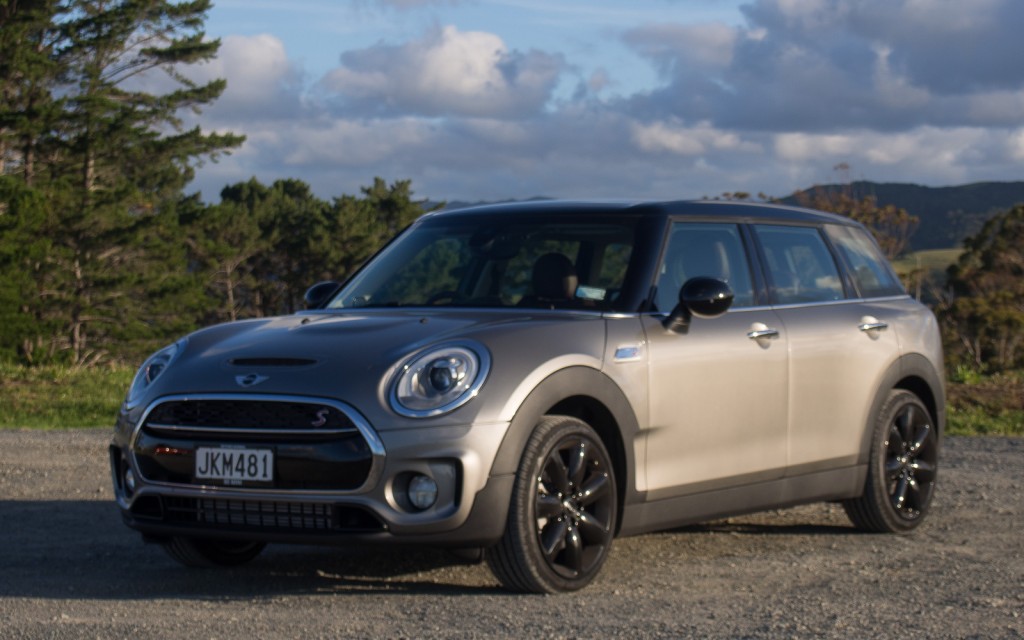 The new Clubman is all about the Mini being grown up. You own the Mini Cooper 3 Door in your 20s, move up to the Cooper S in your early 30s, then when you need a car that is bigger and has more space you move into the Cooper S Clubman.
The Clubman is the final gateway car into proper car ownership, it's even based on the BMW 1 series platform, and despite being FWD shares the same 2.0 4 cylinder Turbo engine as found in a bunch of 1, 2 and 3 series models.
Inside most Minis are filled with plastic and bright colours and round shapes. The Clubman is more subdued, with soft fabrics and darker tones with out the "MINI" brand being splashed over everything. It feels like a very sophisticated place to be, the seating position reminded me of the 1 series, as did the general layout of the cabin. There is some strong DNA sharing going on here, and it is to the Mini's advantage. The seats are nice and comfortable and there is plenty of legroom front and rear. The wheel is small and the gauge cluster is connected to it, so the whole lot moves together for adjustment. All the usual features are there, including Mini's version of the iDrive system and an LCD in the dash that will be familiar to many BMW owners. However where iDrive and the gauges in BMW's are cold and utilitarian, the design and implementation in the Mini is much nicer, and more engaging to use. It is all very Mini, but more mature.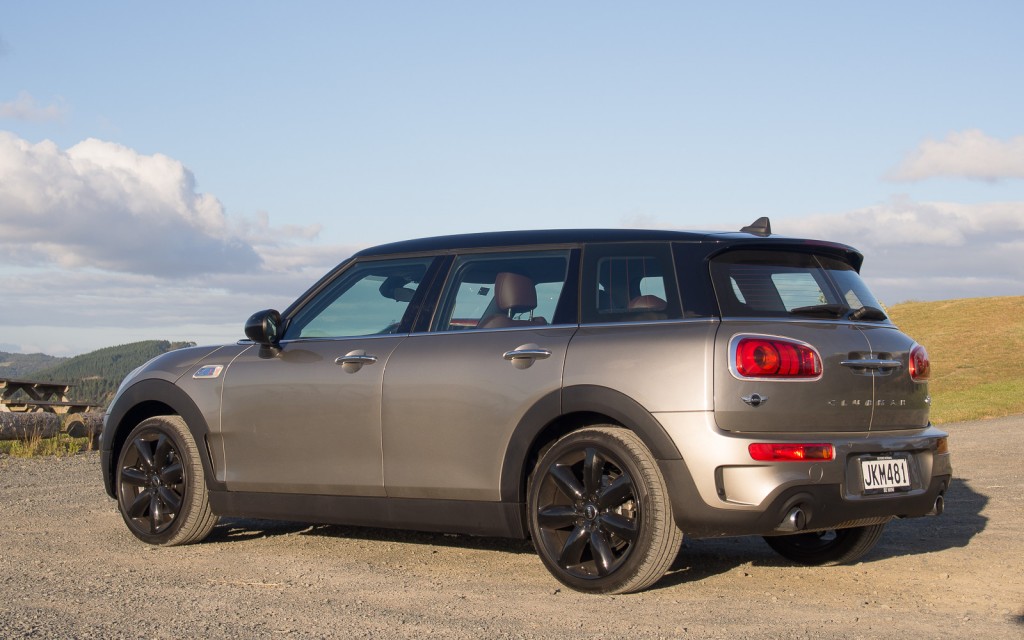 However, behind the rear seats is where the biggest changes can be found. Instead of a short small hatch, the Clubman has grown a proper flying brake rear end complete with double rear doors. These can be opened remotely via the key to reveal a very usable boot space. With the rear seats downs there is just over 1200L of capacity, which I found to be more than enough.
The extra space in the back comes from a longer wider wheel base, which combined with the double doors on the back produces a very grown up looking Mini shape. The design still compromises form over function, but it's a lot roomier than any Mini before it.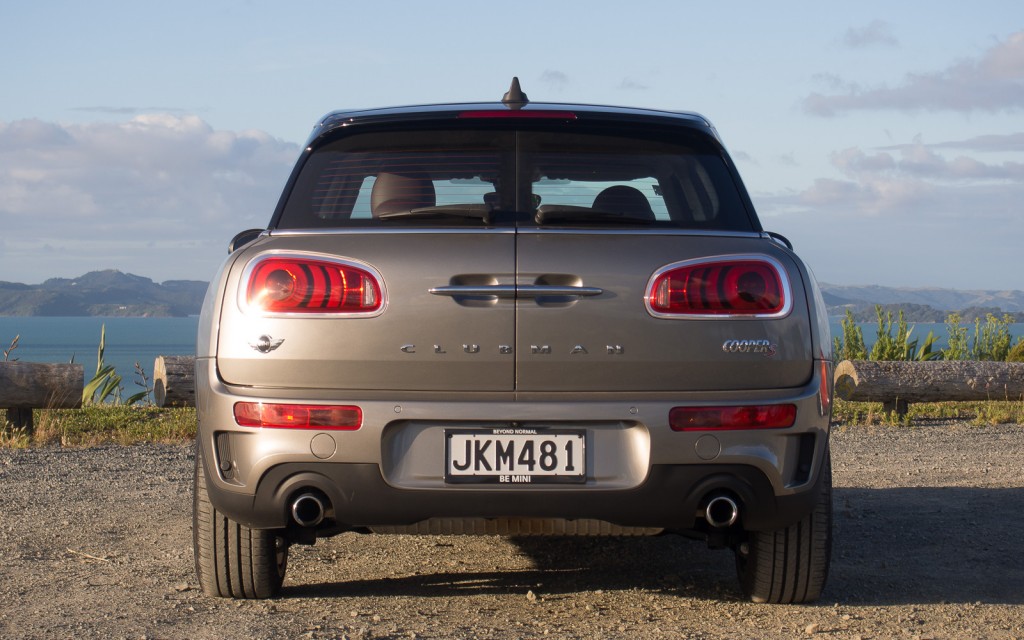 The extra length also does good things for the handling. A standard Cooper S is a fun little car to throw around, they are quite agile and the rear end is quite mobile. The John Cooper Works, apparently the "fastest" Mini ever made is an unbalanced handling disaster with a rear end that moves around when you don't want it to and under steer everywhere. The Clubman is, like everything else about the car, more sophisticated. Turn in is sharp and precise, and the rear end follows faithfully without getting out of line. The general attitude is neutral, but like most modern cars it will transition into under steer if pushed too far. The biggest let down are the Pirelli P7 eco tyres. These are just rubbish, I'm sure they get great fuel economy, last a long time and are good for dolphins, but when you want to press on they simply don't have as much grip as the chassis and squeal and howl with very little provocation before giving up and requiring intervention from the traction control.
But they don't detract from this being a really fun agile car to chuck down a country road, and if there is one positive to the low grip from the tyres it's that they stop you going to fast and getting in trouble.
The 2.0L Turbo engine makes a nice healthy 190hp which is delivered through a new 8sp CVT gearbox. I found the CVT to be very competent, although 8 speeds is a getting to be far too much to flick through in manual mode. Since this is controlled by software, it should be easy to make the number of available ratios in manual mode an option. But the engine has nice smooth and with less boost than the more powerful versions found in some BMWs it actually revs out with smooth linear power delivery. It's also more responsive, and works with the CVT to adjust the ratio as the boost comes in.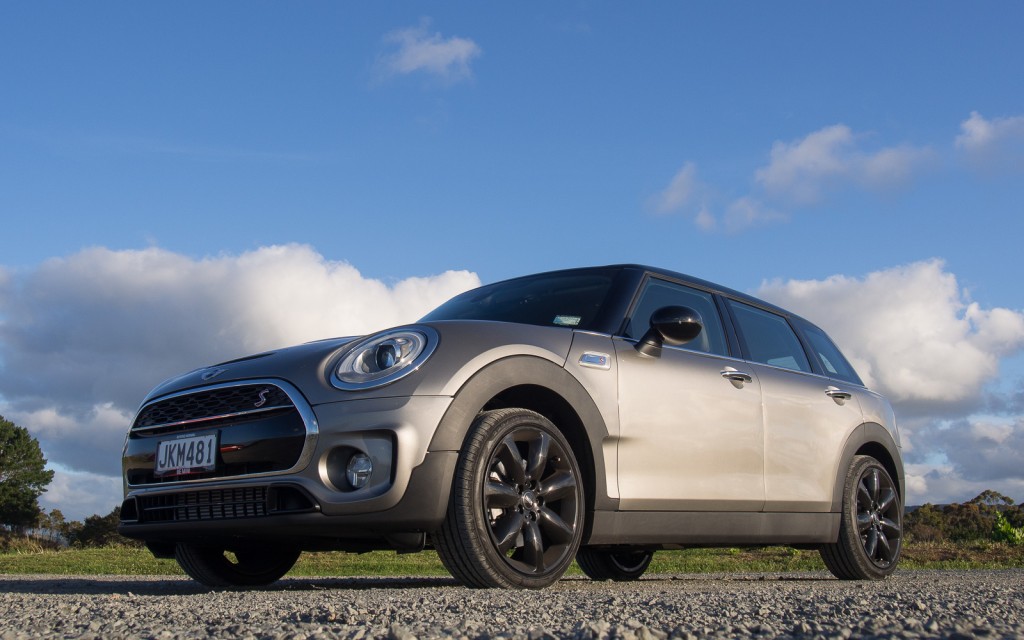 It's a wonderful car to find a rhythm in, the sharp steering, agile chassis and smooth power delivery allow you to flow down the road in a surprisingly quick, yet sophisticated fashion. After a run down the east coast through Kawakawa bay I was reminded of the BMW 125i we drove a few months back. The BMW DNA is strong in this Mini.
Of course to go along with that sophistication and maturity there are still fun Mini touches, the center display still has the flashy LED lights that do flashy colourful things and there is still the Sport mode for "Maximum Go Kart Feel".
On that note, access to the different driving modes is easier than in any of the BMW's I've driven. BMW use a rocker switch next to the gear stick and the traction control button. It is far to easy to miss the driving mode selector and hit the button that turns off the traction control instead.
The Mini uses a rotary dial behind the gear stick, and traction control is via a toggle switch on the dash. Changing driving modes is easy, and can be done just be feel when driving. Mini are clearly learning from BMW, but here is something BMW can learn from Mini.
There are still plenty of marketing department touches, the drivers side mirror contains a projector that shines the Mini logo on the ground when you unlock the car in the dark, and the flashing lights on the center display to get a bit tiresome after a while. The hood scoop is purely cosmetic, it's blocked off with black plastic, and although our test car had the Harmon Kardon stereo package, it's still only ok, not great, and not what I would expect from a modern car given how affordable car audio has become.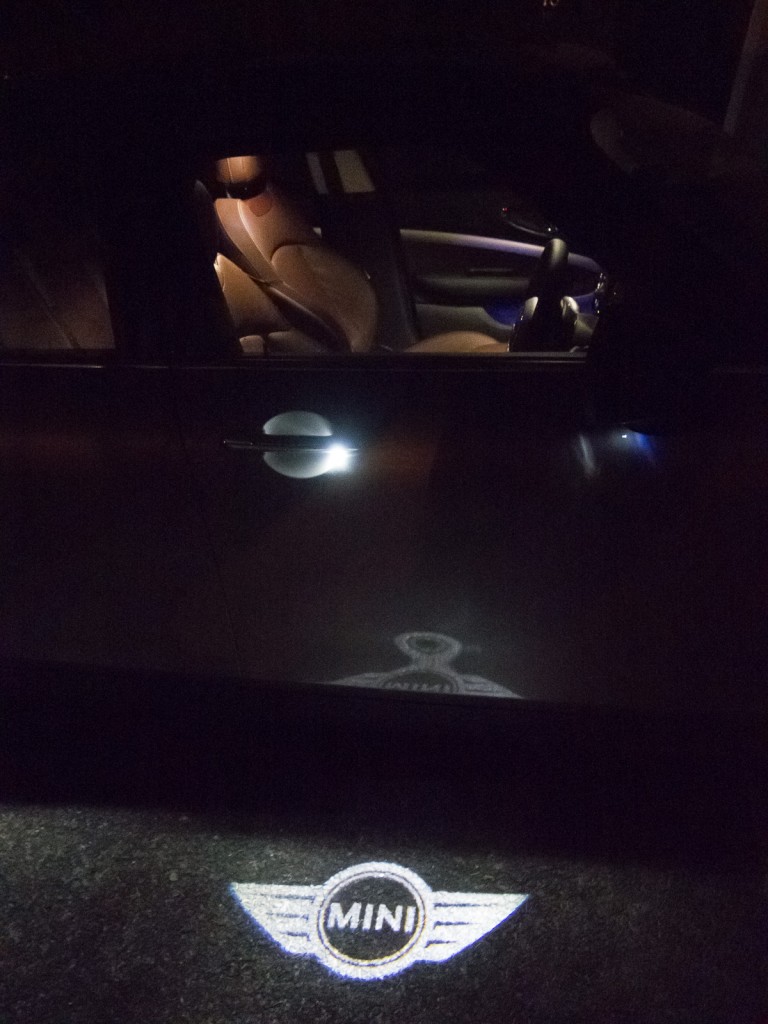 But the problems are small, mostly subjective and tyres are easy to change. Over all the Mini Clubman is great package, enough performance to get you in trouble, an agile dynamic chassis that is fun to flick around, enough space for moving people and stuff and a some nice styling that stands out in a market dominated by boxes. As a compromise between fun, performance, style and practicality the Mini Clubman gets it right, with just the right amount of each. Yes, I could happily own one.
-Moppie
MINI Cooper S Clubman (Tested): $49,900
4-cylinder petrol engine with MINI TwinPower Turbo Technology Capacity: 1 998 cc
Output: 141 kW at 5 000 rpm, max. torque: 280 Nm at 1 250 rpm (300 Nm with overboost)
Acceleration (0–100 km/h): 7.2 seconds (automatic: 7.1 seconds)
Average fuel consumption*: 6.4 litres (automatic: 5.9 litres)/100 kilometres.
MINI Cooper Clubman: $39,900
3-cylinder petrol engine with MINI TwinPower Turbo Technology Capacity: 1 499 cc
Output: 100 kW at 4 400 rpm, max. torque: 220 Nm at 1 250 rpm (230 Nm with overboost)
Acceleration (0–100 km/h): 9.1 seconds (automatic: 9.1 seconds),
Average fuel consumption*: 5.4 litres (5.4 litres)/100 kilometres.
Exterior dimensions:
Length: 4 253 millimetres
Width: 1 800 millimetres
Height: 1 441 millimetres
Wheelbase: 2 670 millimetres
The following two tabs change content below.
Comments
comments