As reviewed: Core i-5 CPU, 8GB DDR3 RAM, 128GB SSD, 3000×2000 resolution screen, Microsoft Surface Pen
Microsoft are in the midst of their Windows 10 creator update. It's a pretty big deal for them – they're making some big changes under the covers of the Operating System in order to make sure that it's a more appealing option for a lot of the guys n' gals out there doing interesting, creative stuff.
They were kind enough to send me through (temporarily, of course) a Surface Book, pre-loaded with the latest update in order to test drive the features and changes they've made. Before I go into Windows 10 creator update, I'm going to spend some time talking about the Surface Book itself, as it's made quite an impression on me.
The Surface book is the kind of device that could end up reigning supreme in my household.
Almost.
I think the only problem would be that we could only afford one of them, even if we seriously considered the number of kidneys we collectively need as a household.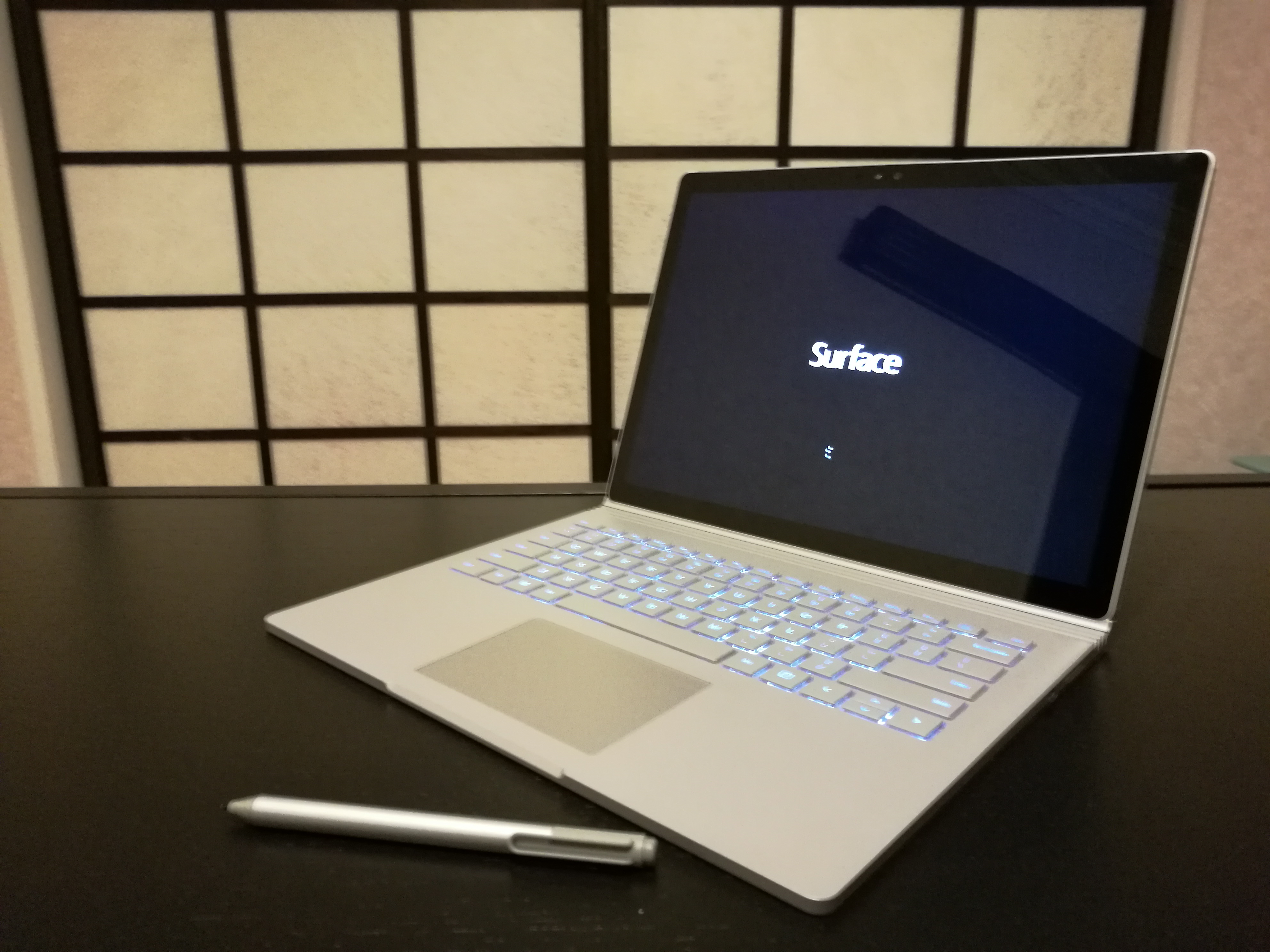 When it's a laptop, it's a proper laptop. It has a nice chiclet keyboard with a solid key travel. It doesn't appear to have any kind of compromise in its design. Another clever little item is the Dynamic Fulcrum Hinge. It's a bit of a fancy hinge mechanism that also slightly extends the length of the base, meaning that you can get a pretty good angle on the screen without it becoming unbalanced or screen heavy. Generally speaking, there's a satisfying amount of resistance on the hinge when you're opening and closing the screen, but it's a little too resistant to be able to open with just your thumb and index finger. You'll more often than not end up lifting the laptop up completely.
Other party pieces for the base it houses a second battery for the device, meaning that it has a ridiculous capacity for day to day use, and also, on the very expensive models, it houses a discrete Nvidia GPU to provide some extra graphics chops. It's never going to be a gaming laptop, especially as it's a custom made GPU with only 1GB of GDDR5 RAM, but it basically doubles the effectiveness of the Intel Iris Pro GPU housed in the tablet.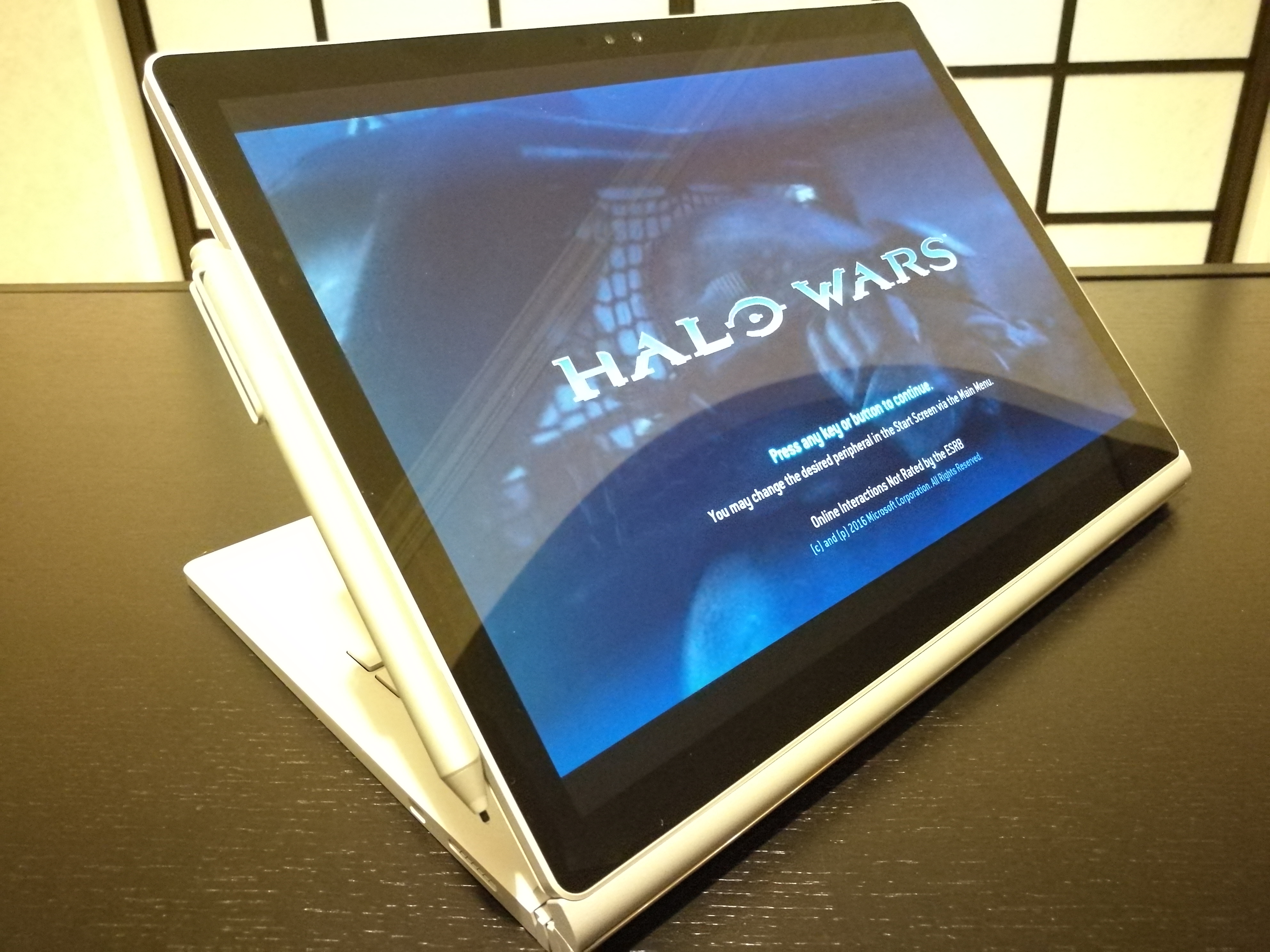 But, the main piece of this is the screen. Housing an intel Core i-3/5/7, 8GB RAM, and 128/256/512GB of SSD storage, it's where the action happens. It's touch sensitive and comes with a Microsoft Surface Pen, which is their take on an active stylus. It's pretty bloody good too. Writes smoothly, has several thousand pressure sensitivity detections, and if you're an artsy, creative type, it's awesome for sketching and designing and the like, and when you're not using it, it attaches magnetically to the side of the device.
There is also a satisfying solidness to the build. If you're using it as a laptop, the body feels like it's all-metal, the key travel is good, and it feels like a real laptop. There's no kickstand to worry about if you want to have it on your knees to type out a quick message to someone. It doesn't feel like a compromise, which is extremely unusual for any device that is first and foremost a tablet. You can even forget that the screen is detachable, right up until the point where you detach it, and then, well, it's just bloody brilliant.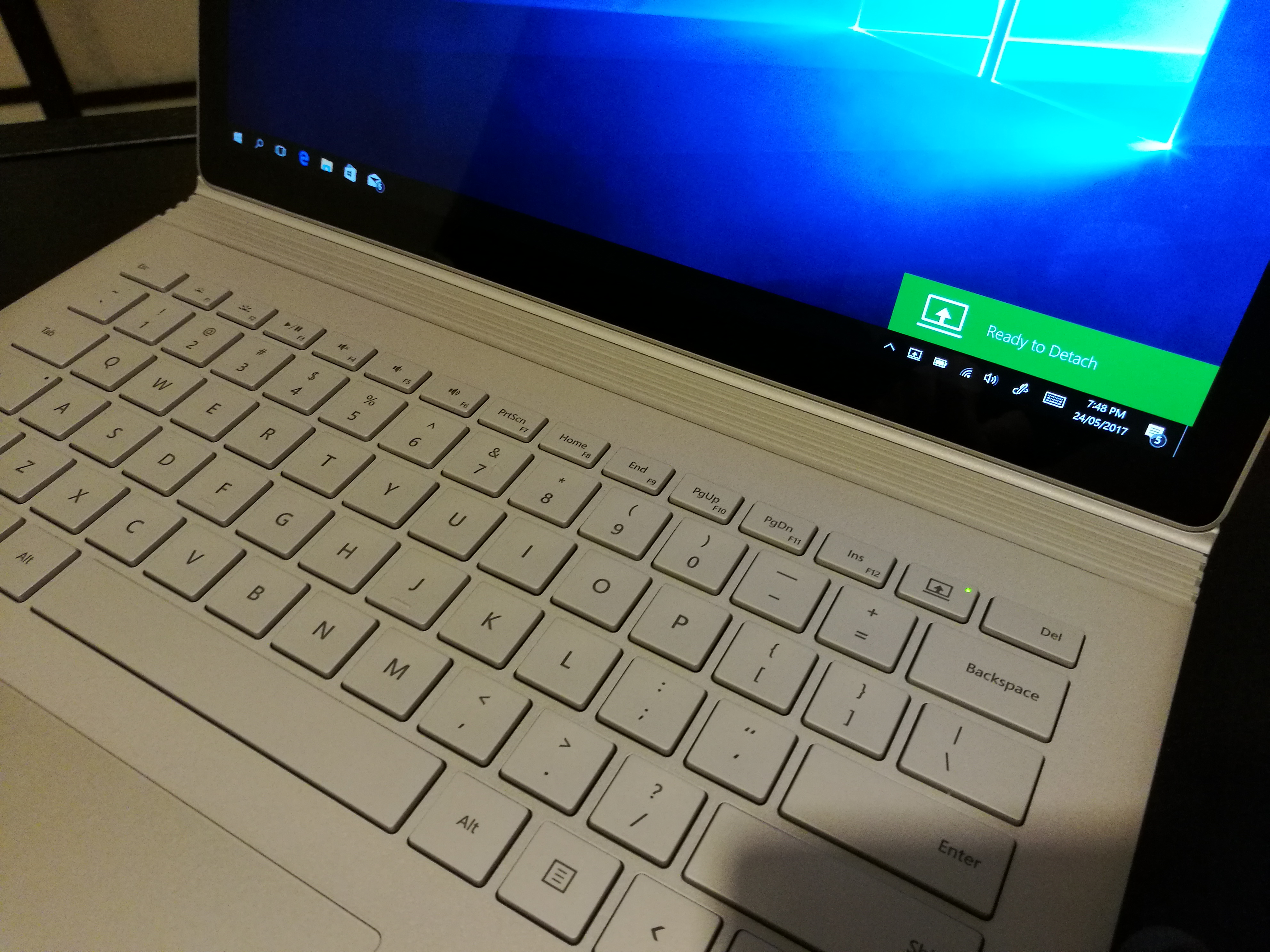 I'm not looking forward to having to return it, it's been that good. Even my wife (who isn't a tech enthusiast) was quite taken with it, to the point that it's basically become an honorary hoodie in the house (if I want it and can't find it, it's because she's got it already).
The downside? The price. If you look at the raw components, and lack of upgradability, it's really quite pricey – $2,749.99 for the basic Core i5/8GB RAM/128GB SSD model that I'm writing this on, and if you want one with a discrete GPU, it's $3,499.99 and upwards.
For most people that are looking at one of these, price wouldn't be a dealbreaker. Microsoft are aiming these at the professional creative market, so for a lot of the top tier items, they'll be purchased against a cost centre and depreciated over 3 years.
All in, you do get some truly unique functionality and if you're into things like graphic design, video or other types of hard out editing suites, the stylus changes how you would normally use a computer to the point that this becomes an incredibly compelling option.
Compelling enough to make me wonder if I need both my kidneys, anyway.
– Dave
The following two tabs change content below.
Gaming & Technology Editor
at
The Empire Digital Media Ltd.
Gadget fiend, maker of beer, technology enthusiast, and Dad of three, Dave enjoys trying to protect expensive gadgets from the destructive power of tiny people, and frequently fails.
Comments
comments