Hey Team, its that time again!
So as per the format we talked about on the nzblokes page, lets dig into this.
First things first, Why here? Cause Cathy tagged me as a suggestion for another place to try out, unfortunately it turned into boys night. Sorry not sorry.
It's out in Onehanga not too far from the motorway but being on a residential street parking is residential so after work hours it can pick up a bit. And with lots of coming and going from people with pick ups its a bit busy.
The Joint itself being Saltwater Burger Bar, we assumed there would be more seating than there is, 3 perches and 1 6 seater table that was it, I don't know if that classifies as a bar but given 80% ish or more of the burgers sold while we were there were takeaway I don't think its too much of a focus of theirs. Staff were super friendly seemed almost like family talking to your mum or something asking for dinner which was actually kinda cool, really relateable none of this " we're so good at making burgers we can be wankers" sort of attitude that I've seen in the past, the exact opposite. Even sitting at the table when our food came out felt like being at your aunts or gran's house. Really liked the personal Touch.
So as I said it was boys night and everyone got different burgers but I ordered
MAD MAX
2 x 150g Beef Patties
Double Cheddar
Iceberg lettuce
Gherkins
Speacial MAX sauce…
$15.60
We also got some Tater Tots and wedges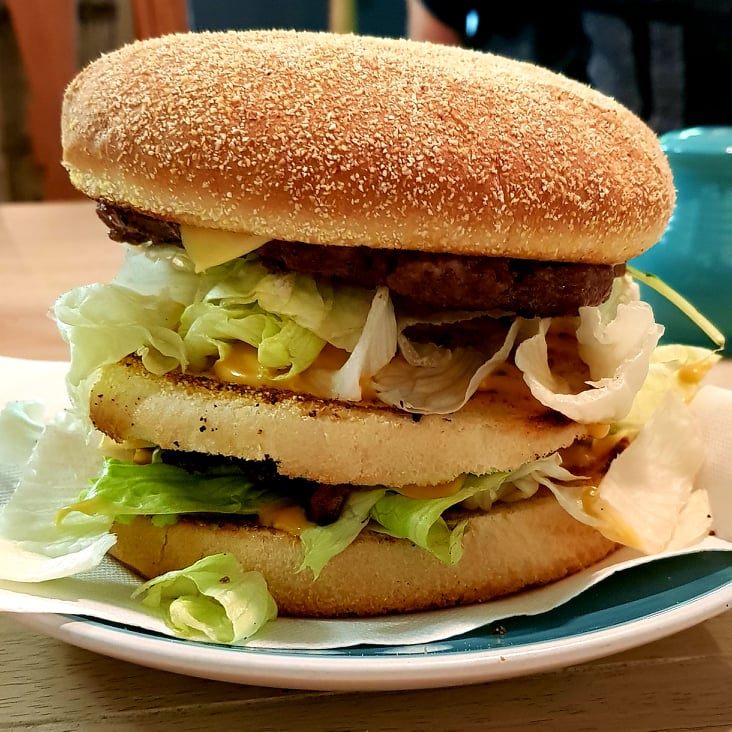 Obviously this is doing its bit to have a crack at the big mac, so I had to keep that in mind I ordered this one cause it seemed like the biggest and I hadn't had a big mac in months and months and I do like the Big Mac Sauce.
Now the first thing I noticed was the size, this is a similar size to a larger Burgerfuel burger in diameter but significantly taller being a stacked burger. I of course having the big mouth I do had to have a crack at a proper bite and failed.
Initial Impressions were the lettuce was very crunchy to the point of being too hard, there's a limit I feel when if it becomes more of a chore than an enhancement to bite thru lettuce then it's too hard generally the greener the better and you can see in the picture how thick some of the bits were.. this also filled up a lot of the volume or height of the burger overall.
The patties tasted like they would have been good if they were cooked longer, they were very well seasoned however under-cooked, very pink on the inside and not much of a crust unfortunately, It's a shame really. The Sauce was amazing but there wasn't enough of it, There was no fear of this becoming soggy at all, not to say it was dry it was great but it really could have done with more of the sauce. The two overwhelming tastes were bun and lettuce followed in 3rd place by an undercooked cheesy patty.
The other guys were happy with their orders, and had the patties been cooked properly I could have just pulled the tougher parts of the lettuce and really enjoyed the burger. I ended up not finishing mine, but I did finish the tater tots. I even ended up feeling a bit shit on the way home like I was gona have gut troubles when I got home. I didn't but I got that pre " you're gona be on the toilet for a while" feeling in my guts about 20 mins after we left.
This is an interesting place, Its sort of like Big J's in the sense that its a buger speical takeaway joint, I'd say the major difference is these guys are trying to go more up market and Big J's focuses on crazy burgers while ultimately being a corner takeaway. I personally appriciate the humbleness of Big J more so. It wasn't obvious that it was prodomonatly take away on their social media in which it calls itself a Burger Bar, I don't even recall it having beers at all? I was driving so I didn't order one but no one did.
You can see from their menu there are a lot of options all around that enthusiast price point. I think had I had a better experience I would go back and try more but at this stage It's not on the agenda. I ended up taking a look at their feedback and its very mixed, Facebook is very high but Zomato is 3.4/5 overall with a lot of varied feedback and comments with both praise and disappointment.
Reading between the lines of social media feedback and what I saw myself, my best guess is I just got unlucky with a quick cook to get things out together and overall it would seem people are usually happy with their experience. so based on that I'd say I would have given this burger a potential 7/10 had it been to what I expect is their usual standard. unfortunatly this wasn't the case.
Based on this I would say if you're in the area let us know what you think and we can get some more information from the community, a friend had been there earlier that day and when I asked how it was i got a " yeah alright" so..
Until next time! so amped for Wellington on a plate!
The following two tabs change content below.
Empire motoring Journalist, Vlogger and general larakin. Pro food and lifting heavy things.
Comments
comments