For the longest time, Toyota has been the benchmark for 4×4's – specfically the Hilux brand.
With an ever growing market for this type of vehicle, especially for family use, many manufacturers are looking to meet that market head-on. This means a comfortable & well appointed SUV, based off their 4×4 platforms.
Now let me preface that I'm not a big fan of this idea. Personally, I see more merit in a quality station wagon. It would seem however that I'm in a minority, as very few new cars to the country are coming in estate configurations; certainly many less than the SUV's we're looking at here.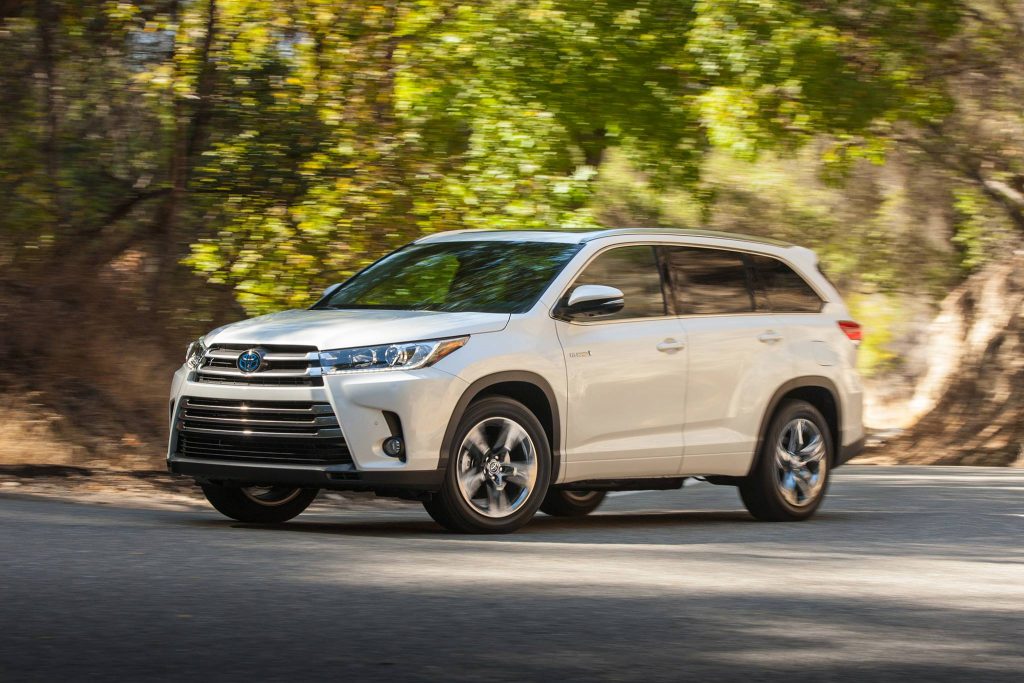 Toyota has the most offerings when it comes to this end of the market, from the Fortuna we've driven last year to the Land Cruiser which is still a beast of a machine, and the Highlander sits somewhere between them.
The first thing I noticed about the Highlander was how incredibly easy it is to drive, this is both good and bad in my view. It's good in the sense that this is likely going to be a multi driver family vehicle, so anyone from rugged dad, to careful mum to carefree teens will have no problem operating this SUV. The problem that presents is that it can be very easy to forget the size and weight of this hefty beast. With many clever electrics such at the steering, maneuvers through car parks are no harder than driving a Yaris, It really was that easy. I see this ease being a big appeal to the Soccer Mums who want all the size and space for ferrying around children and all their gear which this will easily do with seven seats and generous luggage space.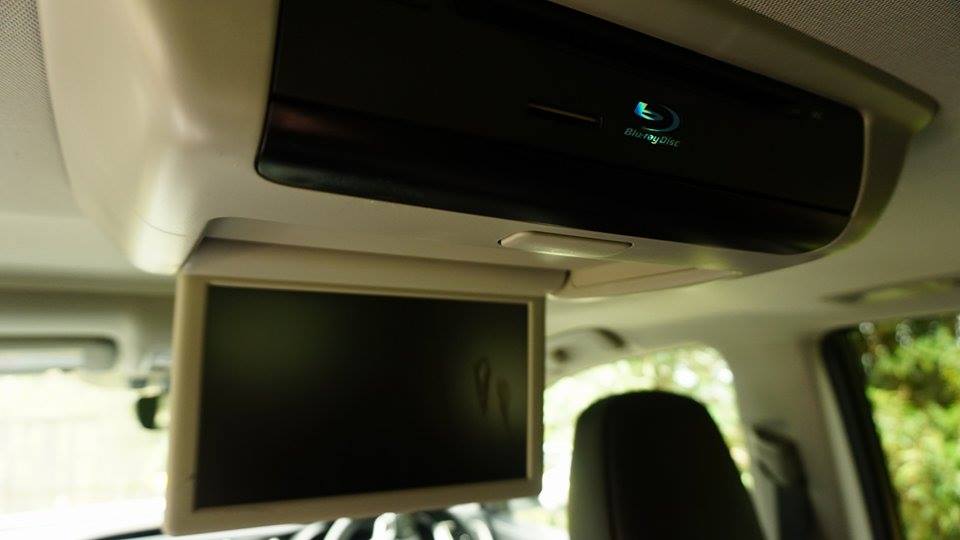 We also found this to be fairly economical. We didn't even fill it up over the week we had it, and we were driving all over Auckland on rural and city streets. We also noticed it was very well behaved in all of these areas with regards to the handling of the vehicle. I would just say that you shouldn't expect to throw this around corners. It really didn't respond well to that at all and I would be very interested to see how it would do in a moose test compared to some other vehicles in this class, but then again this isn't the sorta thing that you would expect to throw around on a regular basis. We did however take it on a short paper road and yeah all the cleverness in our very short off road test did what it said it was going to do. Thankfully this Highlander did come with more suitable rubber unlike other cars in the category that come with low profile tires that look nice but don't perform at all off road, Kudos to that one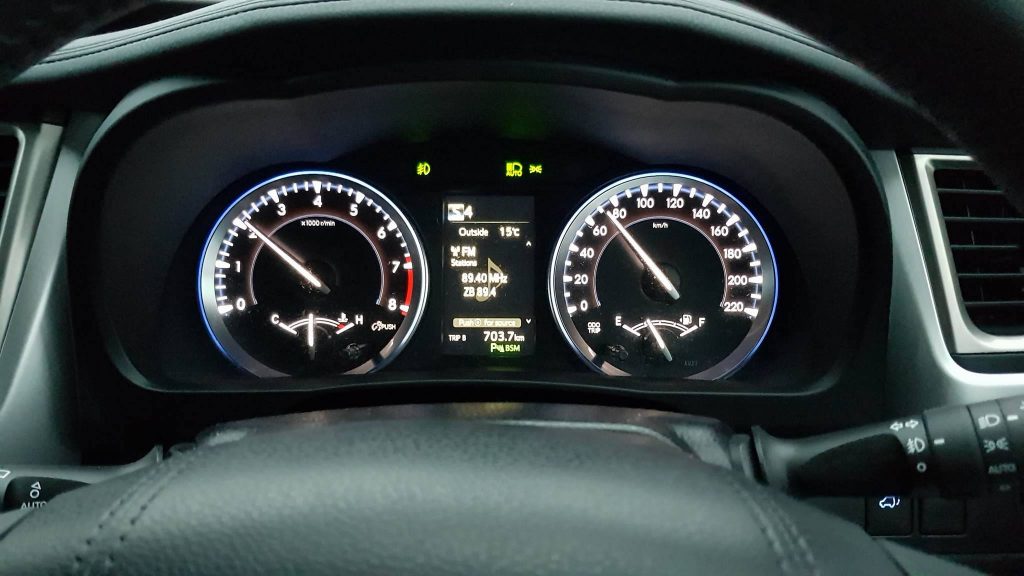 One are this Highlander did fall short was inside. Rear passengers get a flip down Blu Ray player, which is pretty awesome, however the infotainment system leaves me disappointed. Fumbling with slow and out-of-date systems and I think the worst speaker system of any car we've driven lately was a real let down. Of course you could upgrade this at your own cost however in a brand new $80k investment I would have expected more. That being said, Toyota's infotainment systems have across the board been some of the most disappointing, it was the same in both the Hilux and the Fortuna, the GT86 however had a 3rd party system. From the inside seeing out, the rear view mirror didn't give as much view as I would like through the rear glass however the wing mirrors were very generous in size and coupled with a great rear view and 360 top-down camera set up it shouldn't be any problem to keep eyes on whats around you or behind you when parking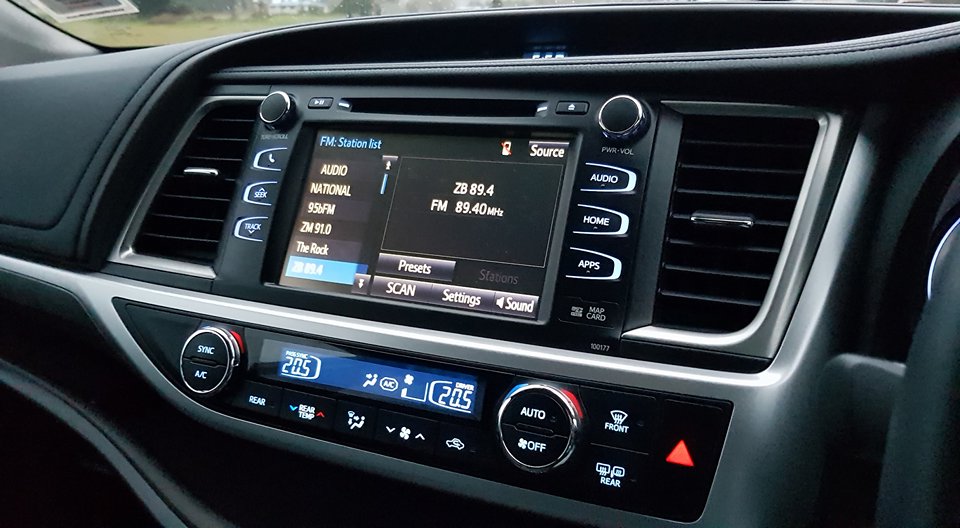 One thing that really did surprise me in a great way was the power, Sure V6 sounds great but given the size I had no expectation it would haul that hard. Driving sedately around town or the burbs its very well behaved and again very easy to pick up and get going but what was really impressive was the 40-80km/h. You can't launch it from the lights but for passing and getting up to motorway speeds it was very impressive given its category. One major draw back of vehicles this size is they often lack the power to get around slow drivers on long trips. This highlander can easily get up and boogie for that 80-110km/h passing maneuver which coming from a 91 VX Landcruiser seems almost space age to be able to pull that off without a down hill run up.
The highlander left me feeling like aside from the sound system it would be a very worthy contender for a family vehicle. Toyota really have put out so many offerings for this part of the market you're almost spoiled for choice and of the SUV's on offer from Toyota this makes the most sense for a family wagon and would be my choice given the price. Compared to the current Land Cruiser, the Fortuna is just a bit small for me and I liked the towing power and real truck feel under the cabin of this.

Tech Specs
3.5 Litre Petrol, V6, 24-valve Quad Cam with VVT-iW (intake) & VVT-i (exhaust), plus D-4S which uses both direct and port type fuel injection
Maximum power – 218kW at 6600rpm
Maximum torque – 350Nm at 4700rpm
Fuel economy* – Urban/Extra-Urban/Combined (ADR 81/02). 12.8/7.6/9.5 L/100km.
8–speed automatic transmission
Direct connected downshift
The following two tabs change content below.
Empire motoring Journalist, BMX Rider, Yoga Doer and Burger aficionado. Always down for a laugh and or good food!
Comments
comments