So yeah,
Some of you are gona say " nah don't need that shit, real men don't shave yadda yadda " – if you dont want to take care of ya face that's entirely up to you, some people do and I do too so we're doing this.
So full disclosure, The people via Bulldog sent a package ( i knew was coming) to try out these razors but they ended up sending a full kit so we're going to try all of it – This was sent at no cost to us but I'm still going to tell you exactly what I think, our opinions are not for sale. I really get tired of having to say that but its important, and there are heaps of shills out there.
Anyway.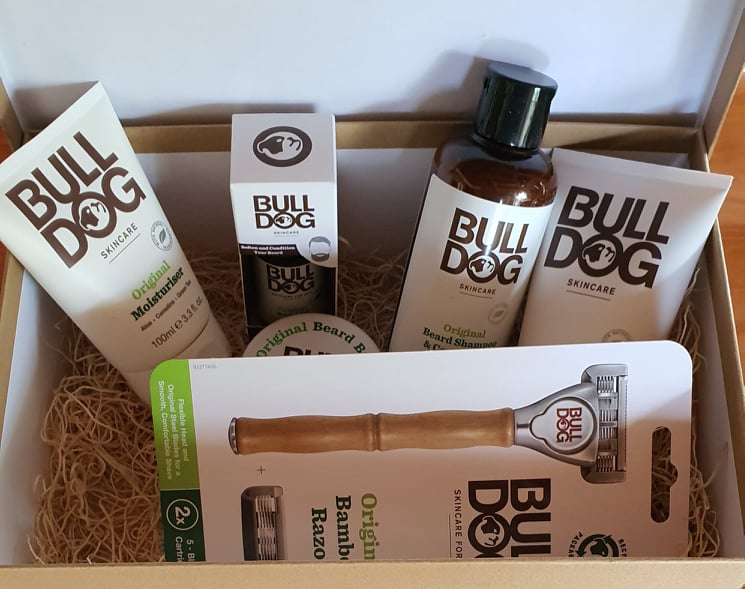 So the first and main thing was the Razor, oh and its important to note that this was used on my whole head and face – they market it as a sustainable product, which is a good thing and we support the shit out of that. The reality is if its not up to snuff then people are going to stick with what they know and already use so its got to be good too.
The bamboo handle is a bit tricky to use, its quite slippery when wet and the shape doesn't offer a lot of purchase when working your way around, I didn't drop it but I did feel it losing pressure downward when trying to use my regular grip as I would when shaving. Not a deal breaker but if you've become used to a grippy rubber grip then this will take a little more finessing – which is kinda the point of why we are trying this stuff out in the first place.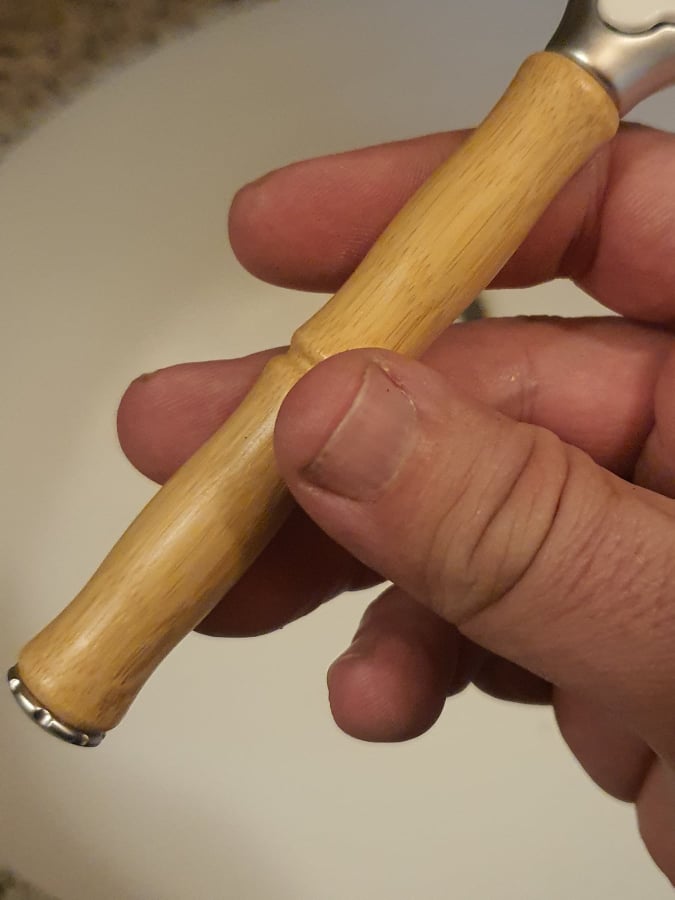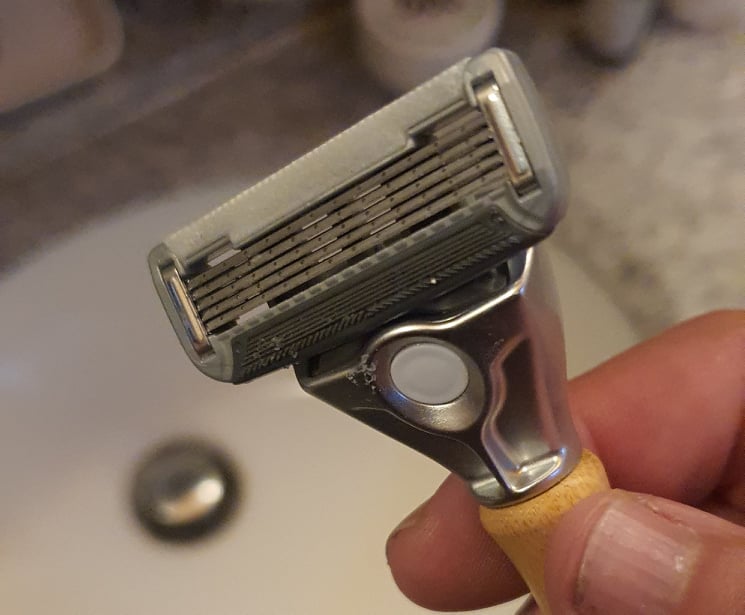 The cut itself was very good – 5 blades plus a moisturising strip is the go. there is plenty of cutting, I did find it needed to be cleared often and you need to be a bit careful when shaking it off under water that you dont knock the head off, its a pretty simple clip system. I did get a couple little nicks from the shave but nothing drastic – you'd think after 20 years of shaving my head I'd be alright at it now. The cut is clean and close and it does what it should do so top marks there. I saw somewhere ( I thought it was on their marketing but looking again it does not seem to be there) about a no rash shave. I'm one of those people that gets wicked bad shaving rash even using the Gillette top shelf razors which in my head I'm comparing this too cause its what I buy. I couple years back I switched to a Braun electric shaver for my face as it causes no irritation at all. I was hoping these BullDog razors would give me a clean cut, the first shave was pretty clean with no irritation the 2nd and 3rd ( yes we do test things properly ) gave mild irritation which is better than anything else I've tried but still not something I'm prepared to live with so i'll stick to my electric for that area.
The only thing I can't as yet speak to is how long / how many shaves you'l get out of a head, which I will update as I will keep using these while I can. 3 shaves in and they are still going well.
The packaging is all recycled so that's nice, anything we can support for the sake of better living has gota be a good thing. at the time of this review they are for sale at countdown for $17.00 with an extra blade head and a 4 pack of replacements are $14.50 which is about the same as the Gillette ones I get so not over the top for something that's " as good as Gillette" but saving the planet a bit more.
As for the rest of the goodies.
They sent through the whole range I think? beard wash, balms, oils – face wash. I kinda expected a shaving cream or gel to go with the razors in their range? would have made sense
But in short I've tried all of these, I really like the beard balm and shampoo – makes ya facial hair feel less like your ballsack and more like .. well less like ya ball sack. Softer and smoother and yeah feels really nice – the oil has a slight fragrance but its not overpowering like other beard oils I've tried which is good cause then if you're wearing a fragrance ( which you should) its not going to linger and contrast that.
The face wash was nice, if you do this kind of full system with your face its only going to add a couple minutes to your morning routine and you'l feel better for it – I felt sexy as fuck when i was done and that's cause I was. People notice when you make an effort and feeling good will give ya a bit of confidence.
Overall I really liked the whole range they sent through, I was tough on the razor as its more of a review for that, but the whole kit is really nice I'm not sure the price of each of these so I can't say if they are reasonable but based on the razors price I'd say they are fair?
Cheers team,
The following two tabs change content below.
Empire motoring Journalist, Vlogger and general larakin. Pro food and lifting heavy things.
Comments
comments