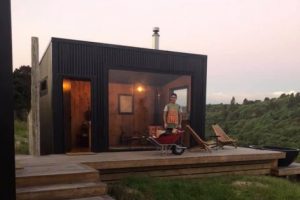 Ever feel like the little cells of your very being are relaxed?
I felt that way while trundling down the metal track between forestry, the sweet smell of pine and eucalyptus in the air as we headed towards our secluded get away.
On arrival at Totara Perch high on a hill, awe crept over me as I took in the view overlooking Kawakawa bay, the central plateau mountains in the background, completely enveloped in nature, secluded and mesmerizing. Our hosts and property owners Jay and Jane met us and invited us back for a mead tasting the next day – the property also encompasses their meadery – Beehave Craft Meadery, if you haven't tried Mead before you are in for a hurr of a treat!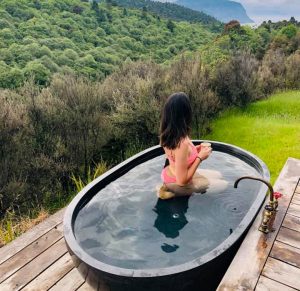 We soon piled a wheelbarrow with our bags and made our way down to the perch, a beautifully appointed glamping retreat, completely secluded, with two cabins and an outdoor covered bathroom incredibly designed by Jane, built with wood milled from a tree on their previous property. Bird song surrounded us.
We cranked the BBQ while we played a game of truth or dare and toasted marshmallows over the fire while the vast outdoor bath filled waiting for nightfall. Lying in a spacious outdoor bath in the forest, looking up at the clear milky way, our enchanting blanket of stars, not a sound to be heard except a Morpork in the distance and reflection of lake Taupo sauntering in the backdrop is a feeling I want to hang on to in my minds eye forever. This one is for the lovers and the dreamers.
We retired to our cozy cabin with panoramic windows to the stars to wake the next morning, fresh coffee and BBQ on – a day for adventure. From the Perch there is instructions on how to make your way down a secret track through DOC forest to the 'old codgers rock' lookout over the expansive lake, if you've got bigger balls you can continue down the K2K track to Kawakawa bay for a swim, refreshing! Walk or take your mountain bike, she's a good run down.

We headed back to the perch for more BBQ lunch and the meadery tour – Jay walked us through the mead making process and explained how they source their organic ingredients – much of it from their property from the honey to the blackberries and mint, this has been a labour of love for Jay and wow, has he nailed it. Mead is an extremely refreshing thrill to the tastebuds, not a beer and not a cider, the oldest known alcoholic beverage, Behave Craft Meadery is the first purpose built meadery New Zealand has to offer. you will have to try it to believe it. We had a tour of the food forest then hit our dirtbikes for a couple of hours, a bit of a novelty before another night of deep relaxation.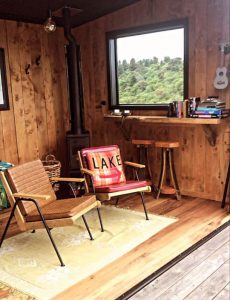 Totara Perch is located 25 minutes from Taupo and 10 Minutes from Kinloch – it really is a little slice of paradise. The farm is called Te Wahi Hari which literally means "The happy place" a stay will cost $330.00 per night and there is plenty to do right on the back doorstep, you have the infamous K2K, O2K, W2K, and Waihaha walking and mountain bike trails, play golf at the world-class Jack Niklaus golf course nearby in Kinloch, take a cruise on the lake, venture in to Taupo to some tourist attractions – or stay and try some mead – either way, just get amongst this incredible piece of bliss, maybe take the missus if you want brownie points that last forever.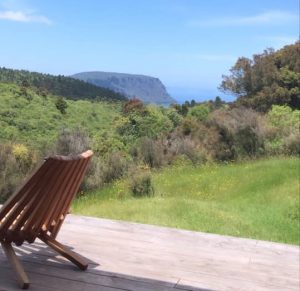 The following two tabs change content below.
Comments
comments