So we've all seen that joke " Hey Wiretap, Play me some music"
Well this is one of those – I at first struggled to understand why people would buy something like this? – Full Disclosure Bs: This came to us on loan via Harman/ Kardon for reivew purposes, No paid promotion etc yadda blah..
My initial thoughts were, based on what I've seen about these sorta thing via YouTubers that pushed similar units. Something like this will sit in the kitchen, you'l occasionally ask it questions but most of the time use it to play music. Now for me if I want to listen to music while cooking I'll crank the sound system and blast the whole house down. so it seems kinda.. pointless?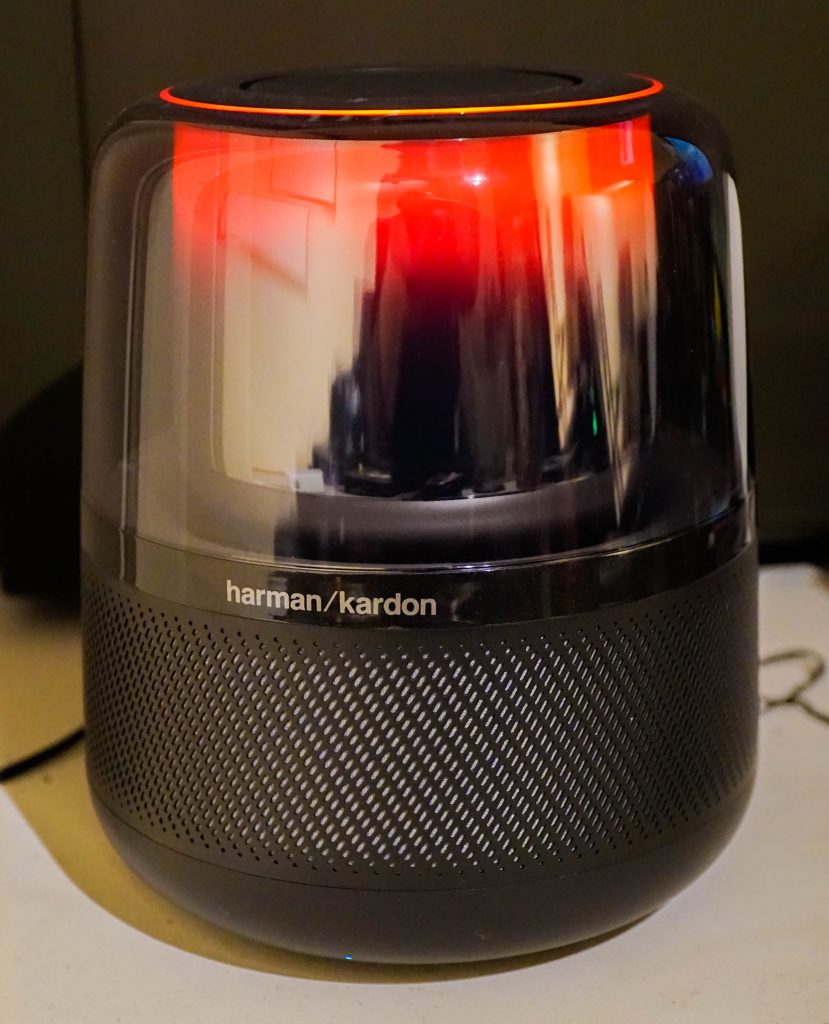 But I've had this thing sitting on my desk for about 2 weeks now, I've tried to ask it some stuff, basically what its doing is turning your voice recognition after the promt " Hey Alexa" into a search via wikipedia – so naturally I asked it some basics like " Hey Alexa, When was World War II " ? To which she politely came back with " World War II was from 1 September 1939 to 2 September 1945 " – She " couldn't find any information " however on the spanish inquisition – By now I'd kinda given up asking her questions, The response I found was that you need to speak very clear and pronounce your words very carefully for it to recognize, Kiwi's tend to speak very quickly and tend to bastardize words, Alexa will not forgive you for this. All is not lost tho, there are other features, if properly synced its supposed to be able to add calendar entries and things of that nature – pretty basic tasks so really I'm looking at this as little more than a pretty speaker that can play your music, sort of…
As far as the sound goes – It's not half bad, given the size of it ( about the size of 2 bottles of milk ) it packs decent sound – Higer volumes remained clear and it did an ok job of filling my office room which is about the size of 2 car parks. With an out-put of 60w and a Frequency response of 40hz to 20k Hz it provides a full clear sound with a solid bottom end. As far as sound goes the only downside was that the sound is very directional, in that you can tell exactly where its coming from. Typically when I play music while at my desk its coming through my 2 speaker system attached to my computer so the sound has balance, this sounds exactly like its coming from 1 source off to one side and can't really throw its sound like other speakers can i.e. soundbars that send sound in different directions for a faux surround feel. But getting music to play through it was becoming problematic…
Being the kind of person that would typically stream music via my phone to cars or other devices around the house I figured this should be pretty easy, I went through the basic set up via the app which didn't take long and was pretty self explanitory. within just a few minutes it was all set up and ready to play my music – except it didnt. This model won't stream from my phone or similar devices – apparently this is coming in a later model. Strike one.. Now I'm not a subscriber of any music streaming services – I'd rather listen to my own playlists, the app was suggesting I set up my amazon music account – which had a 30 day trial but I had to enter a credit card – I already had an amazon account, so I got all signed up and there was a problem – That service is not available in New Zealand yet. Strike two…
Finally I ended up singing up for spotify – I got my account all set up, tee'd up some RHCP – but nope… nothing .. What the actual fuck?! – Turns out you need a premium subscription to Spotify for this to work.. So out comes the credit card AGAIN for ANOTHER service.. and oh would you look at that, it works! – So according to my research – the only thing this can actually do other than look very artsy, is play spotify premium.
You can Imagine I was far from impressed. If we compare it bang for buck against a similarly priced Bluetooth speaker – the sound is decent and comparable in the price range. But given its lack of options for sources and the fact it can't really do much else I kinda feel like this speaker is a bit of a wash..
If they ( as I'm told they will ) allow more sources it's still only going to be a decent sounding wireless speaker that you can't take anywhere – so if you have a black on black kitchen that you think it'd look good in you might be in the small minority of people that will get something out of the current model or perhaps even future variants.
Personally I'd not part with the money, It's a feature poor spotify premium only speaker that sounds great. If you want to part with $249.95 feel free to CLICK HERE FOR ALLURE – on the Harman/Kardon website
The following two tabs change content below.
Empire motoring Journalist, Vlogger and general larakin. Pro food and lifting heavy things.
Comments
comments