Immerse Yourself in Unrivaled Gaming Precision with Logitech
It's been three years since I reviewed the Logitech PRO X Gaming Headset.
Now it's time for me to introduce you to the next headset in the Logitech G PRO series. The Logitech G PRO X 2 LIGHTSPEED Wireless Gaming Headset! (Whew that's quite a mouthful).
And let me ask you again, as I did in the PRO X review, as it may be relevant three years on.
Are you tired of being held back by your current gaming headset? Is it time for an upgrade to take your gaming experience to the next level? If you crave peak performance and a competitive edge, then it's time to consider the Logitech G PRO X 2 LIGHTSPEED Wireless Gaming Headset. Let me share my review and insights on this remarkable headset.
Now I'll cut it down to just the Logitech G PRO X 2.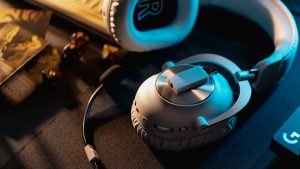 Logitech G Pro X 2 Features & Specs
The Logitech G PRO X 2 boasts an array of impressive features and specifications that we saw with the first Logitech PRO X headset, such as:
BLUE VO!CE Microphone Technology: Enjoy consistent, studio-quality vocal communications in your games with this detachable boom arm mic.
Memory Foam Leatherette & Cloth Ear Pads: Immerse yourself in extra comfort, allowing you to focus solely on your gaming sessions.
Charging Cable Length: 1.8m
Dimensions (H x W x L): 189mm x 95mm x 176mm
Weight: 345 g
Price: $499.95 NZD
Though it does have a couple of upgrades on the original:
50mm Graphene Drivers: Graphene, a revolutionary new material that delivers enhanced audio response, reduced distortion and unrivaled sound.
Lightspeed Wireless: With the championship-trusted LIGHTSPEED technology, you can get up to 50 hours of use on a single charge and a strong, reliable connection range of up to 30m.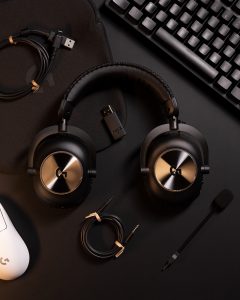 Though I did not confirm if they work with the Logitech G Hub Gaming software or are able to use the Pro Tuned EQ Profiles. Though that's not necessarily important. I'll still go out on a limb and say that they do.
Thoughts
Again, I think Logitech have done so well and knocked it out of the park again with this headset. They listen to their demographic, they've collaborated with the right people and built upon the greatness they had 3 years ago with the first iteration of the PRO X. I remember after reviewing the PRO X and whenever anyone asked me what headset they should be buying, I always pointed them towards that headset, now that's going to change and I'll point them toward the Logitech G PRO X 2.
Audio quality, is just pristine, time after time, and I didn't run into any audio issues this time, no muddy or underwater type sound, so I was quite happy about that as I would have been disappointed to come across something I had noted in my previous review. I believe the change to the Graphene 50mm drivers has been a great decision and a wonderful upgrade. The audio was always pleasant and never jarring on the ears, it didn't feel like they could go too loud so knowing I couldn't push the noise too far and harm my hearing or the drivers was good to know.
The one feature that made me so happy, I'm sure you can already guess by now, is the LIGHTSPEED wireless technology, as this is what disappointed me with the PRO X. Having a headset be wireless should be the standard or at least having that option should be. The LIGHTSPEED wireless was near flawless, no connection issues or drops, the only flaw I found is of course lots of barriers between the headset and the USB. I would be able to make it to the other side of my office, not a home office, an actual office building, before it started to drop out.
The claim of 50 hours of use one a single charge, yeah, I can get behind that. I had these babies for 7 days and used them at minimum 8 hours a day. I only needed to charge them once, on the sixth day. Then when it comes to the weight and feel of the headphones, I barely noticed them on my head. No sweating of the ears, no removing the headphones because of discomfort. It's still a comfortable, lightweight headset as it was.
I honestly struggle to fault these headphones this time.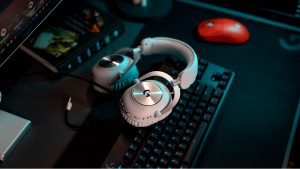 Conclusion
So, is it time to upgrade again? or settle for mediocrity?
Considering the retail price of $499.95 NZD, it's undeniable that this headset falls on the more expensive side. However, I encourage you to take a look at the Logitech G PRO X 2. It's unquestionably worth it, especially for those seeking a top-tier gaming experience.
Final Verdict: The Logitech G PRO X 2 LIGHTSPEED Wireless Gaming Headset receives a solid 10/10 from me. It's an exceptional headset that delivers on performance, comfort, and innovative features. And that shiny "G" logo still adds a touch of style to an already impressive package.
The following two tabs change content below.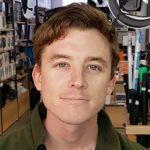 Empire gamer, 2IC Tech Cave dweller, esports fanatic and part time movie goer/reviewer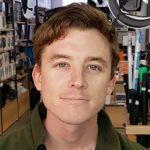 Latest posts by Hayden Biddick (see all)
Comments
comments