Crisp and Clear Gaming all day
Does your current gaming headset hold you back? Old? Need an upgrade?
Do you like being at the peak of your gaming form and having that competitive edge?
Can't hear your enemies footsteps? Or which direction they're coming from?
Have you tried out the Logitech PRO X Gaming Headset? Take a read of my review on them and maybe, think about trying them out.
The Logitech PRO X Features/Specs
BLUE VO!CE Microphone Technology* – Consistent, studio-quality, in-game vocal communications. Ensure that your voice sounds richer, cleaner, and more professional.
Memory Foam Leatherette & Cloth Ear Pads – Extra comfort to focus more on gaming.
DTS Headphone:X 2.0 Next-Gen Surround Sound* – Enhanced bass rendering, audio clarity, proximity cues and a new level of distance awareness.
PRO-G 50mm Drivers – Amazingly clear and precise sound imaging. More accuracy across a wider frequency range, plus higher-fidelity bass response.
Pro Tuned Audio EQ Profiles* – Equalizer profiles tuned by esports athletes. Use their profiles as-is, or fine tune to your ears.
Steel and Aluminium Frame – Sturdy and lightweight frame built for durability, comfort, and a premium aesthetic.
Cable Length – 2m
Dimensions (H x W x L) – 195mm x 94mm x 138mm
Weight – 320g
Price – $299.90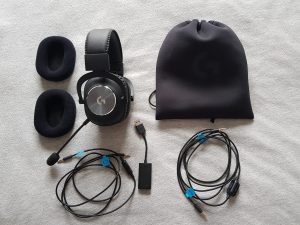 Upgrade or look elsewhere?
This headset is very nice. If you like Logitech and their products then you'll want a pair of these. All the audio has been very clear without distortion, but at times the DTS Surround Sound can sound muddy or like it's coming from underwater. Though this was during my transition of my regular gaming headset to the Pro X, so it may have been my ears getting used to the new sound. BY FAR the most impressive freature of this headset, the Blue Vo!ce Microphone. When I first used this headset and logged into my regular discord channels, my own friends couldn't recognise who I was even when I told them, they had to check the discord for themselves. That is how crisp and clear the microphone was.
*Blue Vo!ce Mic Tech, Pro Tuned EQ Profiles and DTS Surround Sound function only on PC via Logitech G HUB Gaming Software.
The Pro Tuned EQ Profiles allows you to download preset EQ profiles uploaded to Logitechs G HUB created by other community members and create your own to whatever sound profile you desire. The weight of the headphones has also impressed me as it hasn't put any pressure on the scalp as my others have nor have the ear cups crushed my ears or made them sweat after having them on for long periods. It's been wonderful to not have to suffer from having a heavy headset squeezing my head and take a break from wearing them. I am disappointed these aren't wireless. Sound blocking is again terrific, even without audio playing, I've had my partner yelling at me to get my attention.
Looking at the retail price for this headset, it's not cheap, I'd probably look elsewhere. If you see it on special, buy it, it's definitely worth the special.
My score for the Logitech Pro X Gaming Headset? 8/10
The "G" is nice and shiny
The following two tabs change content below.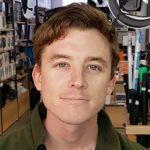 Empire gamer, 2IC Tech Cave dweller, esports fanatic and part time movie goer/reviewer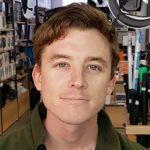 Latest posts by Hayden Biddick (see all)
Comments
comments