I was lucky enough to have a week off work before Christmas while the missus was still slaving away, which meant I had a week of hunting to do!
My plan was to walk into the Oamaru Hut via the Poronui access road on Monday then hunt all week, walking out on Friday. I was hoping to bag my first Sika and fill the freezer with some BBQ supplies for summer.
The weather was forecast to be heavy rain for most of the week, but I'd been waiting to go hunting for weeks so that wasn't going to stop me!
I started the easy 13 km walk around 11 am and it took me 2 1/2 hrs to arrive at the hut. You are not permitted to have the bolt in your rifle while walking across Poronui Station, so bear that in mind if you go for a look.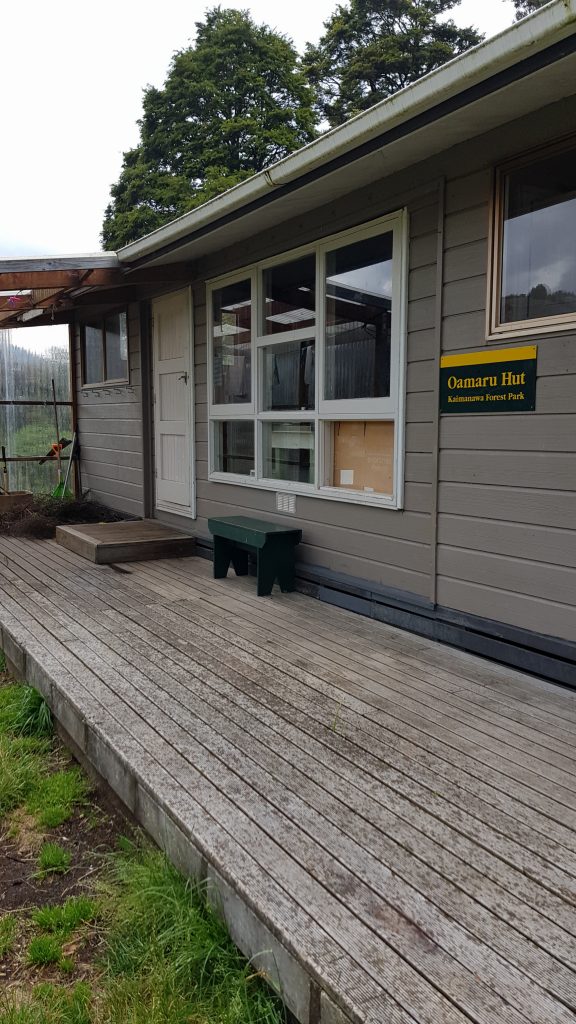 The Poronui Hut is a 16 bunk hut with a good wood stove and water in the hut fed from the rain catch tanks out back. This was my second trip to the hut, around 6 years after the first.
Once I was at the hut I took a quick look around and then grabbed my fishing rod and rifle and went for a walk up the river. I spent the rest of the afternoon fishing with only one rainbow hooked…and quickly lost.
It was diffiult to see through the water as the rain showers were sporadically moving through the valley, so fishing was a bit of a waste of time.
However, there was plenty of deer sign in the large grassy clearings on the river sides and I made a few mental notes on possible hot spots for my morning hunt.
I then, in my outstanding wisdom, decided to walk in the river while fishing my way back to the hut despite the rocks being beyond slippery. I slipped over within 10 minutes and grazed my right leg quite badly, which was a pretty good reminder as to why we should all be carrying personal locator beacons (PLB's) when out hunting, especially on solo missions. It may have been just a graze this time, but it could just have easily been a broken ankle.
After a quick dinner, I hit the hay and slept pretty poorly with my oozing leg sticking to my sleeping bag all night. I woke to rain at 5 am and decided to wait until it cleared, so I had brekkie and some coffee and about 45 minutes later the rain stopped.
I geared up and went for a look up the river where the big grassy clearings were, but to no avail. After not finding anything lurking on the clearings, I figured I would hunt up a creek that ran up the clearing and into the native. It was an absolute nightmare pushing through the wet Manuka belt that edged the native, but once through that, the bush opened up into very easy and beautiful hunting.
I walked about 100 metres into the native and followed a game trail over a spur and down the other side. About half-way down the other side, I looked up to another spur about 50 metres away and I saw a deer feeding on the face.
Quickly, I ducked behind a tree and peered back around it to confirm it was a stag and to take the safety off my faithful Tikka T3.
I lifted my rifle and then BOOM, my first Sika was down!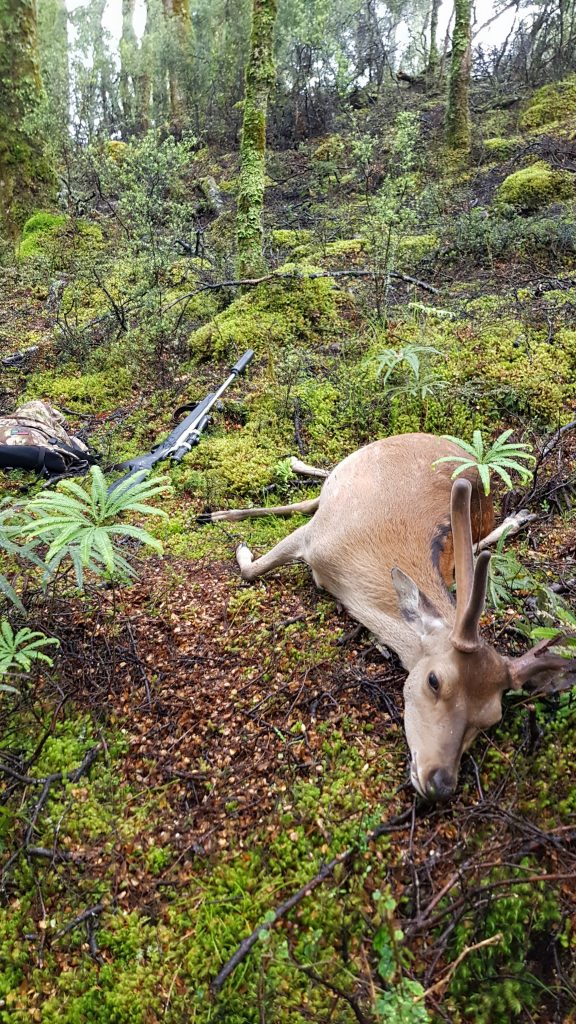 I quickly butchered it as the rain had started up again and then I made the 30 minute walk back to the hut after much frustration pushing back through that nasty Manuka!
After cleaning up my gear and drying out my rifle, it was time for a lunch of fresh deer heart and mushroom risotto!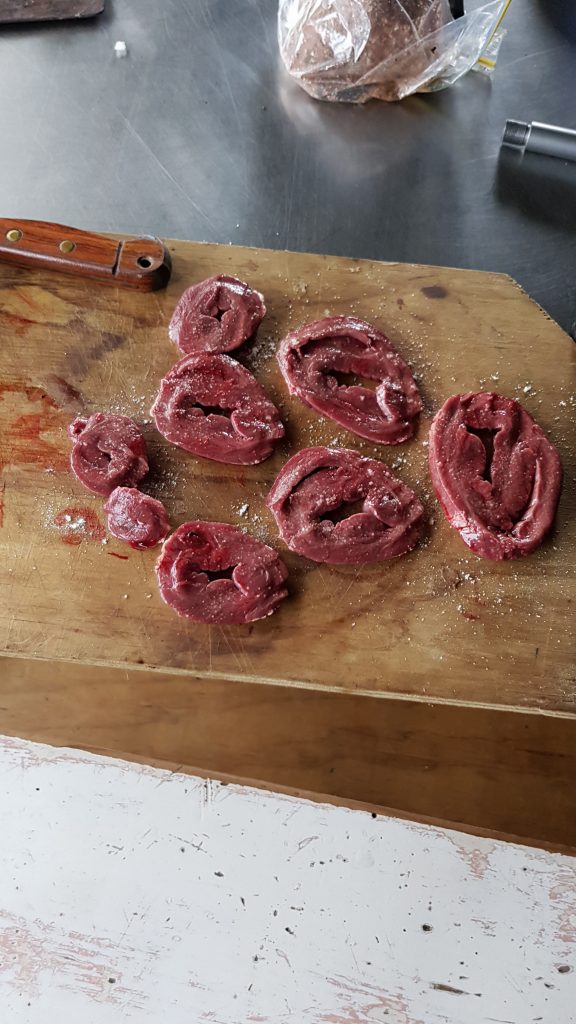 The rain settled in and I spent the entire rest of the day and and most of Wednesday trying to keep the fire going to dry my gear and reading every magazine in the hut.
I managed to get out on Wednesday afternoon for a couple of hours once the rain stopped, but there was no fresh sign around.
I decide to check on the meat again that was hanging in the hut's meat safe. I then found out, to my frustration, that although I had thoroughly checked it, the flies had gotten to the meat and it had some spots where the maggots had hatched.
I quickly took the meat inside and cut the flyblow off the meat and made the decision to head out a day early to avoid any wastage of meat.
After looking outside however, I was a bit concerned as to whether I would be able to cross the river due to how swollen it was. I decide to give it a test run without my gear and I deemed it safe enough for the next day's crossing.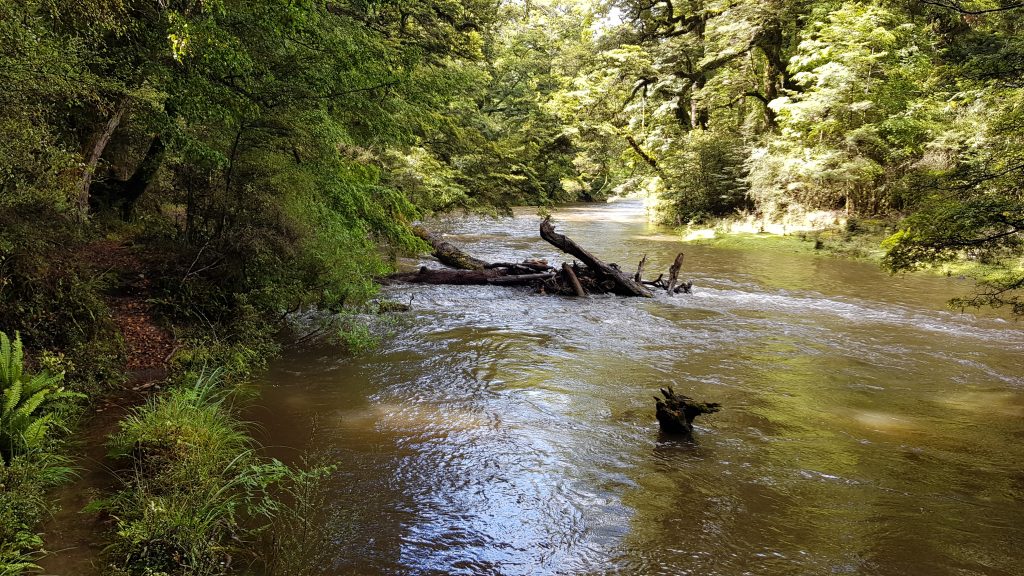 After a quick sample of the awesome back steaks with the BBQ rub someone had left in the hut (thanks for that), I went to bed.
I spent the first few hours of Thursday morning cleaning up the hut and packing my gear, then set off on the walk back to the Poronui Station entrance. 3 hours later (heavy pack full of meat) I was back at the station entrance waiting for my ride. Amazingly I counted 38 Sika feeding on the bush edge of the station on my walk out. Cool to see, but pretty hard to watch…
I hope everyone else is getting out and getting animals! I'm working on doing some video reviews on some of my existing gear until I start getting some new products to show you guys.
I'll just be going through the pros and cons of the gear and telling you why I do or do not like it.
Until next time – Kelvin
The following two tabs change content below.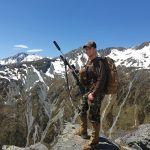 If it's outdoors, it's likely that I'll enjoy doing it.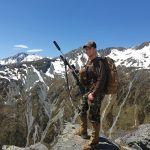 Comments
comments