Hey Team,
The awesome people at Pricespy have yet again come to party and are hooking you guys up some games! So here's a word from them
Nintendo pull in the clicks for May
As life begins to feel a little more 'normal' in Alert Level 1, Empire has teamed up with New Zealand's biggest impartial price and product comparison site, PriceSpy, to give away two of the most clicked-on games from May to make thigs feel all the sweeter.
Liisa Matinvesi-Bassett, New Zealand country manager for PriceSpy, says: "According to our historical click data for the month of May, gamers seem to be going all out for Nintendo, with the top two most-clicked on games for the month being Nintendo Ring Fit Adventure (Switch) and Animal Crossing: New Horizons (Switch).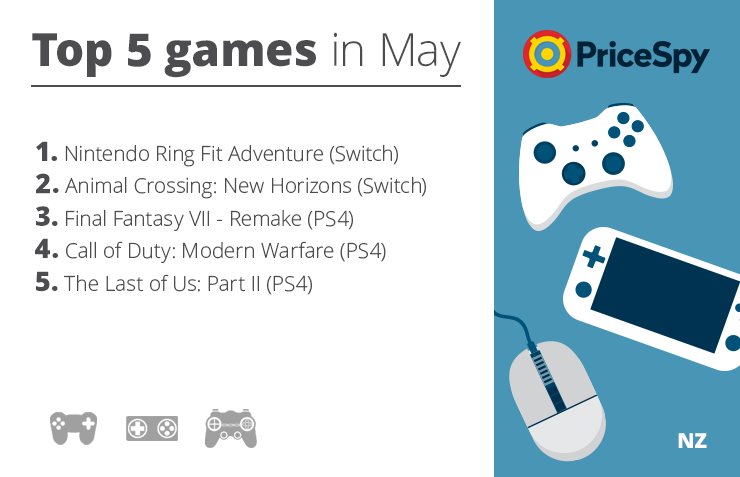 Liisa continues: "Dropping two places in the popularity rankings this month was Final Fantasy VII – Remake (PS4) – and the old favourite, Call of Duty: Modern Warfare (PS4), which originally launched in September 2019, placed an impressive number four eight months after it first released.
"Even though it's not due to launch until mid-June, The Last of Us: Part II (PS4) was found to be the fifth most clicked-on games for May, one month before it's due for release, indicating it's already going to be a bit of a winner!
When looking to buy any games, whether it be a brand new release or an old favourite that stands the test of time, PriceSpy strongly recommend gamers do important pricing research before they buy, as this important step can help save hundreds if not thousands of dollars in the long run. That's money that could be put towards a new game or console!
Download the PriceSpy app HERE
www.pricespy.co.nz
Same old story – All you have to do is email us comps@theempire.nz with the subject " Price Spy" – and let us know which of the 5 games that topped the charts in May you would like..
Conditions
Must provide ID if requesting games that have a GSRB rating
Must be a New Zealand Resident
Must be a NZ postal address
Must be a fan of our social media – linked on the right side of the site.
This will be drawn live on stream on Sunday July 5th from 7pm on our Twitch Channel – Make sure you hit the follow to get notified when we go live
>> TWITCH CHANNEL <<
The following two tabs change content below.
Empire motoring Journalist, Vlogger and general larakin. Pro food and lifting heavy things.
Comments
comments