Price – $549.99 RRP – Available Now
Gaming Peripherals have become a massive industry around the world, measuring $4.1 billion in 2019. A significant chunk of that money comes from headsets, and it makes sense that people are willing to spend some pretty serious money on good audio for gaming. Competitive edges can be obtained by well-tuned audio in multiplayer titles. After all, if you can hear from where your opponent is coming at you from, you will often have the benefit of being able to face them head on – and whilst frames wins games, preventing someone getting the jump on you is just as important.
JBL, who have been making audio equipment since 1946, and whose products you may have read about through Nic & Hayden's coverage of their speakers and whatnot, have decided that now is the time for them to be more involved in the gaming headset space, and to that end, they have released their Quantum line of headsets. I was loaned a set of their flagship Quantum ONE headphones to test and review, so settle down, because there's quite a lot to talk about here.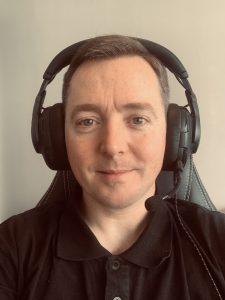 But, let's start with the specs and what you get in the box!
Spec Sheet:
Driver size: 50mm Dynamic drivers
Frequency response: 20Hz – 40kHz
Microphone frequency response: 100Hz – 10kHz
Max input power: 20mW
Sensitivity: 95dB @ 1kHz, 1mW
Maximum SPL: 97dB
Microphone sensitivity: -41dBV @1kHz/Pa
Impedance: 32 ohm
Microphone pickup pattern: Unidirectional
Microphone size: 6mm x 2.7mm
Weight: 369g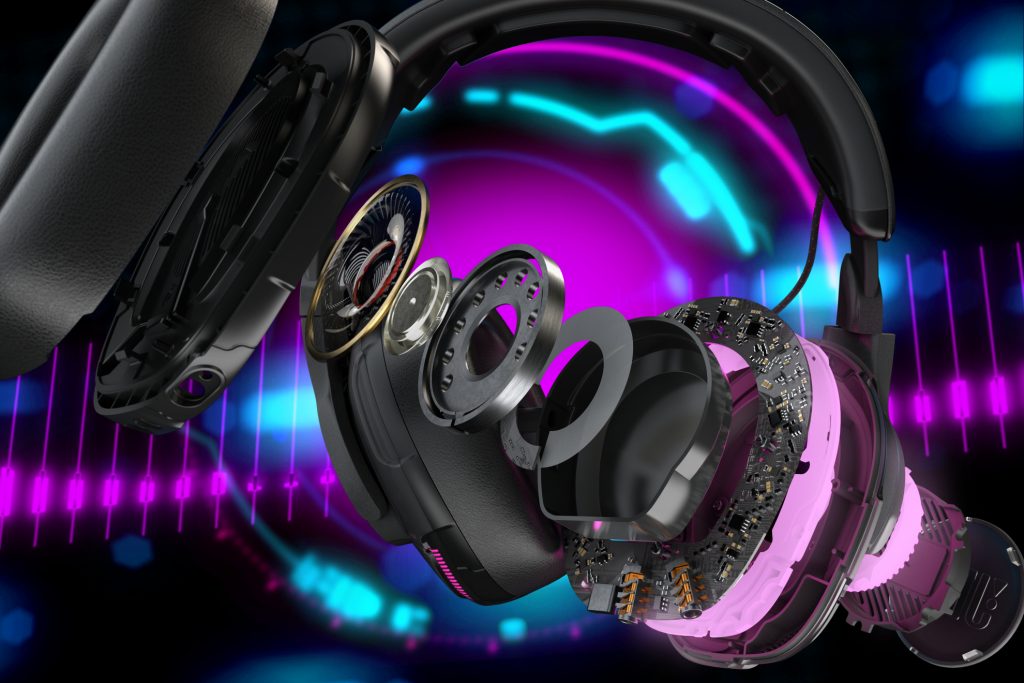 What's in the box:
JBL Quantum ONE headset
3.5mm audio cable
Calibration microphone
Detachable boom microphone
Windshield foam for microphone
Type-C to A cable with Game / Chat Balance Dial
QSG / Warranty card / Safety sheet
So, I more or less made these my default headset for a few weeks, both in the office and at my home PC. Whenever I was away from my PC at home, I was using the 3.5 mm audio connection, and at my PC, I was using the USB-C to A cable and the Quantum Engine software to enable the party piece of this headset, which is 3-D spatial audio. I'll cover that a bit more later on, but it's safe to say that this is a headset aimed towards the top of the PC market first and foremost.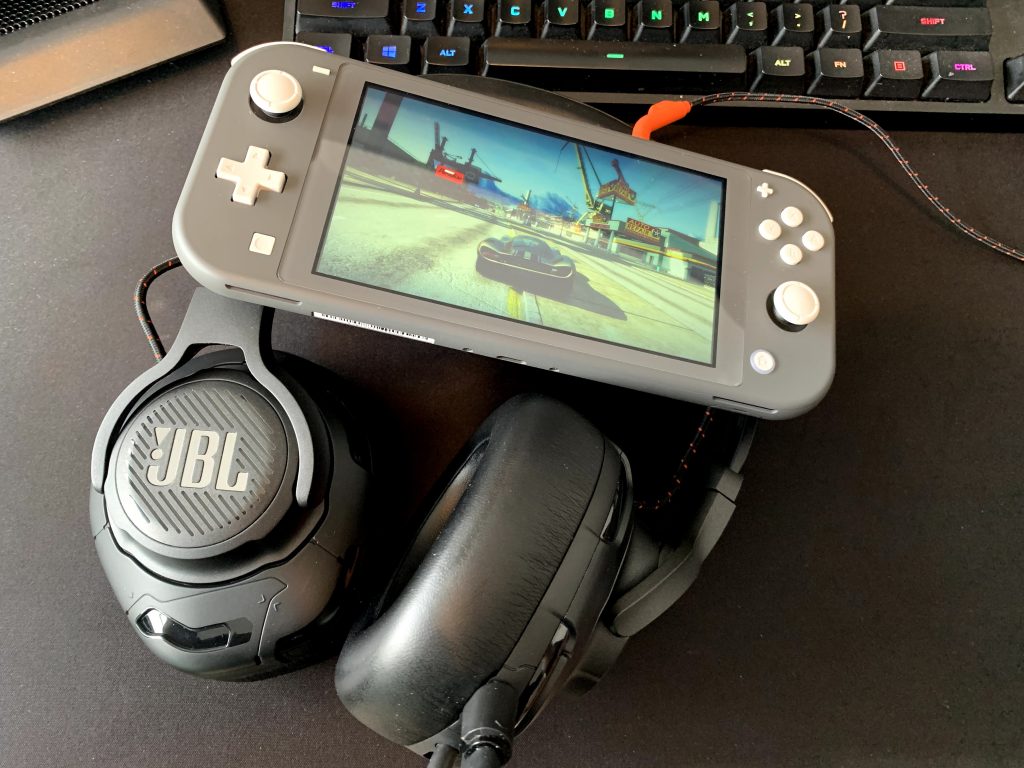 When using 3.5mm, you have a set of high quality, highly comfortable stereo headphones with mic and volume on the cable. I used it mainly with the Nintendo Switch (which has another connectivity option if you have a USB-C to C cable, but that's not included in the box, so I didn't have a chance to check that out) during my train commute into Wellington from my home in the 'burbs, and it did an excellent job of isolating me in the world of my game of choice (Burnout Paradise in this case). But, it's important to note that this is almost a secondary function of this headset. It's nice that it's there, but it's really not what it's about. For that, you need to plug it into your PC…
When you do just that, everything changes. In this mode, the headphones are Dolby DTS or Sphere (which is JBL's 3-D spatial audio engine) enabled, and their Discord-certified chat capabilities start to shine through when you're using them. It also enabled the RGB lighting on the headset, and whilst it's not a massive point for me, they do give you a lot of control over how that lighting is done in the QuantumENGINE software that you install.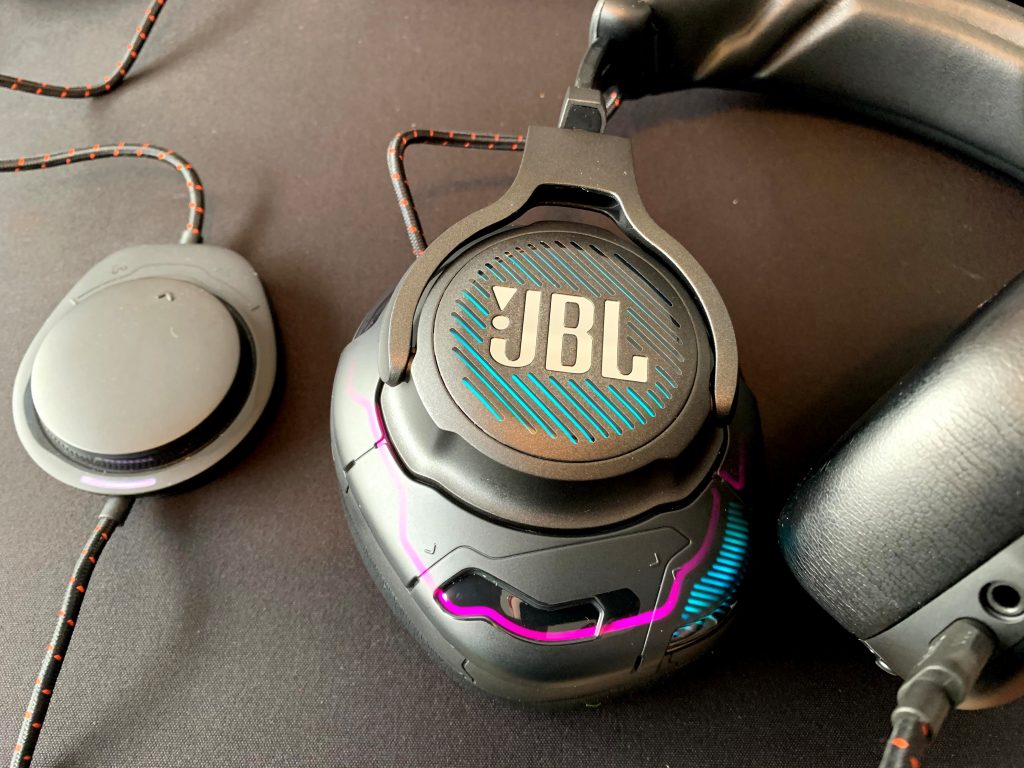 Spatial, or 3-D audio is something that is becoming ever-more talked about in gaming. I've experienced it for a few years now thanks to my time with VR gaming, but it's essentially the idea of tracking sound based on the position of your head. To be able to do this, you need to know the relative position of your noggin (bear with me on this) in a given space. In VR, that's really simple because you have a bunch of sensors tracking your head at all times, so it's easy to direct audio relative to your position in space. With the Quantum ONE headset, they have embedded the appropriate sensors in the headset, so it can track the position of your head relative to the source of audio. I'm probably not explaining it very well, but it opens up the possibility of tracking audio cues in games (e.g. Footsteps of enemies in FPS titles / gunfire at distance) at a whole new level. For me, it was most apparent when I found myself moving my head to figure out the general direction that someone was coming at me from in a Destiny 2 crucible match before moving my mouse to face them before they came round the corner. Whilst it's not a perfect implementation of 3-D spatial audio, it is a pretty cool feature that I'm not aware of being brought to the traditional PC gaming market before, and only available on the Quantum ONE headset, due to the additional hardware needed to track the headset. Here's a wee video, showing the QuantumENGINE tracking the headphones on me:
Because it has these features, the Quantum ONE lends itself well to use in VR games. I tried it out with my Oculus Rift, which if you're familiar with it, you'll know that it has some excellent headphones out of the box. I must admit that the Quantum ONE headset was better, in part because it brings in bigger drivers & better noise isolation, but I wasn't a fan of the extra cables in this scenario. Also, it's not great for room-scale VR games (e.g. Half Life Alyx) due to limited cable length, but it was incredible with static titles (e.g. Elite Dangerous, Project Cars 2) where that wasn't an issue.
I found the microphone and chat functions on this to be excellent as well. In PC mode, this headset registers as two audio devices – one for chat, and one for gaming. This is because JBL put two sound cards in the headset! If you assign the chat sound card to your chat application (e.g. Discord), it means you have a fully separate channel of audio from the game sounds to handle your chat. JBL includes a balance dial in the USB cable which allows you to easily adjust the game/chat balance in the headset without having to ALT-TAB out of your game. I wasn't sure about how useful it would be at first, but I was a fan after an evening on the Division 2 with some friends. Being able to make it chat focused with just a simple twist meant that I could hear what was being said over the gunfire at some of the boss fights in the game, a time when pausing would've meant a squad wipe and re-running that section.
Now, for the bits I didn't like so much:
JBL's QuantumENGINE app kept crashing on me when I did certain tasks (e.g. Use the re-center function button in the app) – it was mildly frustrating, but not a deal-breaker as there are also buttons on the headset which work without issue for the things that caused the app to crash.
The button on the headset to re-center you for spatial audio would be "pressed" whenever I put the headset down on the desk. Again, mildly annoying, and not really a deal breaker, but it's in the perfect position to press itself if you lie these headphones the wrong way.
Lastly, the price. I can understand why these things cost as much as they do (sensors, multiple sound cards, etc.), but they are possibly the most expensive gaming-focused headphones on the market right now. $549.99 is a lot of money, and whilst these are genuinely innovative gaming headphones, I can't help but think that it's just a bit too steep for a lot of consumers.
So, what's my verdict? I think that JBL have produced a very high-quality PC headset in the Quantum ONE. It offers true innovation, versatility and audio quality for PC gaming enthusiasts, and a good stereo headphone experience for non-PC use such as with consoles, tablets, or phones. This headset's innovative features in 3-D audio come at a steep cost however, and that may limit the audience that these headphones reach.
I'll give these an 8/10
Dave
The following two tabs change content below.
Gaming & Technology Editor
at
The Empire Digital Media Ltd.
Gadget fiend, maker of beer, technology enthusiast, and Dad of three, Dave enjoys trying to protect expensive gadgets from the destructive power of tiny people, and frequently fails.
Comments
comments