The Old Blue Wolf
SADES, you may know them, you may not have heard of them. I honestly had not until a couple of years ago. SADES are a company focused on R&D and manufacturing gaming headsets, along with other gaming peripherals and have been in the market since 2002. They have a long history of brand development in esports, mainly in Asia, sponsoring esports teams in multiple games and being the official headset sponsor of the League of Legends Masters (LMS) series in 2017 and 2018.
I got to review the SADES Knight Pro Gaming Headset, so first let's go over the features and specs.
SADES Knight Pro Features/Specs
Two Gaming Modes – SINGLE PLAYER MODE and MULTIPLAYER MODE. Single Player Mode is made to enhance the audio for these headsets to produce the clearest, most impactful and immersive audio experience. Multiplayer Mode reduces some of the less important audio information to focus on Vocal Communication and Audio Cues for the competitive gaming experience. Headset lights up Blue/Red depending on which mode is active.
Unprecedented Gaming Audio – High Performance Audio Engine, which is powered by Bongiovi Acoustics DPS technology.
Super Comfortable to Wear – Memory Foam Leather & Breathable Mesh Ear Pads and adjustable headband with stainless steel headrail.
Super Clear Vocal Communication – Knight Pro is equipped with the noise-cancelling and omnidirectional microphone for clear Vocal Communication.

Convenient to Control – Volume adjustment, audio/microphone mute, gaming audio mode shift all can be controlled via the multifunctional in-line remote.

Cable Length – 3m
Weight – 420g
Price – $169.99 via Mighty Ape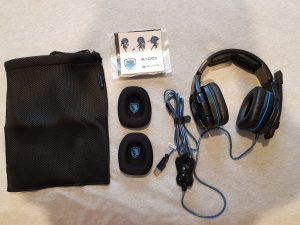 Does the Wolf have Bite?
No. The wolf has no bite. What I'm saying is, that this was a terrible headset. I gave the headset a week of trying to get past the "teething issues" and a week longer of playing around with it, but they persisted and I had to stop using it.
The Knight Pro were very uncomfortable, heavy and bulky, crushed my head no matter how much I adjusted the headband, the audio had a consistent piercing pitch, single player mode made dialogue sound like people were speaking underwater, so I rarely used the mode and stuck to multiplayer mode.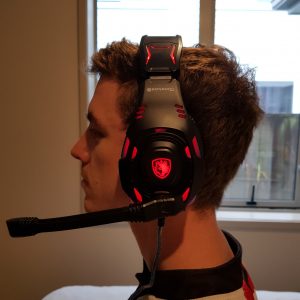 The microphone moves up and down but has no flex to move closer or further from your mouth. Being at the same level as my mouth, it sounded like I was on the other side of the room, I had to forcefully push the microphone against my lips for my friends to hear me. I turned all the drivers up, I turned the sensitivity up. Nothing worked to help with the microphone issue.
The in-line remote is probably the most redeemable feature. Though it is larger than most other headset in-line remotes I did like knowing where it was and I didn't have to fondle the cable to find it. Being able to switch modes at the touch of a button is a cool feature too.
I can't recommend the Knight Pro headset. Too pricey for so many issues.
My score for the SADES Knight Pro Gaming Headset, a lowly 2/10.
At least the lighting is cool
The following two tabs change content below.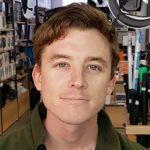 Empire gamer, 2IC Tech Cave dweller, esports fanatic and part time movie goer/reviewer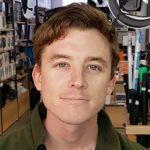 Latest posts by Hayden Biddick (see all)
Comments
comments