Hey Team,
So not long ago we reviewed some pretty swish bookshelf speakers, and I was questioning if a soundbar might be a better alternative for some instances, well now I know.
First things first, Disclaimer – this is a review, this is not paid content, this review was loaned to us for review purposes only and will be going back to Sony soon.
Ok that BS out of the way, I feel like it still needs to be said? or do you for the most part get our opinions aren't for sale? ..
Right so in the box you get
The sound bar
The remote
HDMI x1 – seems decent quality
batteries
Power Cord
Initial set up of this is an absolute piece of cake, the first set up I had for this was in my bedroom where I only have a console for entertainment direct into the TV – This sound bar has effectively a pick up – pass through, what that means is I took the HDMI from the Playstion that was going into the TV, into the in hole of the soundbar, then sent from the output from the sound bar into the TV. Plugged it in and " oh that was easy" things working right out the gate. Couldn't be simpler to install and set up. the only issue I had with that set up was that my TV stand is really only big enough for the base of the TV so i had to hang the ass of the TV back to fit it on but I got it sitting level so that It would fire the sound out not down, cause that matters. It's worth noting that the TV in my room is a Samsung and its not very smart, so to say its rather old circa before having apps etc its pretty basic. What I found when doing the same thing in the TV room with a very current Sony TV there was a problem, you'd think Sony and Sony would be fine but it kept throwing up an error message saying " sound bar connected if you don't have sound try changing HDMI port " but there were no more ports available and it was working fine, just sending that error code that never went away.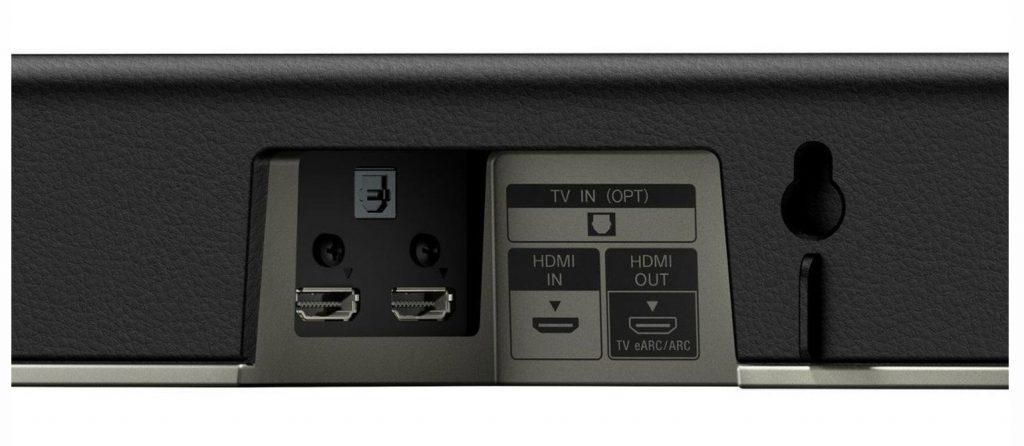 In terms of the sound, its kinda horses for courses.. when I had it set up in my room i first did my normal testing with some movies I know had really dynamic sounds and would be a good test – it performed really well, huge amounts of bass for what it was and a decent overall volume, for the middle of the day. My usual is putting on a movie or series and falling asleep to it needless to say this happens at night and I'm usually the last one awake at my house. The soundbar even after playing with many of the settings, does that thing where you'l turn it up to hear dialogue and then WHOLY WHAT THE FUCK WAS THAT loud scene happens and you've just woken up the house, So I did find myself having the remote in my hand to move the volume up and down to hear the talking but not wake the dead when the action came.
This of course in the TV room was far less of a problem as zero fucks are given from that room, with the sound up and a good movie on you can get really impressive dynamic sounds out of a pretty small unit ( no jokes please, whatever you heard they were lying) its certainly enough to carry sound for most peoples TV watching habits and give a far better experience than the TV speakers, for $574.00 ( listed on the noel leeming website) that's a decent investment for a far superior sound over not having an external sound output that wont take up a lot of space
But that's not all folks!
it also has Bluetooth streaming, as does everything else these days including the kitchen sink. Needless to say I threw a few tracks at it, music is a bit more of a struggle for this at higher volumes as there are a lot more sounds pushing through but it did ok, I'd say if you've got it in a bed room it'd be plenty good for setting a mood for some lovin' or if its in a room for entertaining it would be enough to fill a room with a good amount of background music, but its not the sorta thing that will blare though a house when you want to rock out while doing the vacuuming or other such house work that I wouldn't know anything about.
The only problem I foresee for this is set up dependant, for example if you have all separate devices for example Sky / Blue ray / Console / Stream Box – that's 4 things you're going to need to cable manage into the 1 input in the back of the soundbar, a splitter is an easy work around for that and those aren't overly expensive, but if you've got a few things on the go into your TV you're gona want to work that out.
Overall I'm pretty stoked to have tried this out and now have a better idea of what I would and wouldn't do for various set ups, I certainly wouldn't run this in my bedroom as its far too much to manage in the wee small hours but for a moderate level movie enthusiast its a pretty good upgrade over standard TV speakers and far less expensive than getting floor standing speakers running through an AV reciever, this sits nicely in the middle at a reasonable price for the sound that you get
I'd give this a solid 9/10 for simplicity and doing a good job of what its designed to do – in fact, I might not send this back after all.. shit they know where I live…
The following two tabs change content below.
Empire motoring Journalist, BMX Rider, Yoga Doer and Burger aficionado. Always down for a laugh and or good food!
Comments
comments