Hey team
Again been slack on the food reviews of late but my mate ed was keen for a catch up and this place had been on my radar for a while so here we are.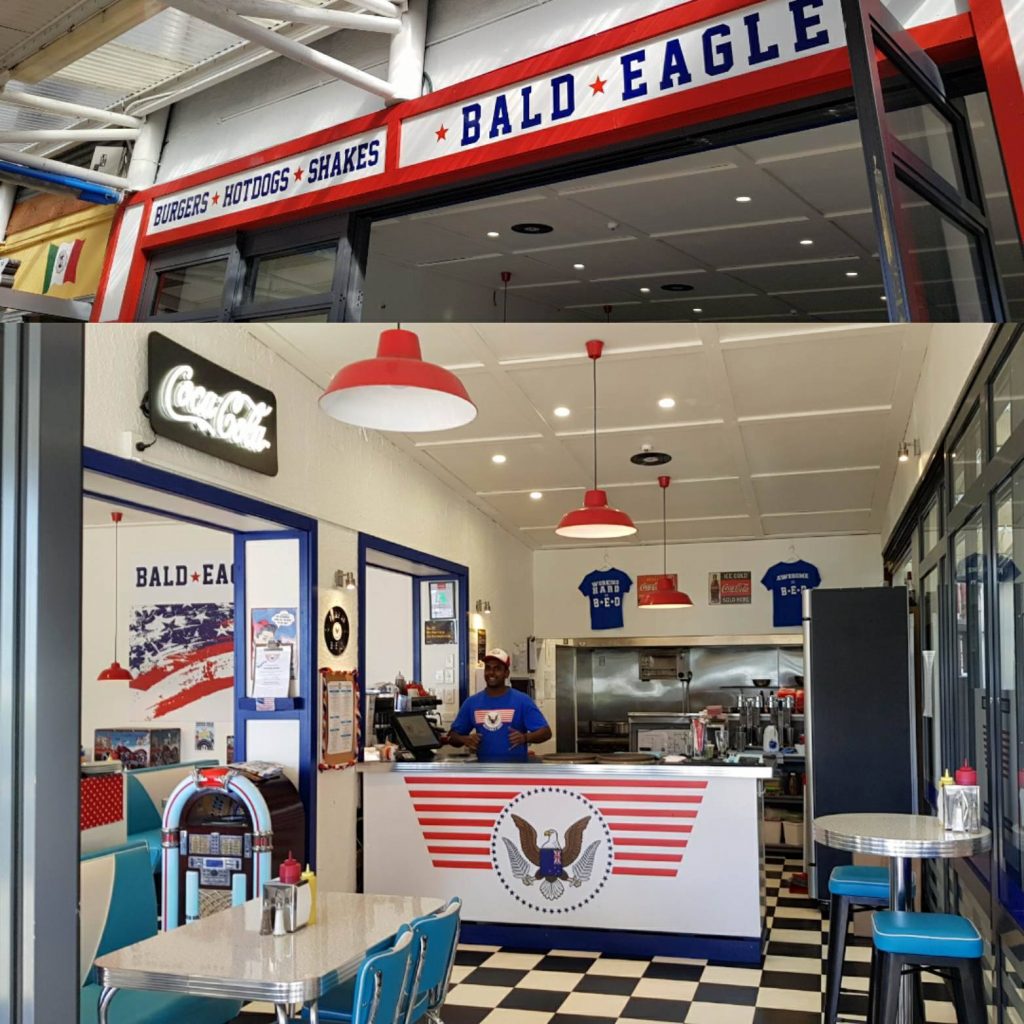 So parking, well it's on the main strip of mission bay, we went on a quiet afternoon which still left parking at a premium for the late lunch rush, we were there around 1pm, although I was about 15 mintures late.. but that's just who I am.. sorry Ed.
My tardiness however did give Ed a chance to look through the menu and order for us, at least the starters anyway.
Fried Chicken and corn chips with an interesting dip
Southern Fried Chicken Wings $15 – came with 4, much larger than expected.
Possibly some of the best fried chicken I've had in New Zealand, I've been a fan of the mexico chicken for sometime, but this was better, much better, I realize its a bit apples and oranges but still, everyone has what they like and I liked this a lot, super tender well cooked, super hot and a great selection of sauces to go with. ( sorry for double dipping but not really )
Cowboy caviar $13 – Vegan / Gluten free – easily enough for 2 likely a great starter to share upto 4
Black beans, Corn, Tomato, peppers, onion, fucking coriander salsa with a heap of corn chips
Dug this, till i read the menu and realized it had fucking coriander in it, I fucking hate coriander…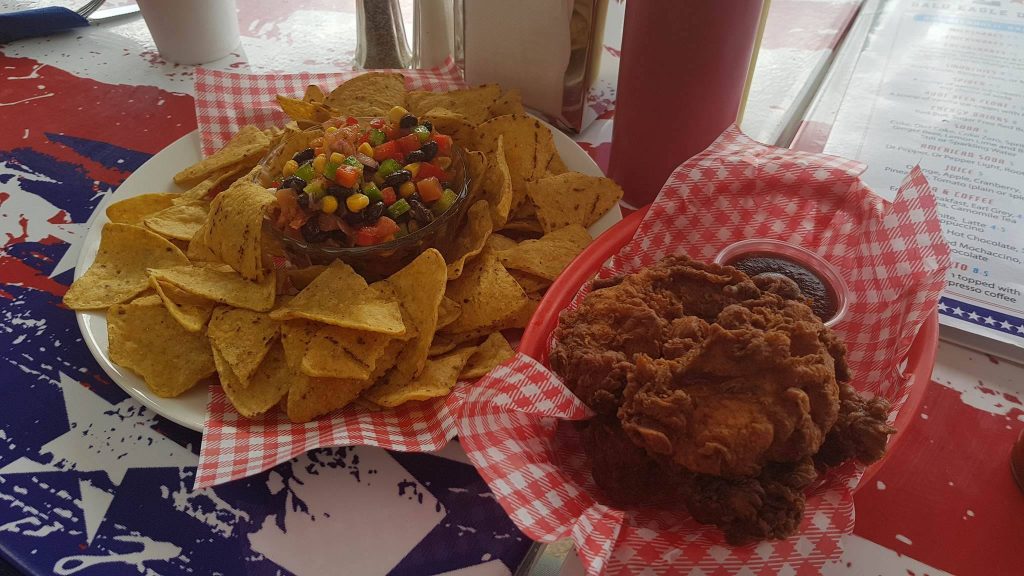 Now that was for starters, at which point I was already feeling full but I had ordered my main, which I had planned to be an American hot dog cause i just like them, but I saw they have Philly Cheese Steaks, and I'd not had one of those since Miami Grill closed so had to see if it was upto the task
Philly Cheese Steak $15
Sliced Roast Beef, Caramelized Onion, Sauteed Peppers, Cheddar cheese and Swiss Cheese
Yep, two types of cheese, as soon as these things came out I saw the cheese and thought I might need an Ambulance on standby. But i dug in anyway cause Yolo it smelt amazing, couldn't see much under the cheese so I chopped it open and just layers upon layers of Beef. I thought the melted cheddar on top was going to be too much but it wasn't actually over powering but I did pay for it later ( don't ask) but yeah it was good, not as good as what I remember from Miami grill but yeah, since its the only place i know of that does them, I'll be back when I feel like one.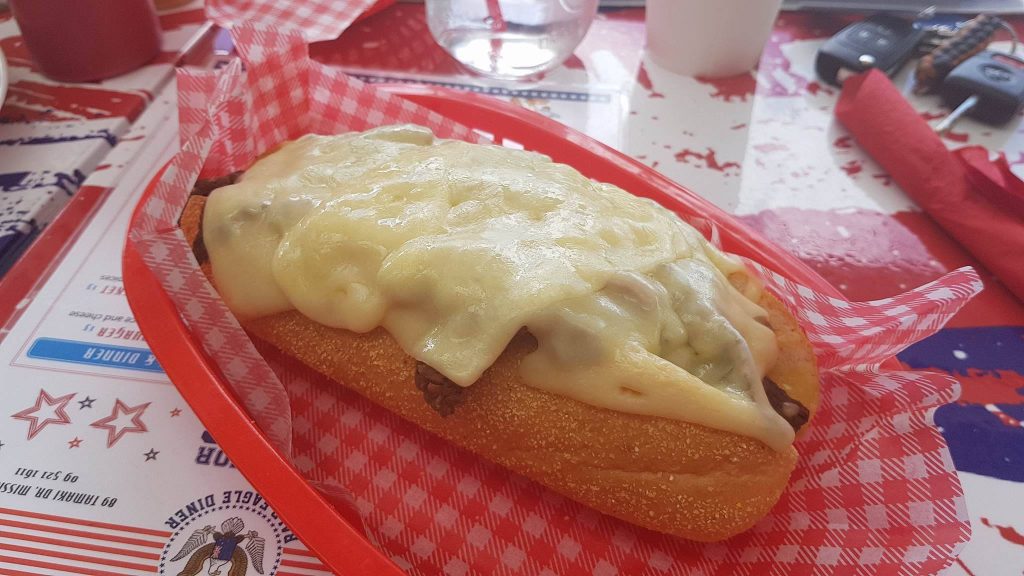 I will have to go back and do their hot dogs tho, if I could have fit it in I would have but I had to be rolled back to the truck, walking after that wasn't an option
one final note was the milkshakes, they had a $15 shake, I forget what it was called but it sounded like a bad time so I went for a regular thick shake and was not disappointed at all. Staff we're efficient, I wana say friendly but they really just wanted to get the job done, didn't feel rude or anything, just seemed like they wanted to get the job done, which for me I appreciate cause I was there to catch up with a mate and didn't need their life story. the theme and layout was pretty cool too. I feel like it might get a bit packed and thus take ages to get food when they are really busy but we didnt have any delays with food at all, even tho we sat there for at least 2 hours talking smack
Let us know where else we need to go check out!
untill next time peoples
If you wanted to check out Bald Eagle Diner click HEREfor their social page
The following two tabs change content below.
Empire motoring Journalist, BMX Rider, Yoga Doer and Burger aficionado. Always down for a laugh and or good food!
Comments
comments