Hey Burgerlovers, We are back with a new Burger review, this one from the good people of Burgerfuel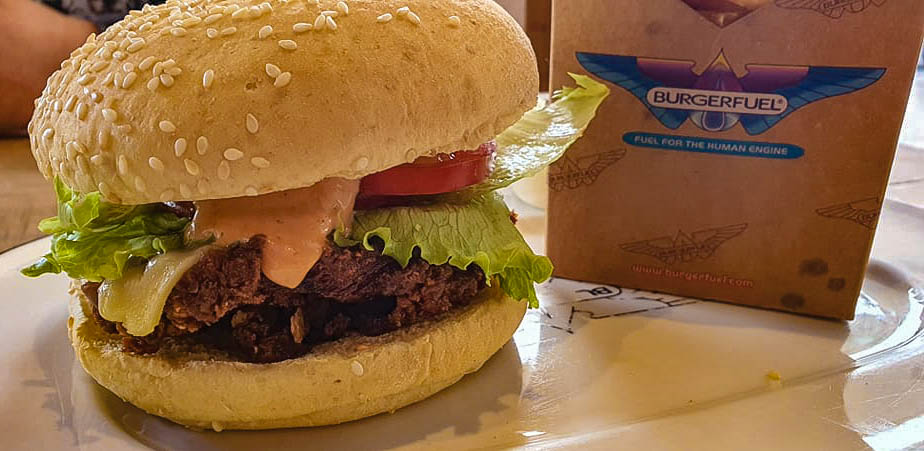 Burgerfuel's current special burger is the " Redwoods Lowrider"
Crispy buttermilk fried chicken with a jalapeño and corn crumb, sweet caramelised onion, melted cheddar, chipotle aioli
$14.90 for the Burger or $19.90 with Spudfries and a Drink.
We headed down to Mission Bay for a birthday celebration, Burgerfuel was her highness's choice for "chippies" as it was a Dusty morning for someone. I wont name names but.. yeah Happy Birthday Shazza, being a Monday lunchtime in Mission bay on a nice day there were plenty of people around and we could sit out side and people watch, Staff were pretty chill and friendly. Acceptable wait times and service.
The burger itself,
Not bad, good size. Standard large format Burgerfuel so ya know, hefty. The Chicken coating was really good with a nice seasoning and flavour but I didnt like the cut of chicken they used. It seemed a bit tough and hard to bite through so a fair amount had to be ripped while gripping, where as it should in my opinion be able to be bitten through cleanly. The coating had a good texture, you lot know I like a texture contrast in food, this had that in a good way. Good crunch from the chicken, and a different crunch from the lettuce against the gooey cheese and soft insides of the toasted bun. The Chipotle Aioli was great, not overwhelming just a nice compliment with a bit of hot and cool at the same time. Very similar effect to what I do with my fried chicken burgers. Overall its not a bad burger if you like a fried chicken burger but not one of their all time greats. I am still waiting for them to bring back the venison and blue cheese which was the best they have made to date.
So yeah I'd give that a 7 out of 10, good quality aside from the cut of the chook choice, and standard expectations for burgerfuel creativity and quality.
An alternative to that, if you want to give it a hoon for something similar at home, would be those tegal take outs, good bun – smokey chipotle sauce of your liking, I think culleys do a good one. As pictured below. I make these often
These are the strips to keep an eye out for
The following two tabs change content below.
Empire motoring Journalist, Vlogger and general larakin. Pro food and lifting heavy things.
Comments
comments