Hey Team,
So you probably know Good George from their craft beers, but they also have a bunch of places to eat too, After a long ass day of photo shoots, we decided to head to mission bay for dinner and Good George is where we ended up.
Disclaimer, We paid for dinner I offered to go halves so I didn't feel obliged to put out but she wasn't having it so I didn't pay for this, but its in no essence sponsored content in any way, shape or form. These reviews are our honest opinions and nothing else.
Right so,
Parking,
well its mission bay so you know the busy times and parking is what it is there. it's always busy during the day on a nice day and most evenings so expect to lap a few times for a close park.
The Venue,
Very welcoming, they haven't gone over the top with anything its just a nice chill place to hang out, there is a sort of covered outdoor area ( non smoking) if you want to enjoy the sea breeze. The staff we're almost exclusively female and all of them were babes so I'm not complaining about that, all super friendly and were happy to accommodate some off menu requests. Never pushed their beers on us or were we made to feel like it was necessary, I was driving and my date was on the wines. They did however have on the menu a suitable Beer of theirs to match with meals if you didn't know what to choose, and I do like that touch.
Since I wasn't paying I ordered a starter and a main,
Firstly I got a pot of their fried chicken, they call it Hop Corn Chicken.
Hop Corn Chicken $14
Buttermilk chicken with Crispy Hop Corn seasoning with a side of Chipotle aioli
portion was generous, it could easily be a meal in itself with a side of fries and a beer, the hop seasoning wasn't overpowering, if anything its very subtle. The chicken is boneless and was in various size chunks. I have to say, as far as fried chicken goes this is one of the best I've had in Auckland, its not over the top and repeating on you the next day like the fried chicken from Mexico but it has huge flavour and a great crispy coating without being too much flavour, the chipotle aioli was good but I think that could have use a bit more kick to it.
I missed the chance to get a picture because someone who shall remain un-named ( Jenn) smashed into them before I could get a picture, but I also forgot about picture but you know what fried chicken in a bowl looks like, I couldn't find any pictures on their social media to put in either… but it looked good I can assure you.
But the main event,
Burgers!
So something I do when reviewing places is if they have many kinds of burgers I'l review the closest they have to a basic hamburger to keep somewhat of a base to go by, so I ordered…
Main: Beef Burger $22.50
Grazing Beef ( not sure what thats supposed to mean)
Cheese ( tasted like cheedar)
Lettuce ( that green shit they put in burgers sometimes)
Tomato
Mustard – Tasted like classic Yellow American mustard.
Pickled oinions
Sided with in house fries and aioli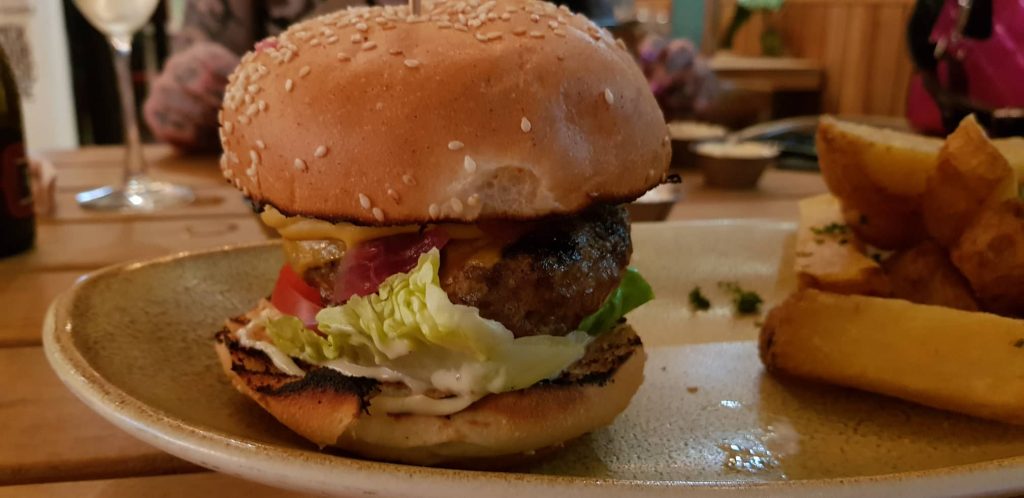 At first glance, the burger looked like something you might make at home if you're pretty decent at making burgers, the patty was thick and the buns were toasty.
It could be a handheld job but given it was quite tall and flimsy I went with the deconstruction method, no doofers were to be seen. The basic flavours were really well covered, there was the juicy fresh tomato playing off against the rich mustard, it tasted good and had a nice range of textures from the crisp of the toasted bun to the moist vegetables.
The patty itself, looked like it hadn't been accounted for shrink-age and sort of puffed up in the middle like most home job burgers do, It was very crispy on the outside with a nice char on it, but overcooked for my liking, it was grey all the way through which I feel like they could fix or possibly even have as a standard question to ask when ordering.
Overall I wasn't mad at it, it was very filling and well thought out, The house fries were… chunky, they tasted good albeit a bit overly salted but perhaps a bit too thick to get a nice golden crisp with a soft inside, this was more the skin on and even texture all the way through, which is fine if you're into that sorta thing but It's not my jam.
Verdict would be,
A Solid 7 out of 10, there is room for improvement but a valiant effort and for pub food very acceptable.
Let us know some places to try out and we will put them on the to do list!
and keep an eye on our social media for mini reviews and updates
The following two tabs change content below.
Empire motoring Journalist, BMX Rider, Yoga Doer and Burger aficionado. Always down for a laugh and or good food!
Comments
comments