First Video Game Tournament
6th February, I purchased Dragonball FighterZ for PS4. Two days later I had registered for my first video game tournament, the Hamilton qualifiers of LetsPlay.Live's Dragonball FighterZ Arcade Reborn Tour. Today the 11th of February, the battle was on!
19 years of playing video games and this is my first time to participate in an official video game tournament.
This is no backyard bracket like you and your mates draw up, this is the real deal. The best of the best registering and battling for a chance to head to the national championship become Champion and head to Las Vegas to compete in EVO Worlds 2018.
I have little experience with fighting games, last touching one back in the days of the PS2. With mere days to learn the game I was practicing as much as I could. I still only managed to learn the easy combos and specials of the characters I wanted to use.
To try learn more, I reached out to the New Zealand Fighting Game Community and the Hamilton Fighting Game Community to see who can help. Many people were keen to have a few games and teach me.
@Sh4miya @Reno_is_free @ArahshiiNZ help the bro out #NZFGC https://t.co/Fozq8hUgCz

— My Name Is Turkeyneckbone (@Opto_Dayvo) February 6, 2018
The Tournament
The Hamilton qualifiers were held at SKYCITY Hamilton and participants gathered around 10AM with the first battles to begin at 11AM. Games were Best of 3, with the Winners Final, Losers Final and Grand Final being Best of 5. 10 registered participants and 9 showing up may seem small but it was still intense and a lot of fun.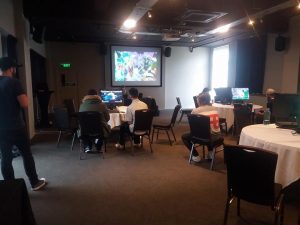 When I saw the name of my first opponent I thought this person must be pretty darn good to call themselves "God Tier". Boy was I spot on, we sat down, shook hands, picked our three characters and next thing I knew it was GGWP. I had been easily beaten 2-0.
I moved down to the lower bracket to face off against Toofwess. Our match was much closer going to a deciding game 3. Winner makes Top 8 to return in two weeks time for the second leg of the Hamilton qualifiers. It was a close finish with both of us on our last character, but Toofwess managed to come out on top.
The Grand Final came down to Ethan "GodTierLeo" Ruatoe and Josh "weyden" Weyden. What an intense Grand Final, watching these two battle was crazy. The combos, the counters and the defense was at a skill level that showed they had been playing fighting games for years.
Will Josh "weyden" Weyden and move into a second Best of 5, or will Ethan "GodTierLeo" Ruatoe win and take out the top spot. The two managed to push it to a deciding game 5. The room was silent as we watched the intensity of both players battling for the win. Ethan "GodTierLeo" Ruatoe managed to take it out and took away some prizes.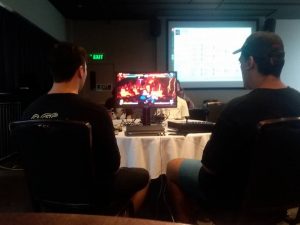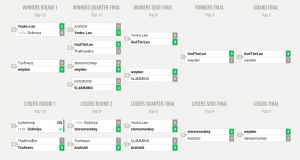 My Take
Did I expect to win? Definitely not. Did I expect to do any good? No. Did I join just to give it a go, meet new people and learn more about the game? I sure did because that's an easy excuse to make.
I'll be looking to learn more about the game and join more tournaments in the future. Competitive gaming is growing rapidly in New Zealand and LetsPlay.Live are spear heading it with their new esports studio in Auckland which we got to check out >>> Epic New Esports Facility
I suggest you take the chance and join a video game tournament. It's fun and you can learn a lot of things from it while also meeting new people and making new friends.
At least I was beaten by the winner.
Don't feel so bad then.
– Hayden
The following two tabs change content below.
Empire gamer, 2IC Tech Cave dweller, esports fanatic and part time movie goer/reviewer
Latest posts by Hayden Biddick (see all)
Comments
comments