Full disclosure bullshit out of the way first
I bought these with my own money, from a shop I like and have shopped at for a long time. This is not a paid review or advertisement of any form.
So, that said.
Given I'm now commuting to work on my motorcycle I wanted some wet-weather shoes. I'd been looking for some riding shoes that look like shoes anyway cause I don't like riding in big boots or anything like that. There is a market for this sorta thing and we've all seen the Chuck Taylor style safety boots ( which I don't recommend for riding)
But after some looking around and trying on, I ended up going for these J6's, I'd been riding in my DCs for the last 6 months and needless to say, they aren't weatherproof and let's be fair, not the safest thing to ride in.
I settled on the J6's cause' they had a style I liked, with the mostly blacked out and the gum sole, high top for ankle support and most of all look like regular shoes – the reason this is important to me is aside from looking cool as shit, I wanted something that I can get off my bike and not look like I'm wearing gear. Which through most of my gear I have achieved. I also wanted something I could ride to work and not have to change them and have to deal with taking other shoes with me where ever I am working that day. and of course, weatherproof
So I scooted down to Cyclespot in Barry's Point Road, they have a great range and I'm a bit of a slut for Alpinestars anyway. They didn't have the black ones I wanted, but I tried on the others in my size and ordered the black ones.
First impressions would be that they certainly look the part, you'd never know they are riding shoes unless you knew what the logo was.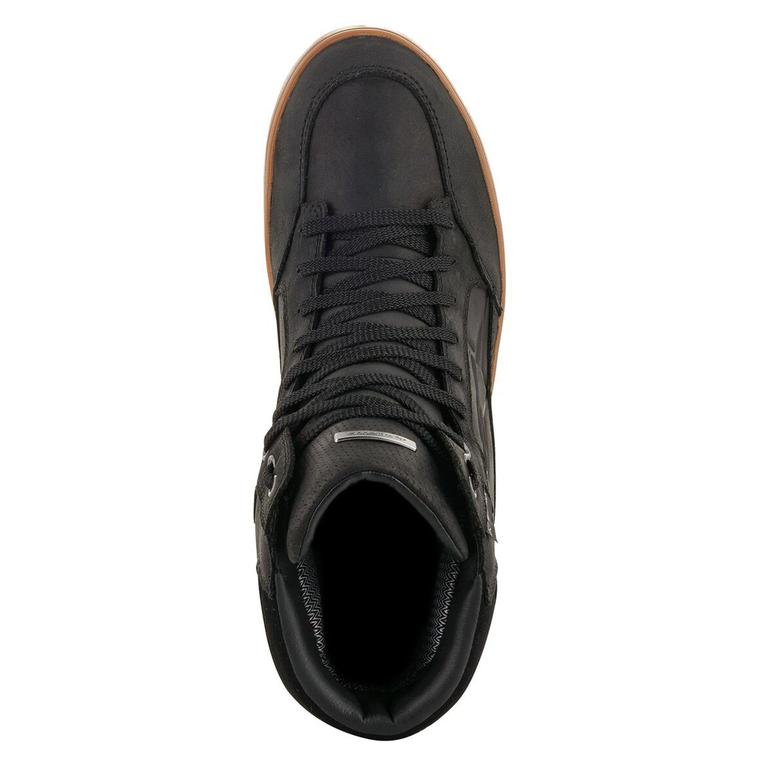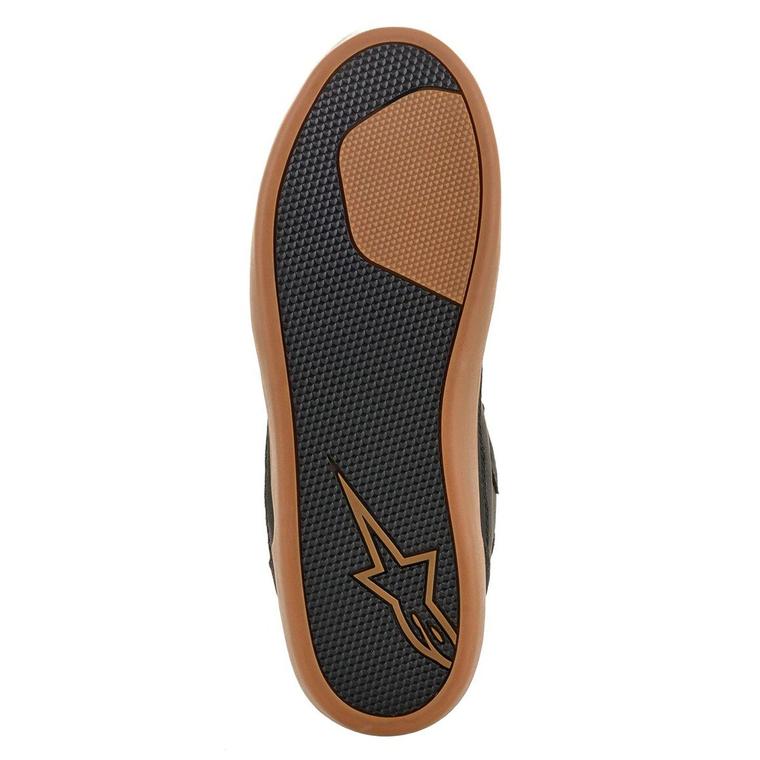 They are super comfortable like any other good sports shoe. I've spent a good week on my feet in them to wear them in a bit, and yeah they are just as good in the sense of being shoes as any other shoes I've owned,
On the bike they are great. I run the standard Harley pegs and controls, they grip really really well, and what I don't get anymore is my foot folding over the peg if I'm riding near the end of the peg. which is nice, they give a solid and connected feel with a good solid platform – I did find for whatever reason my comfortable position changed from arches to closer to the start of the heel, but I think I'm going to move my pegs back 1 adjustment because I did miss 2nd a few times and find myself revving in neutral – again back to that new foot position.
From a waterproof point of view, they do the job. I've got the basic Scott brand wet weather pants, they snug up around the high top of the shoe and my feet at the end of the ride are warm and dry which all I was going to ask of these shoes. So I think we can call that a win
The only downside I've found, that retrospectively should have been expected. breathe-ability. at the end of a long day on your feet, my usually not stinky feet can be a bit sweaty and clammy. which as I say, should have been expected but as someone who is not a stinky feet type it's not too bad if you've got cheesy toes this might be something to consider.
I was recommended to put some leather care product on them to keep them spiffy which I'll get around to.
Other than that I'm pretty damn happy with them, they do the job and I feel cool as shit riding in them
I would recommend these to anyone who wants to be as cool as me. solid 8/10 really enjoying them.
Happy riding team!
The following two tabs change content below.
Empire motoring Journalist, Vlogger and general larakin. Pro food and lifting heavy things.
Comments
comments