Uglier Weather = Inside Gaming
Coming into Autumn and Winter I know you're all going to be playing games, we don't need another pandemic for me to know you're going to stay inside just as much.
What do you need when you're gaming? Gaming peripherals, and one of the most important is your gaming headset.
I've been giving the JBL Quantum 800 Wireless headset a good run for the last few weeks. Originally released in May 2020, the 800's are a step below the flagship JBL Quantum Ones.
Don't sleep on the 800's though, they do come with some great specs and features for their price.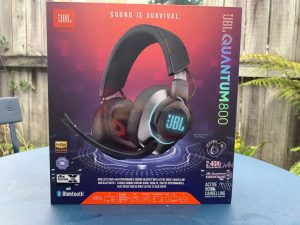 Features + Specs
JBL QuantumSURROUND – Makes every scene epic and delivers the most realistic soundscape for a competitive advantage in any battle. (Only available on PC)
Dual Wireless – Go grab a snack or if you're feral enough, go to the toilet and never take your headset off with the lossless 2.4GHz wireless connectivity, and Bluetooth 5.0 dual wireless audio.
Active Noise Cancelling – Eliminate unwanted background sounds so you can play fully immersed, focused and undisturbed.
Compatibility – Connect to your PS, PC, Mac (ew why are you gaming on a Mac) and VR with the 2.4GHz wireless connection. Or use 3.5mm audio jack with PC, PS, XBox, Nintendo Switch, Mobile, Mac and VR.
Voice Focus Boom Mic – Be heard loud and clear by all your friends, you probably don't have, with the microphones echo-cancelling technology. Mic includes 2 way muting, flip up the boom mic or hit the mute button on the ear cup.
Discord Certified Game Audio-Chat Balance Dial – This! This is something very impressive! Adjust your game audio or chat audio with separate sound cards with the balance dial on the ear cup. Compatible with TeamSpeak, Skype & other services.
JBL QuantumENGINE Software – Utilise JBL's unique JBL QuantumENGINE PC software to select your preferred surround sound settings and personalise your JBL Quantum 800s.
Play Even Longer – The Quantum 800s are designed with a light weight, ventilated headband this headset sits on your head comfortably without feeling like a weight bearing down, and with premium leather-wrapped, memory foam ear cups you won't be feeling uncomfortable with annoying material or having sweaty ear cups.
Rotating Ear Cups  –  The ear cups are able to rotate a certain amount, not a full 180, but enough that you can slide one ear cup off your ear, keep the headset on and have the other ear cup still sitting comfortably on your other ear. Great for when you have distractions that try to talk to you when you're obviously gaming, a very important task.
Price – $379 @ The Warehouse / $399 @ Playtech – Pricings taken at time of review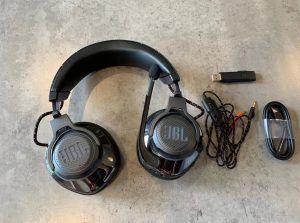 Thoughts on the JBL Quantum 800 Headset
I'll be straight here, they're a brilliant headset, it's comfy and it really doesn't put pressure on the head, I was able to wear it a whole day without any discomfort. The battery does last a long time WITHOUT using the LEDs (around 20hrs compared to 4-6hrs), the audio quality is great, being able to balance between chat and game audio is an awesome feature I had not encountered before which can be very handy so you don't have to be dealing with a bunch of different application settings. It can feel a little bit flimsy in your hands due to being so light and if you hold them by the rotating cups, which I commonly do because I've never had rotating ear cups before, so that's something I had to get used to.
I really liked the JBL QuantumENGINE Software, I found it quite simple, user friendly and easy to understand, it doesn't feel daunting to open and be like "Oh no, where do I even begin with my audio". It's a great piece of software.
However, not everything is perfect and there is one glaring flaw that cannot be glossed over!
I'm not sure why this is a thing, I wish it wasn't a thing.
WHO DESIGNS A HEADSET THAT YOU CANNOT USE WHILE IT'S CHARGING!!!
Yes, you read that correctly. When you put this headset on charge, it automatically turns off and cannot be turned on. You can't use it wired while it charges? NO! I couldn't believe it. A friend had told me he had a pair and that this was a feature. I honestly thought he was joking, was mistaken for a different headset or just didn't know how to use it.
Yeah you could chuck it on charge whenever you're asleep, but I don't do that. I'd be surprised if many gamers do due to just being able to charge their headset while gaming without having to use a spare while this main pair charges.
Overall, I still think it's a great headset, especially for the price. I would recommend you check out the JBL Quantum 800s, if you don't think the unusable-while-charging issue is something you care too much about. I still praise the audio output and input of the headset and the comfort of it.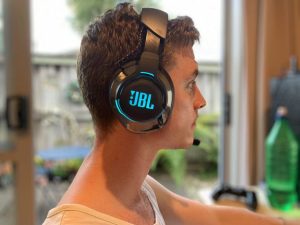 Lastly a big thank you to JBL ANZ for the opportunity to review this headset. Check them out for all your audio needs, we've done multiple reviews on their products.
Check them out here.
JBL Quantum ONE Gaming Headset
In my opinion, I'd rate them better than the JBL Quantum ONEs
– Hayden
The following two tabs change content below.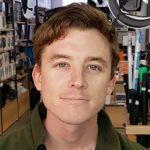 Empire gamer, 2IC Tech Cave dweller, esports fanatic and part time movie goer/reviewer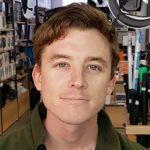 Latest posts by Hayden Biddick (see all)
Comments
comments