Get Your Summer Beats Ready
Are you looking for a speaker that you can take around with you during your summer holidays? One that isn't annoying to lug around from place to play, one that provides great sound, amplifies your mates mates guitar playing, lets your neighbours hear your sultry tones while you lip sync Fleetwood Mac "Dreaming" or hit your crisp highs and blows out your eardrums with hulking bass like you're in the nightclub?
Then perhaps you should check out the JBL PartyBox On-The-Go, a portable party speaker with built-in lights and wireless microphones.
Features + Specs
JBL Pro Sound – 100 watts of powerful, booming JBL Pro Sound, with Bass Boost to keep the good times going.
Synched Light Show – Dynamic light display that syncs to the music. Choose from a variety of preset patterns and let the colors groove to the music while you focus on the tunes.
JBL Wireless Microphone – Sing without limits or wires. The JBL PartyBox OTG comes with a JBL wireless microphone with a range of up to 10 meters.
Advanced Performance Settings – Tune the bass, treble and echo to provide just the right sound for your beats, vocals or guitar.
IPX4 Splashproof Protection – Keep your JBL PartyBox OTG safe when your party gets a little wet.
Shoulder Strap – Move the JBL PartyBox with ease with the connecting shoulder strap from party to party which also has a convenient bottle opener attached.
Battery Life – Built-in rechargeable battery for up to 6 hours of playtime. With a charging time of 3.5hrs. Microphone battery – 10hrs
Make it Louder – Link up two compatible speakers
Mic & Instrument Inputs – Built-in Mic and Instrument inputs let you plug right into the speaker.
Seamless Bluetooth Streaming – The JBL PartyBox OTG works with any Bluetooth enabled device. Easily access your favourite musical libraries and online streaming services.
Plug-In Playlist – Don't have Bluetooth? Well fill up a USB with all your favourite music and plug it into the built-in USB port.
Transducer – 5.25 in (133mm) woofers + 2x 1.75 in (44 mm) tweeters
Gross/Net Weight – 10.15 kg/7.5 kg
Dimensions – (W x H x D):  489x 244.5 x 224 mm
Price – $499 (Special) at JB Hi-Fi / $543.15 at Noel Leeming – Both pricings at time of review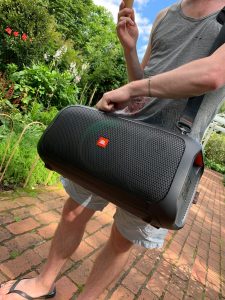 Thoughts on the JBL PartyBox OTG
If you are really after a nice speaker that you don't need to lug around on the back of a Ute or ask ya mate to bring around for the party, then I would suggest looking at purchasing the JBL PartyBox On-The-Go. I have really enjoyed the use of it when going out to the beach and parks on bright sunny days, it feels like the perfect upcoming summer addition.
The clarity of the speakers is excellent. I had no issues with the connection of the Bluetooth, as the features say, it was seamless. I did not except a portable speaker of this size to come with tuning, so it did surprise me when I saw that was capable. I'm a guy with a large musical library, so I was happy to be able to play around with the settings depending on what was playing. The synched light show is always nice but of course shows up better in darker environments.
The microphone I think I can take a pass on, no not because my vocals are awful, they are very silky smooth, thank you. The microphone is a top-end mic so you have to speak into the end of it, not from the side, but it's not just that, you also have to have the end of the microphone almost inside your mouth to pick up your voice.
The shoulder strap is a nice addition. I spent close to 2 hours walking around Hamilton Gardens with the JBL PartyBox OTG hanging from my shoulders, it didn't feel too heavy and only changed shoulders a couple of times. Of course you wouldn't be going around carrying this very often or for long periods of time. Smart move to add a bottle opener to the strap though, great thinking JBL.
I suggest you check out the JBL PartyBox On-The-Go for the Summer. Share your music with your mates and unwilling neighbours.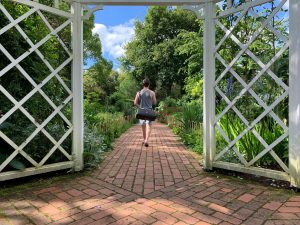 You can check out another JBL PartyBox review here
The following two tabs change content below.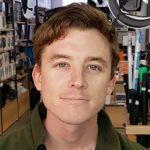 Empire gamer, 2IC Tech Cave dweller, esports fanatic and part time movie goer/reviewer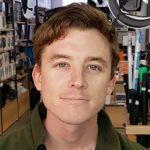 Latest posts by Hayden Biddick (see all)
Comments
comments