Hey Team,
So a while back I had a sit down with the brand manage for JBL and he showed me through the range and wanted to know what I'd like to review. Full Disclosure, this is not paid content – JBL sent us this for a short time for Review purposes
Right so,
Wireless speakers have been getting more and more popular lately, sound quality improving and batteries lasting longer. There will always be a compromise tho, if you want small you're going to limit your sound performance and battery life.
This JBL BoomBox certainly is not small, Dimensions on this beast are 254.5H x 495W x 195.5Dmm so needless to say, shes a big unit as far as portable speakers go. The grab handle on top makes it pretty easy to carry around, We took it to the skate park for testing and cranked some tunes while riding to see how it would do. The Boombox was fine in the back of the car rolling around a bit and isn't so big that its cumbersome to get around be it the beach or skate park or where-ever.
So probably the most stand out features of this unit are its volume due to the bigger unit being able to house bigger speakers, and the battery.
The battery is a 20,000mah lithium-ion polymer. Compare that to your current flagship mobile phone being around 3000mah and you start to see where they have invested their interests. The unit also has hidden away 2 USB 2.0 ports that will charge your phone while connected and playing music, so not only do you not drain your battery but it'l be charged up when your done ( as far as I can tell, this does not support high voltage charging ( fast charging )). Supposedly this means the battery life on a charge will last upto 24 hours; volume dependent of course. The thing I thought was really funny was on the JBL website it also says battery life is relative to music content, I assume that means if its crap music the unit gets tired of hearing and shuts down?
Sound is delivered via 2 4-inch woofers at either end of the box and 2 20mm twetters hidden under the mesh – There is an indoor / outdoor feature which I guess works as a sort of high pass filter so you don't get tinny music while playing outside. I didn't mess with that too much but I did use it out side and set it to inside mode when applicable.
Overall I'd say the sound was good, I don't want to sing too high a praise as being a bit of an Audio nerd it wasn't the best outdoor sound I've ever heard, however from a bluetooth portable speaker it's really good. We can't really compare this quality to the UE megaboom as this is a much bigger and more powerful unit, there is no way a megaboom could keep up with this. I did try the smaller JBL that you could compare to a UE, I'd say the JBL quality of sound was better but the amount of sound was slightly less however these aren't scientific tests as they were under different conditions but that was my takeaway. Indoors the quality is very clean and full, too often its all high end but the bottom end on this really can fill a decent size room. Outside we could hear loud and clear across the skate park, much to the displeasure of the mums at the park who surprisingly not huge fans of Hed P.E but oh well, at least they know that for sure now. A small amount of the high end frequencies were lost in the wind but that's to be expected we didn't have anything on the day to compare it to unfortunately but as I said, we were rocking out with solid tunes and quality audio for a good 4 hours or so.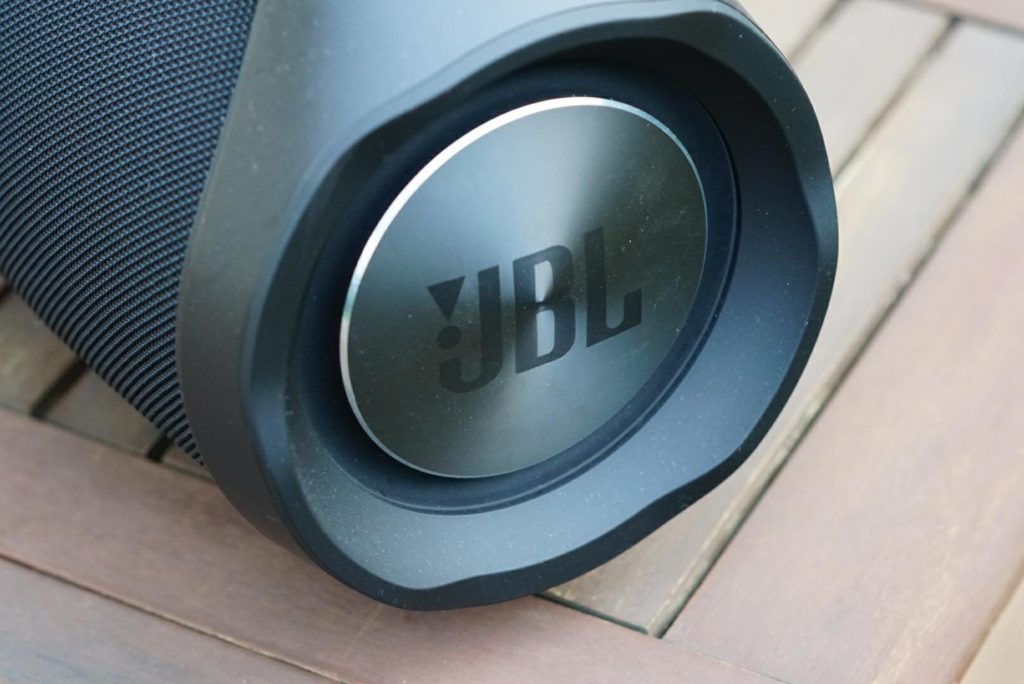 Oh and its IPX7 Waterproof – I had to google what the ratings meant again and it turns out if you kick this in the pool it should be fine so long as you pull it out soon. 3 feet submerged. – That's handy to know that spilt drinks or water fun isn't a risk to the unit. it also has a pretty sturdy construction I feel like rolling around in the boot of the car isn't going to be a hassle for this.
The only draw back's I've found with this were initially the price, Noel Leeming have this up at $639.00 at the time of this publishing, which ain't cheap but as far as I've tested, the biggest sound you can get from something like this. The thing I would have liked to have seen and might come in a later app update would be some kind of EQ – I'm the kind of person that EQ's an album in the car when I change it and I would have liked to be able to do that for this – certainly for inside use to really get those finer points dailed in.
There's not really a lot else to say, if you're happy to spend the money on a quality audio experience that you can take on the go and will last longer than you will, Get one – I would
Nick
The following two tabs change content below.
Empire motoring Journalist, BMX Rider, Yoga Doer and Burger aficionado. Always down for a laugh and or good food!
Comments
comments