Hey team
So as much as I enjoy eating food I actually rather enjoy making some too, alas not particularly well.
This is a twist on the Pigs in a blanket idea. super easy and pretty quick – The idea being its like a sausage roll meets a hot dog and you can do it your way.
You will need:
Saveloy saussages
Pastry
seasame seeds
Cheese
condiments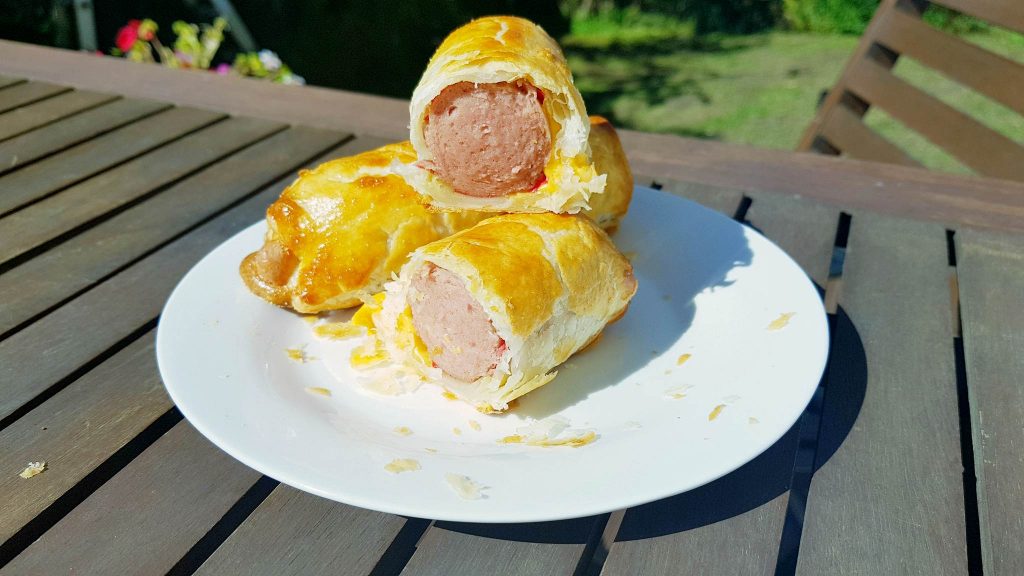 Very simply.
lay out the pastry – place the sav on the pastry. now you can create the hot dog how you like, add mustard, tomato sauce or onions. Personally I take a strip of smoked Chesdale cheese squares – wrap em up. – poke the sav's with a knife to keep them from exploding. You could egg wash the tops if you want but I don't bother. Sprinkle some sesame seeds on top for style points. For extra style points you can get creative with your pastry with cut outs or clever wrap methods. Personally when its for eating as appose to show I'l just bang it out quick.
Bake at 220 for 20 mins then keep an eye till they are nice and golden.
sit to cool and eat warm
Note on the chesdale squares. The reason I use them in this and burgers ( this has come up in previous eats) I like that they give a sort of low rent quality to it. sure you can use a higher end cheese if you prefer, but the cheap cheese and the burnt pattie is what does it for me. If i was trying to be fancy pants I'd use something different of course. Just for clarity, its the old thing of, sometimes a maccas cheese burger isn't what you need but its what you want.
Easy right?! what should we tackle next? let us know in the comments.
The following two tabs change content below.
Empire motoring Journalist, Vlogger and general larakin. Pro food and lifting heavy things.
Comments
comments