Meet the Astro A30!
Astro has a pretty good reputation when it comes to gaming headsets. So when I was given the opportunity to review the new Astro A30 Wireless Headset, I jumped at it. I have never had a Astro headset myself but was always jealous of my friends who did because they always sounded so good and felt so comfortable.
Now it's time to rule the game with the Astro A30 Wireless headset. Where you can seamlessly master your entire digital soundscape as you simultaneously connect and mix multiple devices such as the PC, Xbox Series X|S, PlayStation 5, Nintendo Switch, and portable devices such as your smartphone. Flex between pro-grade LIGHTSPEED wireless 2.4 GHz connection (additional USB transmitters needed), Bluetooth, and 3.5 mm aux cable.
Features + Specs
Dual Audio Mixing – Never take your headset off with the lossless 2.4GHz wireless connectivity, and Bluetooth dual wireless audio.
Play Anything – Connect to your PC, PlayStation, Xbox, Nintendo Switch or Mobile with the 2.4GHz wireless connection or Bluetooth or save battery and use the 3.5mm audio jack with your PC, PS, Xbox, Nintendo Switch or Mobile.
Play Anywhere – Play for days with 27+ hours of battery life. Take control and customize your whole audio experience from your phone with the Logitech G mobile app (iOS & Android).
Play With Style – Customise the speaker tags from the Astro gaming collection or your own personal design. Honestly the iridescent tags are pretty awesome.
Dual Microphone – Choose between the built-in mic and the detachable boom and be ready for any situation.
Ergonomic Design – Cushy memory foam padding in the earpads and headband, and just-right clamping force achieve a masterful, balanced feel.
Logitech G Mobile App – Manage your audio mix, EQ, and customize every aspect of the A30's soundscape with a tap on the free Logitech G mobile app, compatible with iOS and Android mobile devices.
Price – $398.00 @ time of review from Mighty Ape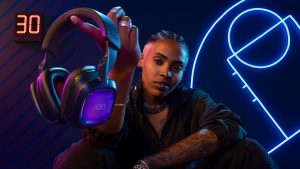 Clean, Frustrating and WHAT?! HOW MUCH?! – !!REVISED!!
Now to give my thoughts on the Astro A30's, how did I find them.
Design
They're really comfortable, do feel a bit strong on the clamping force and got my ears a bit moisty but that was on the hot days we've just had. I really like the design, it's sleek and clean and doesn't feel flimsy despite being a plastic chassis and headband nor is it too stiff. The big flaw design wise is not having any markings or numbers on the headband so you can't actually match up the draw of the earcups, got to do it by eyesight to find a nice a fit.
Connectivity
I don't have an issue with the connectivity buttons being on the same side and quite close to each other. There were some issues with the connectivity to begin with, having connected to a laptop with Bluetooth and then trying to connect to the USB wireless connection, it kept connecting back to the Bluetooth. I couldn't find a way around it so I just removed the device connection from the paired laptop Bluetooth devices.
I haven't accidentally hit the Bluetooth button while turning the headset off/on but I can see others may find that annoying. The mute being a switch instead of a button could have been a button, that would have been clean design choice. Instead you got a switch, 2 buttons and an analog stick? dongle? joystick?. Rock this joystick up and down to adjust the master volume and rock left and right to adjust the balance between the game and voice audio. Which is pretty cool I might add.
The headset also has a "Sleep Mode". The A30's detect motion and enter Sleep Mode if left unattended for around 15 minutes. After one hour, the A30 Wireless Headset will shut down completely. The timer can be adjusted or turned off through the Logitech G Mobile App.
Audio & Microphone
Audio quality of the headset is top, the quality you expect of a top tier headset. The pairing audio notifications I enjoy, a change from standard audio notifications, just some things to note; you can't change the volume for them, the only change you can make is if you want them on or off.
The boom microphone however again, is questionable, it picks up everything from the dryer going on the other side of the room to some heavy breathing when you're focusing hard on your game. Being unable to move the boom mic away from the mouth and have it stay there is another flaw I find. It isn't actually close to the mouth but it feels and looks like it is and I just want to move it out of my sight but it is fixed.
Having an internal microphone, I guess is another cool addition but I find it adds nothing. It makes you sound like you're talking from the other side of the room, it makes you really quiet. I also found that despite having the boom mic in, the internal microphone will take priority so I'd have to take out and re-insert the boom mic.
Conclusion
For a headset priced at $398.00, minimum! I'm disappointed, I expected better ease of use, more simplicity and better quality microphones than what has been delivered. This is not worth the price tag it's been given. There are better gaming headsets for better prices.
If you're interested in checking some out, we have other reviews you can find here:
Revision
After my review I was informed by Logitech that through the Logitech G mobile app I would be able to make, choose and change up audio profiles for the Astro A30s. I can adjust the microphone settings from within the app, changing up the noise gate for certain environments and the sidetone volume. These changes did change my perspective on the Astro A30s a bit. The app is very simple to use. Do I like having to use the mobile app for these changes to take effect? No, not really. I understand why the direction of a mobile app was taken. These headsets are very much set out to be for console use. I guess that's why there's an Xbox and PlayStation version. You can't adjust headset settings as easily on console as you can on a PC. Which can implement noise gates in certain applications i.e. Discord. Having used certain headsets where I can adjust settings through a desktop app or a mobile app I had always reverted to using the desktop app just from being a PC gamer.
So that is my mistake for not having gone through the mobile app. I will make sure I do my reviews more thoroughly.
I still don't think it's worth the price tag it's been given.
The following two tabs change content below.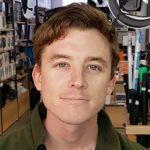 Empire gamer, 2IC Tech Cave dweller, esports fanatic and part time movie goer/reviewer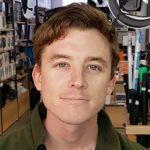 Latest posts by Hayden Biddick (see all)
Comments
comments