A very delayed review, but we're here.
JBL have been very kind to let me try out the JBL Quantum 350 Wireless Gaming Headset over the last few months….Okay, since April. Sorry I've been quite busy and my PC decided it didn't want to co-operate for a while.
If you've read the previous reviews on the JBL Quantum ONEs from Dave and my review on the JBL Quantum 800s, you'll know JBL put out some decent headsets and we quite enjoy them and will call out their flaws, like the 800s disconnect while charging feature. I am still traumatised by that feature.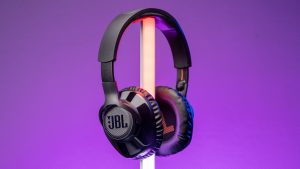 Features + Specs
The Quantum 350 has the common features of JBL headsets such as:
JBL QuantumSURROUND – Makes every scene epic and delivers the most realistic soundscape for a competitive advantage in any battle. (Only available on PC)
JBL QuantumENGINE Software – Utilise JBL's unique JBL QuantumENGINE PC software to select your preferred surround sound settings and personalise your JBL Quantum 350s.
Compatibility – Connect to your PS, PC, Mac (ew why are you gaming on a Mac) and VR with the 2.4GHz wireless connection.
While they have some other varying features:
Detachable Boom Mic – Be heard loud and clear by the squad, you probably don't have, with the detachable, directional voice focus boom microphone.
Rotating Ear Cups  –  The ear cups are able to rotate a certain amount, not a full 180, but enough that you can slide one ear cup off your ear, keep the headset on and have the other ear cup still sitting comfortably on your other ear. Great for when you have distractions that try to talk to you when you're obviously gaming, a very important task.
Price – $160.00 @ PB Tech / $160.24 @ Dick Smith – Pricings taken at time of review
Impressive and Comfy…..But Flimsy
I have been very impressed by this headset, so much so, that it has become my main headset to use. With the lightweight memory foam ear cushions, the headset doesn't suffocate your ears and make them sweaty, which is going to be made worse in the coming Summer months, it doesn't crush or feel heavy on the head due to being made of plastic, though it can feel a bit flimsy in your hands when you take it off.
I am so happy that this headset has a detachable microphone, any headset that doesn't is already flawed in my eyes. If I'm not gaming with friends or don't feel like talking I don't want to flick the mic up or have it sitting in my peripheral vision. Anyway, this microphone still provides great quality audio to your friends with your sweet sultry voice without any loss of audio or quality. You can even move this mic around, move it closer or further away from your mouth, move it up or move it down and it stays how you position it.
If you're after something cheap, go for it, I vouch for this headset personally.
The following two tabs change content below.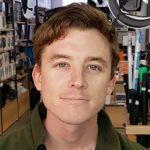 Empire gamer, 2IC Tech Cave dweller, esports fanatic and part time movie goer/reviewer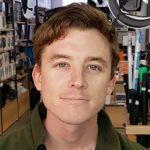 Latest posts by Hayden Biddick (see all)
Comments
comments